Trustees need to think about market volatility and employer covenants in light of Brexit
Key points
• UK scheme funding has improved since last year's Brexit referendum.
• Brexit could make long-term planning contribution levels more difficult.
• Funding contributions from employers could be affected by disrupted supply chains, employment issues, or new tariffs.
The average funding ratio of the Pension Protection Fund's (PPF) 7800 index of private sector defined benefit (DB) schemes has improved from 78% at the end of August 2016 to 89% at the end of July 2017. Liabilities fell by £200bn (€220bn) as government bond yields rose and assets grew by £40bn.
The improvement is timely. Many schemes are going through their three-year actuarial valuation, which forms the basis for negotiations around deficit funding. However, aside from assets and liabilities, Brexit could make planning contribution levels much harder because of uncertainties around its effect on sponsor covenants.
A 2016 CREATE-Research survey found that 68% of European pension plans expected increased funding deficits following the UK's decision to leave the EU. In addition, 54% expected lower investment returns, increasing the pressure on employers to make good the shortfall.
"Whenever you get into the debate about Brexit it throws up more questions than answers," says David Fairs, partner at KPMG. The sponsor covenant should be the starting point of a scheme's investment strategy, he adds, as this will dictate how much risk the trustees will take.
With Brexit, however, trustees need to look at the sponsor's business model, supply chain, working capital, and how any related changes are going to affect these.
The Confederation of British Industry (CBI), has published on its website details of the potential impact of Brexit on the economy. Designed as a way of communicating its concerns, it also sheds light on the effects on various businesses.
In manufacturing, 57.5% of UK exports go to the EU, while 60% of parts for cars assembled in the UK are imported from Europe. Border controls, customs arrangements and tariffs could substantially affect these businesses. Even if a company is not directly affected, its suppliers might be, which could increase costs or disrupt production for those not intimately familiar with supply chains.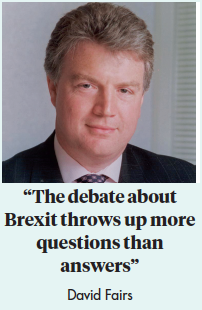 For service providers, the CBI highlights the risk of UK companies being treated as foreign firms, increasing regulatory requirements – or in some cases banning them from public sector contracts.
Research from the Association of British Insurers dating from 2008 looked at the likelihood of scheme and sponsor failures in the event of a credit downgrade. It found that a downgrade from BBB to B led to a "significant increase…. in the both the probability that the scheme and the sponsor go bust over the course of the 90-year life of the scheme".
For UK DB schemes, this means entry into the Pension Protection Fund (PPF). So what will Brexit mean for the lifeboat fund?
The PPF employed Moody's to run scenario tests on its investment strategy and business model to assess the impact of higher insolvencies. In its 2016-17 annual report, the PPF said it had a 93% probability of meeting its long-term target of becoming self-funding by 2030, the same as before the referendum. Although this does not indicate how it expects schemes to be affected by Brexit, it at least demonstrates the fund's confidence that it is unlikely to suffer significantly.
While there is still uncertainty, the Pensions Regulator (TPR) will want trustees to place Brexit at the forefront of funding discussions, says KPMG's Fairs. "There's a clear message that trustees need to think about integrated risk management," he says. "It's pretty clear the regulator expects you to think about Brexit volatility in the investment markets, and changes to employer covenant. Trustees need a very clear, agreed plan of what they need to do."
Matthew Harrison, managing director at Lincoln Pensions, adds that trustees are "striving to understand the correlation [between] the investment portfolio and risk in the employer".
There are subtler elements than just asset allocation, he adds, such as interest rate exposure, foreign exchange, and the potential restrictions on freedom of movement. "It would be great if trustees could understand both sides of this, but I don't think they are at that level of integration," he says.
Harrison's concerns were reflected earlier this year in a survey of independent trustees by Hymans Robertson: 43% of those surveyed said long-term covenant risk was not integrated into strategic investment and funding decisions. The survey claimed the cost of covenant risk equated to a "£450bn reduction in the value of benefits".
As negotiations in Brussels about the UK's exit continue, trustees face the task of understanding complex business models and supply chains at a time when little is certain.
As KPMG's Fairs points out: "It would be very hard for trustees to have a good grasp of this when the companies are only just getting to grips with it themselves."
UK pensions: Running the rule on costs
1

2

3

Currently reading

Brexit and sponsors: The great unknown

4

5

6

7

8