Brexit Papers: Challenges for asset allocation
In the hours after the UK's referendum on EU membership, I wrote a note to clients containing phrases which I think are still valid: "Brexit is a process, not an event," I wrote, adding "the impact of the vote is just as profound for Europe as it is for the UK".  Although events have moved on, for example the rapid appointment of Theresa May as prime minister, let me explore these words and what they mean for investors and pension funds across Europe. 
Some commentators have argued that the impact of Brexit on the economy or financial markets, both continental European and UK, looks to be muted. Not so, it is early days. We pay close attention to analysis from the US Federal Reserve and the Bank of England that a major uncertainty shock, such as the referendum vote, can take a year to affect the economy and 2-3 years before it dissipates. Article 50 negotiations may only last two years, but Canada's trade negotiations with the EU have lasted seven years. 
The UK electorate's decision needs to be seen in the context of populist anger with the establishment, seen not just across Europe but also the US. Austerity, high levels of unemployment, weak wage growth, income and wealth inequality are leading to a decline in support for mainstream parties, and the rise of alternative parties, such as UKIP, Italy's Five Star movement or the German AfD. While another country's referendum on EU membership remains unlikely, the populist background is discouraging politicians to push ahead with politically sensitive, structural reforms to tackle imbalances or try to raise all too weak rates of economic growth. The obstacles to solving Italy's bad debt problems would be a simple example.
Indeed, a conclusion of our political analysis is that Europe faces a decision after the Brexit vote. A currency union such as EMU requires a centralisation of power to make it permanent, such as deposit insurance, common bond issuance and fiscal transfers. However, the UK vote was a demonstration that citizens wish to 'take back control'. Does Europe follow the proposals of the president of the European Commission, Jean-Claude Juncker, for closer economic and political integration, or those from Donald Tusk, the president of the European Council envisaging a looser array of countries? Overseas investor perceptions of the euro or the attractions of peripheral government bonds will vary depending on which path Europe takes.
Asset and resource allocation 
How should European pension schemes cope with the UK's vote? I suggest two aspects require particular attention – asset allocation decisions of course but also where to place scarce research resources.
Beginning with asset allocation, Brexit has aggravated existing tendencies. We were already in a world of low numbers, in terms of global growth, inflation, interest rates or bond yields. Long standing productivity and demographic trends have been exacerbated by the consequences of central bank policy since the global financial crisis. It does not take much to derail an expansion that is already moderate, vulnerable and subject to periodic shocks.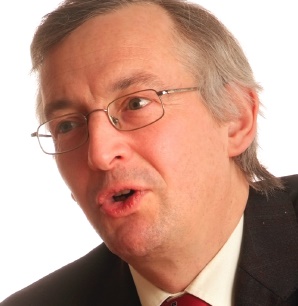 That suggests that pension funds need to check the triggers for a possible three stage process:
• The best outcome is that the impact of Brexit remains localised to the UK economy, with modest implications elsewhere.
• A less favourable outcome is that Brexit morphs into wider EU problems (probably related to Italy), bringing about a repeat of the 2012-13 euro-zone crisis. 
• The least favourable outcome would be that populist pressures exhibited by Brexit prove too difficult for political systems in other countries (for example the US). This in turn feeds into the rest of the world, as financial stress and cross-border capital flows will be more significant channels to monitor than simply the trade effect – unhelpful though that would be.
Brexit has encouraged a flight to safety, further lowering global government bond yields. A concern is that over 30% of global sovereign debt has a negative yield. The adverse impact on pension scheme deficits and liabilities has been well flagged. As one example, Hymans Robertson estimated that the combined deficits of all UK defined-benefit pension schemes have risen from £820bn to £935bn (€965bn to €1.1trn) since the referendum. Investors need to analyse whether companies will divert spare cash from shareholders to pension schemes to begin capping those deficits.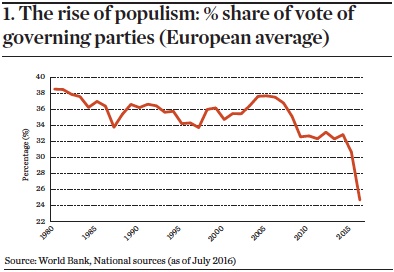 An uncertainty shock warrants a policy response, and history has demonstrated that these can be a guide for tactical asset allocation decisions. The Bank of England has announced an interest rate cut and further QE. The UK's decision to leave the EU also suggests that the policy tightening cycle of the Fed will be more limited and that the European Central Bank (ECB) and Bank of Japan (BoJ) will respond if currency strength becomes too pressing. But unintended consequences need to be considered – a flattening of the yield curve will be painful for European banks and German insurance companies, for example.
Search for yield
Our longstanding investment themes have been to move up the capital structure and look for sustainable yield opportunities. The key word is 'sustainable'. Most obviously, a pension fund may prefer a high dividend yielding portfolio to meet its pensioner's needs. But is dividend cover actually strong enough in the new environment? The risks facing UK commercial real estate from this growth shock are obvious, but we continue to see attractions in continental Europe for this asset class. If sterling is a major shock absorber it should under-perform the euro, but we still expect relative monetary policy to support the dollar versus the euro. Lastly, we still favour European corporate bonds as the pressures on the ECB to buy are even higher post Brexit.
As well as making strategic or tactical asset allocation decisions, pension schemes also need to consider how they allocate a scarce resource – their research expertise, whether internal or relying on fund managers, independent providers or consultants. These resources now need to be applied differently. For example, much more resource is required for political analysis – not just in terms of market volatility but what populism means for government decisions on taxation and regulation. A second suggestion is that more scenario analysis is required. We have put a successful process in place, for example, we have examined the impact on our portfolios of a plunge in oil prices, a crisis in China and a Brexit event. Future scenarios look increasingly to be political as much as economic.
To summarise, many of the complex decisions facing European pension schemes post Brexit will benefit from analysing other global phenomenon. The pressures on the ECB can be set alongside those facing the BoJ. European politics are complicated, but the US elections require scenario analysis too. A world of low numbers is driven by the Chinese structural slowdown. Asset allocation decisions are straightforward in the first phase of the Brexit outcome, but the phenomenon will last years, requiring more scenario analysis and thematic investing as well as traditional strategic and tactical asset allocation.
Andrew Milligan is head of global strategy at Standard Life Investments