---
Valuations have become trickier as weather-related incidents rise
The SBAI published guidelines to help investors ask the right questions
Valuation has always been an important, albeit thorny, component in assessing insurance-linked securities (ILS) but the higher-than-expected losses in 2017 and 2018 made the number crunching even trickier. The recently published set of guidelines from the Standard Board of Alternative Investments (SBAI) is designed to improve the process but investors should always be aware of the risks attached to this asset class.
ILS have become popular over the past few years owing to the depressed-interest-rate environment. They are typically seen as a growth alternative asset because they can offer the same return as a hedge fund or high-yield bond, with the added benefit of being uncorrelated to any other part of the capital markets or macro-economic variables.
The largest part of the ILS market are individual private transactions where valuations are harder owing to the illiquid nature of the securities and compared with publicly-traded catastrophe (cat) bonds which account for a smaller part of the market, according to Robert Howie, lead researcher for insurance-linked strategies at Mercer .
"If investors need liquidity, then they will go for just cat bonds, but most pension funds with longer-term horizons will include the private transactions which typically return capital within the year," he says. "However," he adds, "there is a valuation issue with so-called indemnity-based or non-parametric transactions because there is uncertainty as to when the actual payout will be, if there has been a claim. They are tied to actual claims and the capital is tied up in the vehicle until there is a resolution, which can take a long time."
There are also funds using parametric triggers whereby the insured event is not linked to actual claims made. Instead, they are linked to the occurrence of a specific and measurable incident, such as wind speed reaching a certain level in a specific location, or the occurrence of an earthquake of particular strength in a given area. Investors can be fairly certain about the type of payments they will receive but the returns are not as high as their non-parametric counterparts.
While assessing the damage of hurricanes is always complicated with a degree of uncertainty, the losses of the so-called HIM storms – hurricanes Harvey, Irma and Maria in the US and the Caribbean in 2017 were unprecedented. They totalled roughly $265bn (€237bn), with Harvey alone, a category-four storm that hit Texas, comprising almost half of that amount at $125bn. It was the second-worst disaster in US history after hurricane Katrina which racked up $161bn in 2005.
The storms were also notable because they occurred in rapid succession, wreaking havoc on the claim's settlement process. There were not enough local adjusters to assess the destruction, which meant claim reports were delayed and the expenses for adjusting losses increased. Moreover, as Gregor Gawron, head of insurance-linked strategies at Lombard Odier, points out, social inflation from litigation and assignment of benefits, exacerbated the situation.
It is estimated that social inflation, whereby losses creep up owing to high jury awards, added 20% to hurricane Irma's industry loss. There are signs that hurricane Michael that hit Florida last year could experience a similar escalation in damages which currently stand at $11bn. However, this is expected to be less of an issue as the Florida state legislator recently passed a law capping payout.
Given the scale of the insurance losses of 2017 and 2018, the SBAI decided to issue guidelines – Valuation for ILS to help fund managers develop more sound valuation and governance frameworks for the securities and investor disclosures.
The first paper, which is expected to be one of several, is also aimed at investors who are interested in assessing a manager's valuation methodology. Typically, managers will use the best possible estimate of the ultimate loss to a contract that is available to them when determining fair value. However, there is no uniform way in which these losses are decided and the quality of loss estimation and reporting can vary significantly.
The result is that, in the absence of a secondary market in most types of insurance exposures written by ILS funds, managers are required to derive their own valuations, according to Thomas Deinet, executive director of the SBAI. He says: "The lack of standardisation of loss reporting by cedants (a syndicate or company that transfers a risk exposure under a reinsurance contract) and different methods that managers can employ to estimate losses can result in differences in the valuations between different managers. The guidelines do not offer a single approach but encourage best practice and provide key valuation-related questions that investors should ask as part of their due diligence process on an ILS fund manager."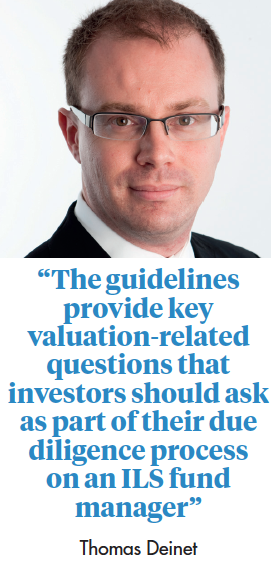 Eveline Takken-Somers, senior investment manager at PGGM, the Dutch pension manager that is one of the largest allocators to the ILS space, notes that "good standards are critical from an investor's perspective, and we encourage ILS fund managers to sign up to the Alternative Investment Standards. Robust valuation procedures are of particular importance because they help to address conflicts of interest between different investors and the manager and facilitate the fair comparison of performance between managers."
There are also other ways that managers can improve their valuation practices, according to François Divet, head of ILS at AXA Investment Management, adding that they should work more closely with insurance companies to get them to disclose their information more frequently. "I think they should publish a timeline outlining when they are going to release information which would help improve the accuracy of the estimates," he says. "The SBAI guidelines are not necessarily new but at least they have listed the steps and are useful to investors who are not aware of the methodology being used by their fund managers."
The one area that that was not covered by the initial set of notes was the use of side pockets. They were the preserve of the hedge fund community especially during the financial crisis when many managers put their more illiquid investments into separate sleeves to limit redemptions and, in some cases, artificially inflate management fees. In the ILS space, they are more benign and are designed to ensure that the manager can cover those liabilities and prevent new investors from being exposed to assets that do not pay a premium, according to a research report from consultancy Bfinance last year.
The main attraction of the side pocket is that it protects new investors from valuation uncertainty and loss, according to Gawron. "Another downside of not having side pockets is that sometimes the losses are overestimated and turn out to be lower than expected," he says.
While views differ on side pockets, all agree that selectivity of managers and their valuation methods are crucial. Bfinance found that there are two camps – managers that have maintained a relatively consistent level of risk and those that have prioritised keeping a certain level of returns, often by moving down the risk tower. Whichever route is chosen, the SBAI is expected to help investors do their homework.
Briefing: Shining a light on active ETFs
1

2

Currently reading

Briefing: Guidance for valuation of ILS

3