---
● State Street says its new peer-to-peer product will leverage the size and strength of its existing agency lending and custody programmes
● A critic contends that many end investors would have difficulty getting approval as borrowers
● State Street counters that suitable clients have already undergone a rigorous credit and collateral review
The words scale, operational efficiency and lower cost feature regularly in the State Street discussion of its new peer-to-peer securities lending product. Direct Access Lending enables direct, principal loans between its lending clients and its borrowing clients.
One long-serving securities lending participant, who asked not to be identified, said by way of largely positive reaction: "It's great to see this initiative take off. The industry has far too many intermediaries and it's nice to see State Street lead the way in peer-to-peer.
"There are other formidable organisations like Asterisk Networks setting up similar platforms. What needs to be addressed is risk on these platforms and its mitigation, particularly in counterparty risk and how that is or is not priced into this activity.
"It's clear, though, that intermediaries like agents and prime brokers have been there for a reason but as revenues continue to decline in this sector and costs increase, one way to keep some profitability for the end-users would be to remove the intermediaries.
"It would be good to understand how State Street will charge their clients for peer-to-peer lending and what risks potentially increase and how they may be mitigated."
For the record, it is worth restating the claimed facts from State Street. The financial services company says the new peer-to-peer product will leverage the size and strength of its existing agency lending and enhanced custody programmes. It says the innovation underscores a continued focus on aligning solutions and technology across the institution to help clients achieve their objectives.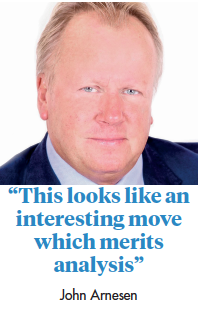 State Street says that to facilitate the direct lending transactions, it will leverage its agency lending and enhanced custody programmes to offer both sets of customers the benefits of each programme required to operate in a peer-to-peer transaction. Both parties will also enjoy an economic benefit associated with Direct Access loans. It adds that the product offers a seamless peer-to-peer model, supported by the operational efficiency and expertise of a managed securities lending programme.
Martin Tell, global head of securities finance, said at the time of launch that over the past decade, State Street has worked hard to manage balance sheet constraints across banks and broker/dealers participating in securities lending.
He says that State Street has created several innovative solutions to support its clients. It has expanded its programme to add new markets and collateral types. It is also diversifying methods for borrowers to post non-cash collateral by pledging securities instead of a title transfer.
He says that this prior innovation and development positions the bank uniquely to create a peer-to-peer securities finance platform, given the scale and sophistication of its agency lending and enhanced custody businesses.
When asked to identify the main aspects of this new initiative that will affect the securities lending business, one experienced non-State Street industry hand replied: "There are a few things here that we need to take into consideration. Securities lending revenues are challenged. Reinvestment opportunities are limited because of interest rates, volumes have been within a relatively narrow band for many years."
Supply growth continues to outpace demand growth (to the extent that any demand growth exists), he said. "This means that beneficial owners that lend make less money as there are more lenders every year trying for a piece of a similar-sized revenue pie. Enhanced custody has already become a big revenue line for [State Street]. I am not convinced this will be as big a game changer."
Peer-to-peer borrowers are the biggest limitation, he says. There is a small number of sophisticated large institutional investors that might be willing to lend to other institutional investors. However, the question is how many of those institutional investors already borrow securities today or have it in their plans for tomorrow?
"Many of the end investors that would be interested in this, are interested because they have had difficulty getting approved as borrowers," he says. "Typically alternative funds and institutional investors do not borrow money, so don't have external credit ratings and agents and beneficial owners have been hesitant to add them to approved borrower lists. By providing an indemnification, State Street is taking away that problem of unrated borrowers."
What, then, he asks, is the State Street appetite for indemnifying these entities as they are usually non-financial or less-regulated entities and therefore quite "heavy" for capital reserve calculations?
State Street replies: "Only enhanced custody clients will be eligible for the Direct Access programme. Clients of our enhanced custody programme have already undergone a rigorous credit and collateral review for the bank to gain comfort lending to them on a principal basis. Only with these clients will we be comfortable offering indemnification against their default."
State Street declined to name the current lenders in the direct access programme, other than to characterise them on the supply side as six or seven large lenders with a fairly significant supply of assets. On the demand side, John McGuire, global head of business development securities finance at State Street, says that it already has clients active on the programme.
Experienced industry sources suggest that the likely suspects include large US or Canadian pension funds and global sovereign wealth or pension funds. There is also the potential for it to be used within an insurance company which operates in different legal entity silos.
John Arnesen, consulting lead partner at specialist firm Pierpoint Financial Consulting, who has spent his career in the securities lending industry in top rank institutions, is on the record in his reaction. He included the following comments in an extensive blog post: "It was with some interest I read of State Street's launch of Direct Access Lending which will not only match lending clients with those that use its enhanced custody platform but include a feature in that State Street will continue to indemnify the activity.
"So, peer-to-peer with a twist that should attract interest. No doubt others are eyeing this closely and may follow suit. In an environment of flat to declining earnings, providing access and leverage to the strength of the operational structures that agent banks have built over many years, this looks like an interesting move which merits analysis."
"Quant players who are sensitive to price will obviously be interested in this programme" - John McGuire
As one would expect, State Street and its front-line representatives are confident that the initiative will succeed. "Previous technology-driven attempts did not work because they did not have scalable supply or demand," says McGuire. "We didn't need their software; we have the full securities finance value chain in-house, from lenders at one end to end-users at the other, and we created Direct Access to drive up utilisation of our existing agent lending programme and offer additional value to our enhanced custody clients.
"While peer-to-peer cuts out the middleman, it allows suppliers of securities to meet borrowers of securities. It is cheaper. It is operationally efficient. And it has scale. It will also help with prime broker balance-sheet management. Quant players who are sensitive to price will obviously be interested in this programme and can consume unduly large portions of a prime broker's balance sheet."
What, though, of future competition should Direct Access prove a resounding success and spark off a surge of copycats? "There has been many iterations of peer-to-peer introduced to the market that have not been successful," says McGuire. "Why we feel our platform will be successful is that it is a managed platform offered only to our enhanced custody clients whereby we eliminate the operational burden of that borrower facing off to an agent lender…. without this it will be an operational nightmare."