---
Active ETFs are not tied to an index but instead embed an actively managed strategy
In Europe the standards on ETF transparency are a confusing hotch-potch
Exchange-traded funds (ETFs) have grown into a $5trn (€4.4trn) global industry by focusing on a few key selling points – low costs, liquidity, easy diversification and transparency.
But is the last point – the daily disclosure by ETFs of their full portfolio holdings and weights – absolutely necessary for ETFs to retain their appeal? A recent decision by the US Securities and Exchange Commission (SEC), the US financial regulator, means this aspect of ETFs' structure has come under heavy scrutiny.
For most ETFs, transparency is a by-product of their main objective to track an index, which follows predefined rules. For example, investors in an S&P 500 ETF can assume it contains roughly the same constituents as its underlying index, consisting of the 500 largest US blue chips.
But for a small but fast-growing segment of the ETF market, transparency takes on a different meaning.
So-called active ETFs make up only about 2% of global ETF assets but have been attracting increased attention. In the US, the world's largest ETF market, their assets have grown fivefold since 2014, according to Morningstar.
Because active ETFs are not tethered to an index, but merely embed an actively managed strategy in an ETF 'wrapper', regulators have historically been stricter regarding portfolio transparency.
Until recently, the SEC had always insisted that active ETFs disclose their holdings daily, whereas the same requirement did not exist for their passive counterparts (even if, in practice, most managers of index-tracking ETFs do publish their holdings each day).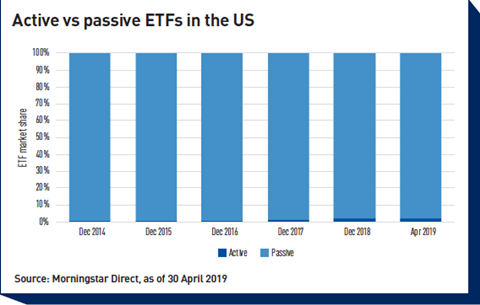 However, in April 2019 the SEC relaxed this position, granting preliminary approval to a non-transparent active ETF structure called ActiveShares, offered by US-based Precidian Investments.
Precidian's active ETF structure sits somewhere between a traditional mutual fund and a traditional ETF. Investors in an ActiveShares ETF will be able to enter and exit the fund on the basis of intraday, market-based pricing, just as in a traditional ETF.
In turn, investors will give up the option to buy or sell at a single net asset value (NAV), set at a single point of time, as in a traditional mutual fund.
The US regulator has restricted its conditional approval to funds with holdings listed on US exchanges that trade during the same hours as the ETF, removing the challenge of setting intraday prices in US hours for securities that trade mainly overseas.
And ActiveShares is undertaking to publish a verified intra-day indicative value (VIIV), based on the undisclosed portfolio holdings, every second.
The VIIV, which will be published more frequently than the standard indicative NAV (iNAV) for US ETFs (the iNAV is disseminated every 15 seconds), is clearly designed to help market makers avoid excessively wide bid-offer spreads when quoting prices in the fund.
The SEC's about-turn on active ETF transparency has led some market observers to predict a wave of interest among traditional fund managers in converting their strategies into an ETF format.
"Active managers who have hesitated to venture into ETFs may now make their strategies available to a wider audience of investors without revealing their 'secret sauce'," said Brown Brothers Harriman (BBH) in a recent note.
"Until now, active managers have been entering the ETF market through smart-beta indexed funds or actively managed transparent ETFs," BBH says.
Vanguard, the world's largest provider of mutual funds and the second-largest issuer of ETFs, is taking a wait-and-see stance on non-transparent active ETFs.
"From a regulatory standpoint [the SEC's decision] is a noteworthy change," says Vanguard's head of ETF product management, Rich Powers.
"But from a market perspective, time will tell if this is a big development or not," Powers continues.
"Are quality products being brought to market? Are investors interested? Is it being done at the right price? That will determine if this product is a big development for the industry at large."
Others are more sceptical about the prospects for non-transparent ETF structures.
"From an investor's perspective, I'd view [the SEC approval] as almost a non-event," Ben Johnson, director of global ETF research at Morningstar, says. "It's a solution in search of a problem that investors frankly don't face. If they want active strategies in an ETF, they've been well served by the current fully transparent structure, which has been used successfully by a number of fixed-income managers."
And bullish predictions for active ETFs overlook the reason why many investors switched to ETFs in the first place, says Johnson.
"Based on the performance data, many active managers are flattering themselves if they think people out there are chomping at the bit to front-run their trades or shadow their portfolios," he says.
In Europe, the standards on active ETF transparency are a confusing hotch-potch of rules set by local listing venues.
For example, the London Stock Exchange and Borsa Italiana, both part of the same group, do not require full daily portfolio disclosure for active ETFs, whereas the German, Swiss and Euronext stock exchanges do.
However, the Central Bank of Ireland (CBI), which oversees Europe's largest ETF market – over half the region's ETFs are domiciled in Ireland – has up to now taken a pro-transparency stance.
Nevertheless, some ETF market participants in Europe are betting that the Irish regulator will soften its disclosure rules.
One firm, HanETF, is hoping to capitalise on the future large-scale conversion of actively managed mutual funds to ETFs. HanETF says it can partner with third parties to bring ETFs to market in just 12 weeks.
"ETFs are just a piece of technology. It's nothing to do with active or passive. We believe the next wave of inflows to European ETFs will come as people adopt ETFs as the wrapper of choice," Hector McNeil, the firm's co-CEO, says.
McNeil says European ETF assets still have the potential to grow fivefold from their current level, largely as a result of investment firms converting traditional mutual funds to ETFs.
However, when contacted by IPE, Ireland's central bank showed little sign of budging from its long-standing position on ETF transparency.
"We are aware of and have reviewed the Precidian filing with interest," the CBI told IPE.
"To date we have not seen applications for similar structures here. As such, we have not considered how this model would be incorporated in the case of a European ETF, taking into account the specificities of European ETFs."
This article has been amended to reflect a change in policy requirements for active ETFs set by Borsa Italiana in 2016
Briefing: Shining a light on active ETFs
1

Currently reading

Briefing: Shining a light on active ETFs

2

3