Some Swiss pension funds are introducing a degree of individual investment choice. Barbara Ottawa assesses progress so far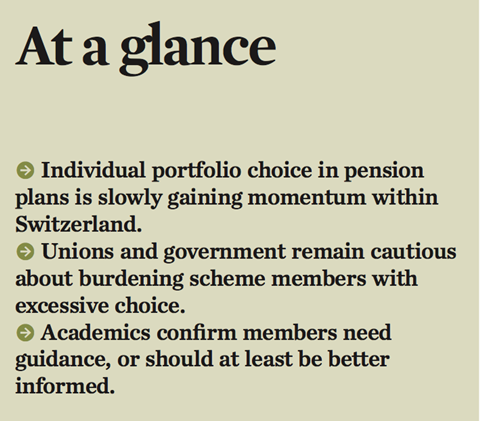 Individual choice is on the agenda of Swiss Pensionskassen now as more funds are switching to defined contribution plans. As members are bearing more risks, the funds want to ensure they are also given more choice.
Increasing numbers of Pensionskassen are considering so-called 1e-plans. These are named after a legal paragraph relating to individual choice of risk portfolios within a pension plan. This step is controversial as experts argue that members are not sufficiently informed to make these decisions.
The possibility to offer different investment strategies within a pension plan, which has been in place since 2009 has so far generated limited interest. Novartis was one of the first to introduce this feature and some collective schemes have opened similar models with individual portfolio choice.
PensExpert, the Swiss-based executive pension provider, for example, has reported healthy inflows into its PensFlex collective scheme in 2014, increasing assets by 10% to CHF1bn (€833bn). But these choices can only be offered to those with savings above the mandatory legal minimum contributions. Mark Huber, partner at PensExpert notes this offering allows people to take investments into their own hands, up to a point, and "not have to suffer from wrong investment decisions made by others". This also means having to bear possible losses.
Last year, UBS jumped on the bandwagon creating a collective scheme together with Aon Hewitt, named UBS Optio 1e, offering flexible investment choices.
The timing of the UBS product might have been linked to the Swiss government finally eliminating one of the obstacles to the dissemination of 1e-plans, regarding members who switch between Pensionskassen and the transfer of their associated investments. A government bill currently being debated foresees that all providers offer at least one strategy where a legal minimum payout upon switching pension plans is guaranteed. Market participants expect a vote on the bill to take place in February this year.
However, criticism of 1e-plans remains strong, mainly from union representatives. For some analysts it is significant that this flexibilisation was not even mentioned in the government reform package 'Altersvorsorge 2020'. The unions argue that people are not able to make these decisions and should not be forced to take on so much risk. The counterargument is that these choices are made by people with higher incomes and subsequently higher education.
Choice in Swiss pensions
In the mandatory second pillar in Switzerland there is an additional element of so-called 'above-mandatory' contributions (Überobligatorium in German) and some employers use this instrument to provide employees with additional pension benefits. The additional accrued assets allow the introduction of certain flexibilities outside the law governing the Pensionskassen, the BVG.
For example, pension funds with above-mandatory contributions can lower the conversion rate below the legal minimum for the overall plan as long as they guarantee the current 6.8% rate for the assets paid in as part of the mandatory saving.
Also, individual choice such as in 1e-plans – named after article 1e in the BVV2 law, the regulations regarding investments of Pensionskassen – can be introduced in relation to the additional contributions.
This means, similar to lifecycle models elsewhere, that members can chose a portfolio matching their risk. However, a law proposed by the government would make each Pensionskasse offer at least one choice, with a minimum payout in case a member leaves a pension fund during a market downturn.
Prof Monika Bütler, director at the Swiss Institute for Empirical Economic Research at the University of St Gallen, believes that the impact of increasing levels of individual choice on the system needs to be evaluated, and that members need to be guided in their decisions. The Swiss Social Affairs Ministry is studying her work on financial behaviour.
Speaking last year at a PPC Metrics sponsored event, Bütler was not all that encouraging on people's ability to make the right choices. Inertia among members may be common, but when confronted with a choice, Swiss plan members will tend towards a lump sum over a guaranteed income. "The more you force people to decide, the less likely they will decide for annuities."
Bütler points to research on members of various pension funds, showing quite divergent rates of annuitisation. Those with the lowest rate had been forced to decide while, for others, annuities were the default. The choice also depended on how the question was framed and which scenario was presented as the default.
"The more you force people to decide, the less likely they will decide for annuities" Monika Bütler
Additionally, greater attention is devoted to information about annuities than lump-sum payouts in the information that Swiss plan members receive. "If people get more information about annuities then they will go for those," she notes.
However, Bütler warned some of the choices people made were "too rational and strategic", which can be detrimental for the community.
For those without an additional third pillar and a low combined pension asset base in the second and first pillar it is better to take out a lump sum from their occupational pension and rely on social security top-ups once the money is gone. A solution could also be to make annuities mandatory at a certain level of income.
Additionally, cuts in the conversion rate hit members of some pension plans in 2003-04 and led to an increase in lump-sum payments. The share of annuities recovered slowly over the following years.
In all, member choice is an increasingly important issue in the Swiss pension system, not least since a majority decided against a cut in the mandatory conversion rate for pension income in 2010, which now means decisions on more drastic cuts.