The UK government is mulling over a massive shake-up of pensions tax relief in a bid to incentivise retirement saving. Stephen Bouvier examines the issues
Retirement saving is all about having a vision for the long-term. But some observers argue that nothing better underlines the UK's short-term approach to providing for a world after work than the tinkering that has characterised retirement policy throughout the post-war years.
Now the UK Treasury is about to embark on what is arguably the biggest shake-up of long-term saving in a generation.
One of the first acts of the post-war government was to usher in the National Insurance Act 1946, which set up a universal contributory state pension for men from age 65 and women from age 60.
The Social Security Pensions Act 1975 established the State Earnings Related Pension Scheme (SERPS). With many of its baby-boomer contributors now in retirement, it has all but been dismantled, having morphed for a while into the State Second Pension.
The years from 1997 saw a shift in priorities away from wealthier pensioners towards the poorest retirees, while the last five years of coalition government saw the introduction of auto-enrolment, new pension freedom rules – which scrapped the obligation to purchase an annuity on retirement – and, from April 2016, the introduction of a new flat-rate state pension.
By the mid-1980s, the government had already started the process of confronting the future demographic crisis in state pension provision. And today, with Generation Y moving into the world of work, the idea is to give them the incentive to save.
Accordingly, in a recently concluded consultation exercise on pensions taxation, the government set out a number of principles for reform of pensions saving. The consultation set out four principles:
• It must be simple and transparent;
• It must allow individual savers to take responsibility for making adequate retirement provision;
• It must build on the success of automatic enrolment;
• It must be sustainable.
Alongside the marked reluctance of UK workers to save adequately for old age, a pattern has emerged in recent years where those who do save tend to save too little.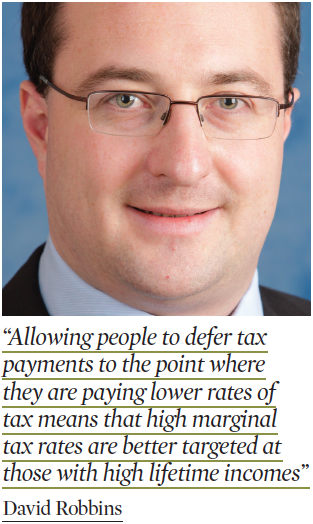 These concerns were recently highlighted in a joint study by the Association of British Insurers (ABI) and KPMG, which quoted a Scottish Widows estimate of the scale of the UK savings gap: today there are some 6.2m workers – 20% of the potential saving population – who have saved nothing towards their retirement. The Chartered Insurance Institute puts the gap at roughly £9trn (€12.6trn).
Following the 2008 crisis, the UK savings ratio – the percentage of household income left over after monthly expenses – now stands at roughly one-third of where it was 20 years ago. The UK also faces the systemic challenges of increasing life expectancy and the rising cost of long-term care.
One model for this shift is the so-called 'taxed exempt exempt' (TEE) approach. This is where pension contributions are paid from taxed income, while investment income is exempt during accrual and income is exempt during retirement. This contrasts with the current 'exempt exempt taxed' (EET) or deferred taxation model, which the European Commission once sought to promote as best practice in the EU to facilitate cross-border mobility.
The UK's Centre for Policy Studies (CPS), a centre-right think tank, is a strong advocate of TEE taxation, which it sees as spearheading a unification of pensions and long-term savings. In a blog posting from April 2015, the CPS research fellow Michael Johnson noted the growing popularity of individual savings accounts over pensions saving. He pointed to the unattractiveness of the 20% tax relief available on pensions to the large swathe of UK standard rate taxpayers who do not make use of it, referring to the complexity, cost and inflexibility of products and distrust of the industry.
The alternative, Johnson says, is a model that aligns the objectives of auto-enrolment with a restructuring of pensions tax relief based on the popularity of long-term savings. In other words, a TEE model would fund retirement saving out of net-of-tax income, but treat capital gains and pension payments as exempt from income tax. This is in marked contrast to today's EET model, which, broadly speaking, pushes the tax burden onto pensions in payment.
One advantage to the government of introducing the TEE model now is that it would push out the tax relief bill by a generation. Critics of the current model argue that it is hugely expensive; according to Johnson, pension tax relief incentives totalled more than £52bn in 2013-14.
Johnson also points to a number of iniquities in the current tax relief system. For example, he notes that only about one-in-seven of those who receive higher-rate tax relief while working ever pay higher-rate income tax in retirement. In other words, tax relief is not income tax deferred, it is income tax that is never paid.
Towers Watson broadly opposes any move to the EET-based model. David Robbins, senior consultant at Towers Watson, says that although there are arguments both ways, there are a number of advantages to taxing on the way out.
"First, you are not collecting tomorrow's tax today. Doing that when you know there will be more old people seems slightly risky. Today's approach ameliorates one of the problems of an annual approach to income tax," he says.
"Allowing people to defer tax payments to the point where they are paying lower rates of tax means that high marginal tax rates are better targeted at those with high lifetime incomes.
"There is also the danger that the chancellor could tweak the top-up by enhancing it or suspending it, so people have to guess whether now is a good or a bad time to put money into a pension." There is also the risk that a future government will need to impose an additional tax charge on income withdrawal.
Stewart Hastie, a pensions partner with KPMG in London, says that a narrow focus of the debate on the two approaches is "missing the point". "Both can be designed to solve the complexity and inequalities of the current system," he says.
His preferred option is for the government to tread cautiously and move to a new tax regime for retirement saving – particularly if that move is to TEE – over no less than three years and, ideally, five.
So what comes next? The government's consultation document or Green Paper, sets out proposals and seeks views. It does not set out a commitment to any particular course of action. The next stage in the process would be a White Paper, which would contain more concrete legislative proposals.
The chancellor, George Osborne, said in the House of Commons on 27 October: "It is a completely open consultation and a genuine Green Paper, and we are receiving a lot of interesting suggestions on potential reform. We will respond to that consultation fully in the Budget."