A new occupational pension framework without guarantees has stirred up an already complex industry and most of its stakeholders are still playing their cards close to their chest
Key points
• It is unclear which industry will announce the first defined contribution (DC) scheme under the new legal framework
• The metal industry has confirmed it is in negotiations, but pensions providers and firms are reluctant to comment
• Most larger companies are content with their current arrangements
For those in German pensions it is as exciting as the race to put a man on the moon. Which industry will be the first to announce an operational defined contribution (DC) plan under the new legal framework, the Betriebsrentenstärkungsgesetz (BRSG, see panel) to companies and employees?
Only the metal industry has confirmed that employer and employee representatives (Tarifparteien) are even negotiating on the matter. "We are on stand-by for preparatory work," says Heribert Karch, managing director of MetallRente, the sector-specific scheme for the metal industry. It will be among stakeholders offering new defined contribution pension plans. "It is very important to wait for what the Tarifparteien decide they want. And this is influenced by politics, psychology and distribution policy."
Other leading pension providers and companies did not want to comment on the status of the negotiations. One says it is "looking into the possibilities the new legal framework offers". "We have to wait for the input by the employer and employee representatives as they have to agree on the new plans," another comments.
"There is a certain suspense around the issue at the moment as everyone is waiting for what the Tarifparteien will decide," says Ralf Berndt, managing director responsible for sales and marketing at Stuttgarter Lebensversicherung.
In March 2018, two products to help achieve a defined ambition (Zielrente) model were announced. One is to be offered by Union Investment and R+V insurers within their jointly owned R+V Pensionsfonds. A consortium of five insurers – Barmenia, Debeka, Gothaer, HUK-COBURG und Die Stuttgarter, calling themselves Das Rentenwerk – brought a unit-linked insurance product to market on the same day. Before that, Zurich and Talanx had announced a co-operation agreement to be called 'Die neue Betriebsrente' which is scheduled to offer products in June.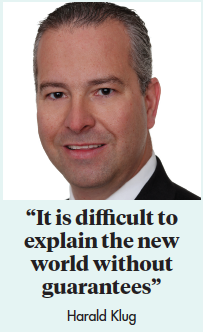 In contrast to the insurers, the MetallRente wants to "look into the individual elements of the value chain", says Karch. "Efficiency is needed in each of these elements to create sustainable retirement plans with a risk-return profile that still yields pension promises worthy of that name. We are also looking at package deals coming to the market and are checking them for cost efficiency."
However, these products are merely services to be offered to any pension agreement the Tarifparteien come up with – maybe as part of a tender process. Karch confirms that Tarifparteien might choose to tender services, although there is no obligation: "But these will be products intended to last for several decades," he comments
Harald Klug, head of the German institutional business at BlackRock believes most German companies are content with their current pension arrangements or they do not want to add yet another model to their retirement benefits offerings. "The question is who is the intended target group for the new DC plans – large companies are often reluctant to make changes and many small companies are not eligible because they are not part of a collective bargaining agreement." He says that these are sometimes "difficult to implement for small companies".
Karch says he is aware that the metal industry has advantages of scale. But he calls on smaller industries to consider co-operation and pooling when it comes to the new pension models. "Package solutions are not the only way to achieve economies of scale," he says. "Pooling of assets, risks or administration across industries should be considered more."
Klug notes: "It will be a while before we see any tangible negotiations on the new pension plans between unions and employer representatives. It is difficult to explain the new world without guarantees."
For Peter König, managing director at Delta Management Consulting, "there are two reasons why nothing is happening yet". One is the question of how to set up these new entities and who takes responsibility for which decisions.
Any new pension vehicle set up as defined contribution will also have to have board-level representatives from employers and employees. König says: "It remains unclear what this board will have to decide on. Will it have to set the strategic asset allocation or even make tactical decisions? And, will they position their fund to go for higher returns, or rather stay on the conservative side to prevent potential drawdowns?" he asks.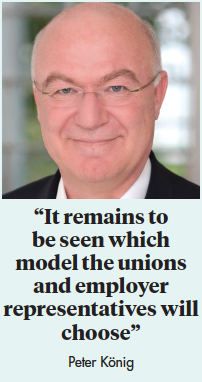 In the current German occupational pension world, guarantees and obligations for employers to top up pension plans are softening the blow of financial decisions by managing boards. But these dampeners have now been removed. For König, one solution to the problem of responsibilities for strategic asset allocation and risk management is a life-cycle model as this pre-defines levels of equity exposure: "Certain risk categories can be set on a strategic level and people can be given an individual choice." Klug agrees some form of life cycle model could make sense: "This would offer individualised risk options for employees with a certain level of choice. But, it will need good financial education and a well designed default option."
Different approaches to managing the risks put on members in a DC environment under German law could be a collective safety buffer paid for equally by all members, conservative asset allocation, market timing, or life-cycle concepts. "Collective risk buffers make sense in the pay-out phase for pensioners, but during the accumulation phase a different option might allow for more individual investment concepts," says Klug.
König emphasises: "It remains to be seen which model the unions and employer representatives will choose." It might also be that different industries opt for different approaches.
"We are changing the pension system with this new model," says Karch. And König adds: "The BRSG brings a change in culture in the German occupational pension segment – also for the providers who now have to communicate their investment and pension design to beneficiaries who bear all the risks."
"It will take some convincing and consulting to switch German employees to more risk-taking in their portfolios," Klug points out. "It is important to create more trust in capital markets," he points out.
"The BRSG will help further strengthen occupational pensions," says Andreas Wimmer, a member of Allianz Leben's board of management. He is not only referring to the new DC world the legal framework opens up but also to measures that can be applied to the 'old' occupational world. Among those are an increased cap on tax exempt personal contributions to pension plans falling into the §3.63 EStG category (section 3.63 of the Income Tax Law), new regulations on how pension income is weighted against basic income and subsidies for companies which establish pension plans for employees with lower income.
"The new system is not the sure-fire success some people might think – but it is definitely a step towards strengthening occupational pensions further," says Klug.
Germany's new landscape explained
Betriebsrentenstärkungsgesetz (BRSG): A new legal framework for occupational pensions introducing a new pure defined contribution (DC) world into the German second pillar (under certain conditions, see below). But also bringing changes for existing pension plans such as subsidies for SMEs or for setting arrangements for lower income employees. Additionally, companies have to pay more into a pension plan if they profit on the tax side from reducing salaries by transferring income into a pension.
Tarifparteien, Tarifvertrag: Apart from minimum labour law standards set down for all companies operating in Germany there are annual negotiations between employee and employer representatives from any given industry (Tarifparteien). They set down minimum wages and benefits. Companies can choose to adhere to these collective bargaining agreements (Tarifvertrag). About 20% of companies do. Under the BRSG, only the Tarifparteien can negotiate pure DC plans and set a framework to implement, if they are part of the Tarifvertrag.
Zielrente: As the switch to pure DC is substantial in the guaranteed-pensions-only world, the new legal framework refers to 'target pensions' (Zielrenten), that is defined ambition system. While employers no longer have to top up underfunded pension funds, the retirement plans have to be constructed by the Tarifparteien so as to prevent total losses and manage the memberships' newly acquired risk. What this will look like is still under negotiation and might vary from industry to industry.
Germany: A pensions transition
1

2

Currently reading

BRSG: Scramble for German DC

3

4