Lieve Wierinck's main political passion is ensuring the EU takes full practical advantage of Europe's excellent scientific base. The 61-year-old Belgian MEP, who first worked as a pharmacist, sees the Horizon Europe programme as the next stage in achieving this objective. From her modest office on the ninth floor of the European parliament's Altiero Spinelli building, an imposing edifice clad in glass and grey granite tiles, she enthuses about her subject.
Lieve Wierinck
● Member of the European Parliament since May 2016 representing the centrist ALDE grouping
● Full member of the Industry, Technology, Research and Energy Committee (ITRE)
● Substitute member of the Committee on Economic and Monetary affairs (ECON)
● Pharmaceutical degree from Vrije Universiteit Brussel and a post-graduate degree in pharmaceutical management from the University of Hasselt
● Member of the Belgian Federal Parliament from 2011 to 2014
She praises the European Commission (EC) proposal to increase the budget for its Horizon Europe research and innovation programme to €100bn from 2021-27. Parliament has gone even further and recommended €120bn. Even the lower figure would be substantial increase on the €80bn allocated to the current Horizon 2020 programme. The final budget will probably be decided in March following meetings of the EC, Parliament and council.
The EC's official proposal states that the goal of new programme is to "boost the Union's competitiveness, including that of its industries". It is also expected to have broader benefits for the developing world. According to the EC statement, it will help "contribute to achieving the Sustainable Development Goals (SDGs)".
Wierinck says there are many areas in which the EU is already doing well. She highlights "pharmaceutical developments, new medicines and medical devices and food". Other successes claimed for Horizon include super-batteries, solar cells, and reduction in emissions and noise in aircraft engines.
Given Wierinck background as a pharmacist, it is perhaps not surprising that she emphasises the EC's role in helping to develop a vaccine to combat the Ebola virus. The often fatal hemorrhagic fever can infect both humans and other mammals. Between 2013 and 2016 it killed 11,000 people in West Africa, and has recently re-emerged in the Democratic Republic of the Congo.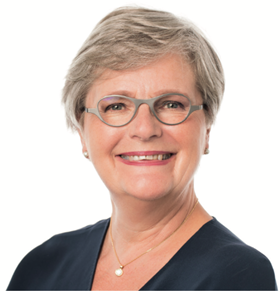 In parallel with Horizon, a regulation states that member states should also spend 3% of their gross domestic product (GDP) on research and development (R&D). However, Wierinck protests that compliance is mixed. "Some don't do it, but they should have to do it," she says.
Wierinck turns to fundamental research carried out under Horizon, as opposed to the development component of R&D. She describes this as "fundamental research as that carried out in universities".
This research has to be funded from the public purse because "any successful outcome can take five years or longer and the risk of failure of any particular project is high", she says. "Industry cannot afford this work. Banks can't either, because the receiving entities would have to pay it back. And universities would not have the money to pay back," she says.
Lieve Wierinck on the CMU: 'finance is key to everything'
What are the most significant objectives you would like to see realised in Brussels in the year ahead, and beyond?
We would like to make Europe a single market and key the pillars in achieving this are the completion of the Capital Markets Union and the Banking Union. Today, it is still too difficult to offer financial products and services across frontiers.
What do you think can be done about the slow speed of the CMU's implementation?
We have to work on it. It is important that this upgrade of rules will happen. Finance is the key to everything. A good example of this is the sustainable finance package. I do not believe that government should fund all of the annual €180bn cost of a successful transition to a sustainable climate. We need to get private investors on board.
For Wierinck, such research is vitally important to avoid the risk of technology gaps revealing themselves in seven to 10 years' time. Research is essential for the EU to meet the economic challenges it faces beyond the short term.
It will also contribute to maintaining the health of Europe's labour market. "Existing jobs will disappear over time but we have to have the power to create new jobs," she says. "We cannot allow technology lags and be behind our competitors, such as the US and China.
"One has to face up to the possibility of a catastrophe of long-term unemployment. To counter this, R&D is essential, but the 'D' element cannot take place if first you have not first put in place its foundation, the 'R' part."
In other words, Wierinck concludes, "if you want the Commission's Environmental, Social and Governance (ESG) Action Plan 'for a greener and cleaner economy' plus the pan-European Personal Pension Product (PEPP) and, in fact, all long-term investment programmes, they will all need the backing of an efficient programme of fundamental research".