While he derives some satisfaction from advances in green energy and the like, Sven Giegold is unhappy that most global investment can still be classed as environmentally unsustainable.
"We see two things happening at the same time," Giegold tells IPE. "We may be seeing growth in the green wave. There is more sustainable activity taking place. Evidence is clear from looking at developments in renewable energy, energy efficiency and in sustainable mobility.
"But, at the same time we are also facing a destructive wave that is growing even faster," he says. "This is undoing the good being done elsewhere. Globally, one major factor is ecological destruction of land resources, such as forests. Here, loss biodiversity is at an all-time high. This is not what the planet needs."
According to the political left's leading economist in the European Parliament, it is not enough to "place a green wave on top of another which is unsustainable". Giegold deduces that action must take place in two stages. The first can be achieved by CO² pricing and by applying rules against unsustainable activity.
The second step is to pressure the investment industry. Here he spells out recommendations that taxation measures must be taken to limit the profitability of unsustainable technology. At the same time, action should be applied to increase the profitability of sustainable activities.
Is he satisfied with the progress that the Green movement has been making in the European Parliament.? No.
However, Giegold sees "a growing interest in green finance", he warns that "anyone who ignores this trend could lose out financially". He explains: "Activities which are currently profitable could rapidly change to being unprofitable. This is because climate risk perceptions can easily adjust themselves abruptly".
Much would depend on the 'tipping point', he says, which could change the investment risk perspective radically. Hence, he recommends that investors "should be much more conscious that climate change risk is not sufficiently being factored into price modelling".
Of course, Giegold is aware that he is hardly alone in his position. For instance, the World Economic Forum (WEF), in a 2017 report, found that, "the choice of renewable energy is no longer just an environmentally sustainable choice, but an opportunity for long term investment with a good return". The WEF quoted a Bloomberg Energy New Finance estimate that investment in renewable energy will reach $7.8trn (€6.9trn) by 2040.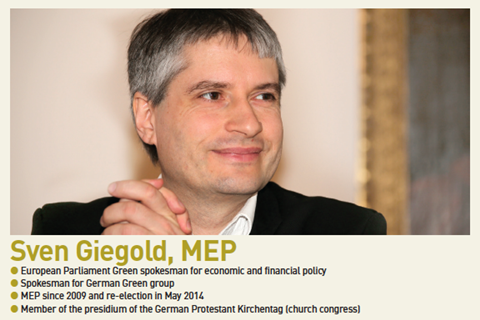 Similar figures have been published by the International Energy Agency (IEA). It notes that global spending on renewable energy is already outpacing fossil fuels and nuclear power. It estimates that renewables will account for 56% of net generating capacity in 2025.
Further data is included in the Organisation for Economic Co-operation and Development's (OECD) recently published Renewables 2018 report. The study, which comprises an analysis and forecast to 2023, states that "the electricity sector remains the brightest spot for renewables, with exponential growth of solar photovoltaics and wind in recent years".
However, the OECD adds that electricity accounts for only a fifth of global energy consumption and adds that the role of renewables in transportation and heating remains critical to the energy transition.
Giegold also opines on the automative sector. In light of Tesla's advances in battery technology with its Model 3, the Green politician says German and other EU manufacturers have fallen into "a dangerous position".
On investment in hydrogen fuel-cells as a substitute for battery power in automatives, Giegold's view is that hydrogen has already lost the race. "I simply don't believe in it," he opines. "We may have heard talk about fuel cells for ages, but we simply do not have the infrastructure in place." Yet he notes that Europe's network of superchargers is growing fast.
As for algae-based fuel, or biomass, for mobility, he would not oppose such developments, but says photo-voltaics are "unbeatably more effective". The comparative energy derived per square metre from a solar panel makes for a difference he rates as "stunning".
On the likely progress of Green thinking during the next European Parliament, Giegold says this will of course depend on election results. Giegold will continue to promote fair corporate taxation and combat money laundering and drives against the mis-selling of financial products.
Moreover, he will continue to support the pan-European Personal Pension Product (PEPP), and what he describes as pension savings products that are truly beneficial for consumers.
Reflecting his morals, derived from German Protestant teaching, he states: "It is intolerable for European banks to have their fingers playing with dirty money. Money laundering is the lubricant for corruption, terrorism and unfair competition."