There are many ways to measure and assess impact. Emma Cusworth reviews the importance of credible data in impact investment strategies
At a glance
• Limited disclosure by corporates is a key obstacle to m easuring impact – both positive and negative.
• The 17 UN Sustainable Development Goals are a key framework against which to assess the impact of investments but there is still limited reporting.
• The Cambridge Institute for Sustainability Leadership has distilled these into six metrics.
• Lack of data will slow progress but does not make impact investment impossible.
Lack of data, in one form or another, has oft been cited as one of the key reasons why considering non-financial impact is still not part of mainstream investment thinking. The launch of the United Nations' Sustainable Development Goals (SDGs) in 2015 may have attracted a lot of interest among institutional investors, but there is still a long way to go and creating a comprehensive and reliable data environment is a critical part of the equation.
While lack of data won't prevent investors from aligning their investment philosophy with the United Nations SDGs, measurement and reporting remains a significant challenge. Investors will have to accept that reporting and measurement will take time to refine and develop into widely-accepted standards. In the meantime, they will have to build the car whilst driving it.
In their current form, not all of the SDGs are easily translatable into a form of investment.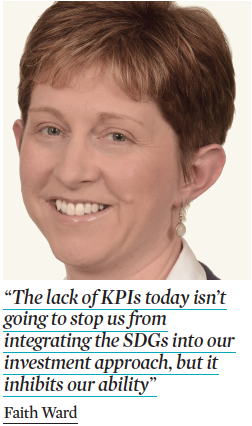 "Not every problem in the world is investable," says PGGM senior adviser for responsible investment, Gert-Jan Sikking. "A good legal system is critical, but not investable."
However, even where the goals are investable, one of the most significant challenges when it comes to investing in line with the SDGs is lack of data.
Faith Ward, chief responsible investment and risk officer, at the UK Environment Agency Pension Fund, says: "Lack of comprehensive and reliable disclosure by underlying companies on both their negative and positive impacts is the biggest barrier to integrating the SDGs into our investment approach. The goals really push the boundaries of what companies consider normal to report, but better reporting on positive societal impact, for example, would provide an opportunity to attract more investment."
According to the University of Cambridge Institute for Sustainability Leadership (CISL) Investment Leaders Group – a collaboration with institutional investors including First State Investments, HSBC Global Asset Management, Natixis Global Asset Management, Nordea, PIMCO, Standard Life Investments, TIAA, TKP Investments and Zurich – it is well recognised that levels of disclosure by companies are currently limited. Much impact data and information that is available is anecdotal and, aside from relatively well-developed areas like greenhouse gas emissions, lacks rigour and consistency across issues, countries and sectors.
Even though there are some well-established metrics on climate, for example, the lack of data is a problem across the full breadth of the 17 SDGs, according to Willem Schramade, senior portfolio manager, impact investing, at NN Investment Partners. "Reporting on KPIs is still too limited to rely on for efficient investment purposes," he says. "There has been a lot of progress on ESG and many of those KPIs can be translated across to the SDGs, but while they might measure some aspect of those goals, they are not enough."
Building the car
Lack of KPIs hasn't stopped some in the institutional community from adopting the SDGs, however. Investors in the Netherlands and Sweden have led the march, with institutions such as PGGM, Sweden's AP7 and AP3, expressing commitments to invest in line with the goals.
The UK's Environment Agency Pension Fund is also in the process of considering how it can use the SDGs as a lens through which to look at investment opportunities and risks for the fund, but the lack of performance metrics will also not deter it from aligning its investments with the SDGs.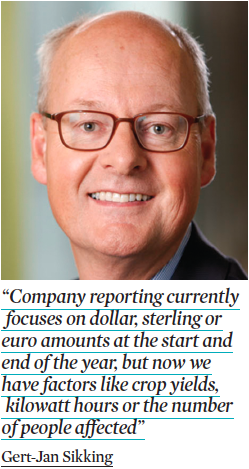 "There are clear qualitative factors that allow us to understand the contribution a company is making and we are happy to proceed on that basis," Ward says. "In short, the lack of KPIs today isn't going to stop us from integrating the SDGs into our investment approach, but it inhibits our ability to really mainstream them and factor them in more fundamentally. I'm confident the industry will develop those KPIs over time."
PGGM likens this approach to building the car whilst driving it. "To be honest, reporting is still at the very early stages," Sikking says. "What we are doing [in terms of measurement and reporting] is not perfect, but we have started and this year we have done better than last year. It really is a case of learning by doing."
PGGM uses the impact reporting and investment standards (IRIS) of the Global Impact Investing Network (GIIN), which are designed to measure the social, environmental and financial performance of an investment. But as Sikking says: "IRIS defines some indicators, but additional metrics are added every year, which makes it practically difficult to work with."
Across the four themes PGGM has decided to focus on – climate, food, water and healthcare – it considered the metrics outlined by IRIS and chose three in each case to focus on to allow them to invest more in assets that were creating a positive impact, less in those that had a negative impact and to calculate how many lives were affected by each investment.
"We are in our third year now and we are making progress every year," Sikking says. "We want to measure and report on our contribution to the SDGs and we hope in a few years we will have enough data to also set targets on those contributions, but we are not there yet. Better metrics would help us to identify where investments are having the biggest impact and help us refine our strategy."
Universal language
There is a considerable amount of work underway to develop a range of performance metrics that would provide meaningful environmental and social impact information to make it easier to track the success of investment against the goals at the portfolio level.
PGGM's Sikking says investors need to speak a new language. "Company reporting currently focuses on dollar, sterling or euro amounts at the start and end of the year, but now we have factors like crop yields, kilowatt hours or the number of people affected."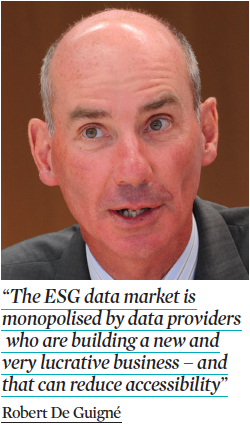 The CISL's Investment Leaders Group (ILG) has published its impact framework, which takes its starting point from the SDGs and converts them into six metrics for gauging the positive or negative impact of assets on important social and environmental topics.
The task of aggregating the goals into measurable metrics is a complicated process as the sources of data are varied in scope, depth and quality. However, according to Will Oulton, global head of responsible investment at First State Investments, the ILG group are "confident" that such measures can be developed and, he says: "will be of huge interest to an increasingly sustainability-sensitive institutional investor market and specifically for the swathes of millennials who will want much more information on both the financial and sustainability performance of their pension and savings assets."
Growth in the number of data vendors and investment institutions providing a range of environmental and social impact data is another vital step in creating a level playing field and making metrics universally available to those wanting to align their portfolios with the SDGs. Much of the data available today still lies in the hands of the few.
According to Robert De Guigné, head of socially responsible investments and ESG solutions at Lombard Odier: "Reliable data and standardised and comparable KPIs are the key to genuinely meeting the SDGs, and to measuring performance. The ESG data market is monopolised by data providers who are building a new and very lucrative business – and that can reduce accessibility to the widest group of investors."
The wider and richer those sources of information become, the more investors will be enabled in choosing their investment products in a manner that connects asset allocation to the impact those decisions have on the broader issues the SDGs are designed to tackle.
Criticism and evaluation of risks is an important part of that process, but it is not an insurmountable challenge, as institutions like PGGM and the Environment Agency Pension Fund have already proved. Lindsay Smart, head of impact research and innovation at ClearlySo, says: "There is a desire to understand the weaknesses of the current system and make progress where things need to improve, but that shouldn't happen at the expense of starting to align investments with the SDGs."
Ultimately, the lack of data and KPIs will slow the pace of integration of the SDGs into investment decision making, but it doesn't make those SDGs unactionable. A pragmatic approach is needed that recognises reporting and measurement will be an ongoing work in progress as the relevant metrics are refined and become established as a new universal language. As Ward says: "At this point, it's important to start, to get the ball rolling and we can then develop the appropriate KPIs as we go along."
Better metrics needed to mainstream the SDGs into investment
Early progress on adopting the SDGs into institutional investment is promising, but to 'mainstream' those goals as a widely-accepted standard for investment requires the creation of better metrics and a universal SDG data environment.
According to the UK's Environment Agency Pension Fund chief responsible investment and risk officer, Faith Ward: "Having better KPIs would allow us to really ramp up that effort by making it more robust, aggregating data at the portfolio level and allowing us to clearly communicate it to our stakeholders. That would enable us to mainstream the approach."
Clarisse Simonek, senior programme manager in the University of Cambridge Institute for Sustainability Leadership's Investment Leaders Group, says the industry needs to create a "shared language" that doesn't yet exist.
"Metrics are very important if not critical to achieving that shared understanding," she says. "For the metrics to be understood across all segments, they need to be universal and simple enough that they don't only apply to sophisticated ESG investors."
Creating a simple, easy-to-understand tool for measuring impact will allow the SDGs to be translated into mainstream investment by allowing investors to more easily marry the fiduciary duties of the governance bodies of asset owners with measuring performance beyond risk-adjusted benchmark-sensitive returns. It also creates an economic tailwind by changing buying behaviour.
Will Oulton, global head of responsible investment at First State Investments, uses the analogy of the EU Energy Label to demonstrate how a simple, unified label can 'mainstream' a characteristic into buying behaviour. The EU Energy Label requires most white goods, light bulbs and cars to carry an efficiency label (CO2 emissions for cars) when offered for sale. "Such information in a simple, easy-to-understand form has helped consumers choose between different features of products relating to their impacts in the form of energy running costs," Olton explains. "Not many people are prepared to pay for low-graded products and many manufacturers see little economic sense in providing them.
"Today there is limited information available to consumers of investment products which articulate the performance of the portfolio of assets in the real world beyond its financial returns. Such information will be increasingly demanded by clients and will provide a useful addition to the information set available to potential investors."
However, not everyone agrees. Some experts point to the nuances associated with measuring impact – such as working out how a positive impact on zero hunger would impact life below water, or accounting for the positive outcomes of carbon-intensive production of green energy solutions – which, they argue, makes it difficult to apply a 'formulaic' approach.
Schroders' head of sustainable research, Andy Howard, says: "We need a real understanding of how to make those investment decisions and to engage with companies to achieve change. This doesn't lend itself to a formulaic solution. It's not always best to come up with simple answers."