How will the unbundling of research costs affect a saturated market?
Key points
• Under MiFID II asset managers must separate the cost of trades from the value of research
• Many asset managers plan to absorb the cost of research rather than pass it on to customers
• The cost of external research has fallen
• Asset managers estimate they can cut research costs by 35-55%
Pension fund managers have a lot to worry about in these days of low yields and strident complaints that they are not being ruthless enough in cutting costs.
However, from this month it looks as if they will have one less thing to worry about.
It has become apparent, as each investment manager makes its own announcement, that the vast bulk will not pass on the costs of paying for research provided by banks, brokers and other parties.
The MiFID II directive forces EU-based investment managers to separate the cost of placing trades with banks and brokers from the costs of research they receive from them, a process known as research unbundling. The European Commission argued that because the cost of research was, up until now, invisible, investors were ill-served: they simply paid for it through higher trading costs. But, now that the cost has become visible it will, ironically, disappear.
A small number of investment managers, such as France's Carmignac, have said they will pass the cost on to customers. But although Carmignac and others have maintained their stance, others, such as Schroders, have backtracked – initially saying they would pass on research costs to customers, but then saying they themselves would bear the costs.
Surveying the industry response to this unbundling, Peter Ferket, head of investments at Robeco, concludes: "We believe in a couple of years' time all asset managers will be paying for it themselves." They will no longer have a choice, he says: "If one asset manager pays for research itself, and another asset manager asks you to set up a Research Payment Account"– the mechanism under Mifid II for end investors to pay for research – "ultimately clients will say they have a strong preference for managers that pay for it themselves."
Asset managers have another reason to absorb the costs, aside from market competition: working out how much each end investor owes will be difficult and costly.
"Unpacking that RPA will be quite some work, from an administrative perspective, but also from a compliance perspective," says Ferket. "It means that a piece of research can only be used for a specific account."
If managers are going to absorb the costs of research themselves, it stands to reason they will want to reduce costs.
They do, in fact, see scope for this.In the first place, there is overkill: a lot of the research they receive, such as notes on big companies, duplicates research from other sources. "I don't think we need lots of notes on GSK's latest results," says Colin McLean, managing director of SVM Asset Management.
Moreover, some research is not particularly good. McLean notes that the big brokers failed to pick up on the problems faced by the banks before the 2008 financial crisis – problems that SVM had already noticed.
Furthermore, asset managers are in a position to negotiate lower fees, relative to the levels that banks and brokers set out in 2017.
"Over the past 18 months there has been a continuous spiralling down in pricing," says Spencer Woodward, head of investment operations at BlueBay Asset Management. "Sell-side institutions are quite keen to keep the lines of communication open, using their research, rather than having them blocked." In response to this, "they have quite significantly reduced the cost". Nevertheless, of late November prices had still not plateaued, he says.
The cost of some research could even fall to zero. "I would expect the global macro research to be maybe even given away free, or at least at very low prices, because it's very generic," says Ferket.
Danske Bank has already said it will give away all its fixed income research, with only client requests for extra research subject to fees.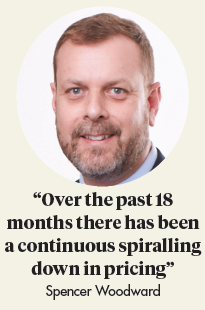 If asset managers have the whip hand over banks and brokers when it comes to receiving research, by how much can they realistically cut costs? Robeco began cutting its external research budget five years ago. Ferket estimates that Robeco has slashed the budget by 40%. Since sell-side institutions have begun to cut fees, an asset manager embarking on a similar programme of economies might have more success.
SVM's McLean says he can cut the budget by 40-50% initially, with further cuts based on reviews of its research needs. Columbia Threadneedle Investments declines to posit a percentage figure. However, a spokeswoman for the firm says: "We plan to continue to reduce the amount spent on external research as our internal research capability expands and, in parallel, we expect the cost of external research to continue to come down as brokers refine their own operating and pricing models post-MiFID II."
BlueBay's Woodward suggests a realistic range of between 35% and 55%, and explains how the firm is pursuing this goal. In group one are the 'global waterfront research providers' that provide a wide range of research. After interviewing its own analysts and portfolio managers and assigning a weighting system, BlueBay has identified a top three, top five, top seven and top 10 list of these. Informed by this, it has entered negotiations over what research they can provide and at what price.
Woodward estimates that each BlueBay investment team "will typically get four out of the five global brokers that they requested".
For group two – specialised brokers with a niche – "we just have to be a little bit more disciplined in targeting specialised institutions that we want to engage with", Woodward says.
Some asset managers will buck the trend. Asked whether Unigestion will cut costs, its CEO, Fiona Frick, says: "On the contrary, our investment in research is going to be higher in 2018 due to the fact that there is an increased dataset that we want to buy and a larger number of research providers we want to use."
However, such asset managers are rare. Given this, the fire sale in sell-side research raises a systemic issue: will this field shrink so much, because of falling revenue, that eventually there is not enough of it? In Carmignac's October 2017 statement justifying its decision to pass on research costs to customers, the firm pointed to, among others reasons, its belief that absorbing them would reduce research coverage.
But, Ferket is relaxed. "I don't think there will be a lot of people willing to pay for mediocre research, so I expect that there will be less research available," he says. "[Nevertheless] I don't think this is an issue for us, because stronger research analysts and houses will survive." As he puts it, there will be less research but just as much added value.
Investment Research: A new regime dawns
1

2

3

4

Currently reading

Buy-side: When less is more

5