Early mover in alternative debt financing has ambitions to expand into direct lending
First State Super

Full name: First State Super
Foundation year: 1992
Membership base: NSW public servants
Location: Sydney, NSW
Funds under management: AUD92bn (€57bn)
In the chaotic aftermath of the global financial crisis (GFC), when liquidity dried up around the world, one Australian super fund, First State Super, stepped up to provide alternative debt finance.
Its head of income and real assets, Damien Webb, saw widespread financial dislocation occurring in key financial centres overseas as a cue to enter the debt market. Webb, who had just joined the Sydney-based First State Super, wasted little time in lending to UK and especially to Irish debt markets.
He had previously been with Perpetual, a leading Australian diversified financial services company, where he was head of multi-assets. So he immediately recognised the emerging opportunities.
While his peers in other super funds hesitated, arguing the pros and cons of moving into debt, First State Super went ahead in raising its exposure. "I had a strong view from my time with Perpetual [managing charitable foundations, which have a strong income requirement] that the credit industry in Australia and globally was going to expand – and expand materially," Webb says.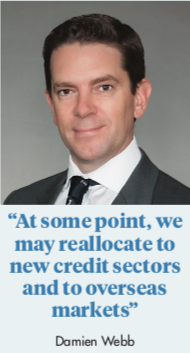 "Non-bank lenders like super funds were going to have an opportunity to create products outside their traditional offerings. "It has taken a while, but we are now starting to see some of them do just that."
Webb says First State Super has a debt portfolio just shy of AUD4bn (€2.5bn) invested across corporate, infrastructure and real estate debt – and two-thirds of the debt portfolio is in various forms of corporate credit. Between 90% and 95% of that is invested overseas, typically in OECD countries.
First State Super continues to see opportunities in markets in Latin America, and says Brexit could unleash more dislocation in the UK.
The fund is adding more than AUD10bn a year to its assets under management, and the emergence of debt as an asset class could not have been better timed.
With almost a decade of experience under its belt, the now AUD93bn profit-for-member super fund is ready to strike out on its own – moving into direct lending.
First State Super is one of two large Australian funds to have established an internal debt team to handle direct lending in the domestic market. The other is the country's largest fund, the AUD142bn AustralianSuper.
Webb explains that the decision to have an internal team stems from First State Super's desire to grow its debt portfolio. "We are looking to internalise some part of our credit strategy," he says.
The decision to upgrade debt from niche to mainstream, alongside equities, fixed income, private equity and real assets, could not have come at a more opportune moment in Australia's banking history.
This follows a false start in the wake of the global financial crisis a decade ago, when the super industry prematurely felt it could become the fifth pillar of the Australian banking system.
Australia's 'big four' largest banks have long been the four established 'pillars'. This year's Royal Commission into the financial services sector, headed by retired judge Kenneth Hayne, has shaken them to their core.
The most immediate fallout from this year's Royal Commission on financial services is self-imposed tighter lending criteria by banks, to minimise further poor lending decisions. Stricter oversight and tighter regulations will surely follow. The upshot will be a withdrawal of banks from some areas of lending.
Ross Pritchard, portfolio manager, credit income at First State Super, says: "Australian banks now provide up to 90% of (domestic) debt finance – if not more. The level of bank debt finance in Europe is between 60% and 70% and in North America, around 30%."
Looked at from this perspective, he says, there is "a lot of scale and capacity" for non-bank lenders in Australia. This is being borne out by a rush of new entrants, including large global players, into the Australian debt market.
And they are starting to make inroads. Billions of dollars has been raised and are ready to be lent. "Over the next five years, we can realistically expect Australia to absorb the alternative finance becoming available to borrowers," predicts Pritchard.
Pritchard says new arrivals have, in effect, partially offset the increased capital constraints of Australian banks as a result of regulatory changes such as Basel III, and the Royal Commission. "One observation is that Australia has historically been a highly-banked market. Most capital has been provided by the banks.
"But in a post-GFC world, we are seeing a tightening of banking regulations globally." Pritchard says.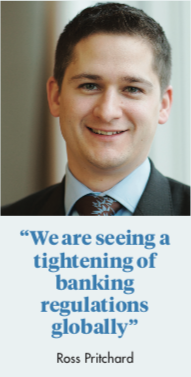 "This is creating attractive opportunities, especially in parts of the market where credit fundamentals remain strong but banks are having to ration and allocate capital away from demand areas.
"Real estate will be one of the sectors affected.
"As well, we are seeing mid-market transactions, corporate debt and structured credit. We see quite a variety of opportunities out there."
For First State Super, Pritchard says the strategy is to have "as diversified a portfolio as we can".
"Diversification is the basis for the approach to investing in credit," he stresses.
Webb says: "We will be looking at allocating 5-10% of funds under management to our debt strategy. Of that, our intention is to have up to one-third in direct lending. Over time, we may grow this component." Initially, however, First State Super plans to lend alongside banks.
Webb says that, as the fund gets bigger, its capacity – and confidence – to lend in its own right will increase. He says: "Up to the moment, we have some way to go to reach our allocation.
"Over the next two to three years, we expect to move up to weight and, at some point, we may reallocate to new credit sectors and to overseas markets."
Historically, all of First State Super's debt exposure has been done via external managers, mostly global firms.
"We have previously gone international because that is where all the immediate investment opportunities were," says Webb.
First State Super has issued seven mandates, mostly offshore, on average between AUD500m and AUD700m, across its credit portfolio. "A number of our managers have performed well and delivered good outcomes for our members," says Webb.
And because so much of First State Super's debt investment will take place offshore, the fund will continue to appoint external managers to benefit from their areas of expertise. "But," Webb says, "it makes a lot of sense for us to start looking at the domestic market."
Credit: Reading the cycle
1

2

Currently reading

Case Study: First State Super

3

4

5

6

7

8