UK scheme sees a strategic role for commodities in its portfolio
National Employment Savings Trust
Assets: £2.7bn (€3bn)
Members; 6.4m
Employers: 616,000
Opt-out rate: 7.5%
3-year annualised performance of 2040 retirement fund: 9.3%
Source: NEST, 31 March 2018
Nest Corporation's recent appointment of CoreCommodity Management underscores its view that materials such as oil and steel have a strategic role to play in the master trust.
As well as adding diversification to the portfolio, this allocation should also benefit from the current ramp up in inflationary pressure.
Mark Fawcett, CIO, says: "We are at a point in the world economic development cycle where capacity constraints are starting to be felt in the labour market." This increases the risk of an unexpected rise in inflation, he adds.
But it is not just about the short-term inflationary impact. This link to price sensitivity will benefit the scheme's 6.9m members over the longer term. Fawcett says: "We need to prevent pension pots from being eroded by inflation."
NEST members in their 20s will have a maximum of 7.5% invested in commodities. This will increase to a maximum of 10% once they reach their growth phase in their 30s. This maximum allocation will last for the next three decades.
Fawcett says: "We're still thinking about whether this should be a part of the at-retirement portfolio." The fund will need to be comfortable with the volatility before deciding to add to this part of the investment cycle.
Investing in commodities requires the master trust to not only understand the factors moving the individual spot prices of materials but also the dynamics of the futures market.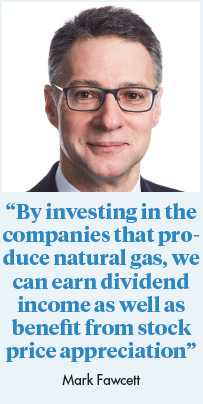 Fawcett says: "Investors can help producers to mitigate their price risk and should expect to earn a risk premium." This explains why most commodities should predominately be in backwardation.
But this rule does not always apply. Fawcett says: "Natural gas, for example, is more often in contango than in backwardation."
That is why the investment solution chosen by NEST uses both equities and futures. "By investing in the companies that produce natural gas, we can earn dividend income as well as benefit from stock price appreciation."
Managing these types of risk is why NEST decided to award an active rather than a passive mandate. Fawcett says: "We need our manager to make some intelligent decisions about when is the right time to invest in futures and when in shares."
As well as selecting between futures and equities, CoreCommodity can use different contract lengths to reduce risk. Fawcett says: "A manager which can position themselves on different points along the futures curve to mitigate contango or enhance backwardation."
NEST chose a segregated account because of the restraints the EU UCITS regulations place on pooled funds. Fawcett says: "Using swaps on an index rather than a futures contract on a specific product makes it much harder to position the fund on a particular place on a curve of a specific commodity."
Commodities: A boost for material benefits
1

2

Currently reading

Case Study: NEST

3