Frederik von Ameln, portfolio strategist at Publica, explains how the Swiss pension fund uses custom benchmarks
Key points
Publica uses a blend of market cap-weighted, value-weighted and minimum volatility indices for its global equity portfolio
After a review, the fund introduced small caps and improved the value element
The indices are calculated and rebalanced by MSCI
Publica's asset managers implement the index strategy, leading to cost savings
Benchmarks have many faults, but they are a useful tool for measuring investment performance. This is true when most pension funds, and in turn their beneficiaries, use them. Frederik von Ameln, portfolio strategist at Publica, Switzerland's largest pension fund, puts it in simple terms: "Our beneficiaries, and board of directors, must be able to judge our performance according to objective measures." Benchmarks represent that measure.
Publica is the CHF39bn (€36bn) organisation tasked with managing the retirement savings of Swiss federal employees. It recorded a 6.7% return for 2017. The scheme is known for its alternative indexing programme and collaboration with MSCI.
Von Ameln joined the scheme in 2014 after working on index and smart beta products for Swisscanto. Publica had already begun investing in alternative indices and was looking for a specialist. Von Ameln says: "Alternative indexing was ahead of the curve in Switzerland at the time. Publica was the one of the first pension funds in the country to adopt it."
The scheme has recently revamped its programme, adding small caps to the mix. The fund started off by combining a standard market capitalisation-weighted equity index with a value-weighted index and a minimum volatility index. "It's fair to say that this is a classic combination for continental European investors. If you consider the correlation structures and economic theories behind the concept, it makes sense to combine these elements to come up with a slightly better return profile and the same risk profile as a standard index," says von Ameln.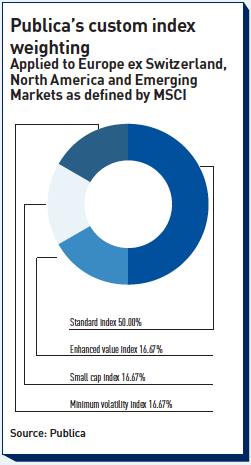 The redesign required analysis work that took place last year. Publica was looking for suitable risk factor exposure that is compensated systematically, according to von Ameln. "The investment committee asked us to review the strategy and to assess whether it would be appropriate to include small caps within the universe," he says. "On the value side, we moved from a heuristic approach like fundamental indexing to a more value-centric approach as defined by academic literature. There were some minor techincal adjustments to the minimum volatility element."
"Regarding small caps, first of all we discussed whether adding this element would only mean enlarging the universe or investing in a true risk/return factor. After extensive study, we decided for the latter," he adds.
Von Ameln says that MSCI assisted Publica in the process. "We really like their transparent and open approach. There is no 'black box' involved. They are even open to disclose the parameters they chose for the optimiser involved in the minimum volatility strategy," he says.
The index provider was also helpful in providing first an overview of the academic literature, dedicated to the subject, says von Ameln. "MSCI helped us gain a deeper understanding on how and why strategies work. We don't like black boxes, nor we like to buy into something just because it worked in the past. Thanks to them we were able to run a thorough study of factors."
The next step was to look at MSCI's offering and choosing the right off-the-shelf solutions. This, explains von Ameln, required balancing the trade-off between concentrated portfolios that give pure factor exposure and more diversified ones with mild factor tilting. Some say that in the purest form, factor exposure requires short selling, which is prohibited to many.
Having selected the indices and defined the appropriate combination, Publica asked MSCI to run a simulation. "They can run these analyses for clients and prospects at the tip of their fingers, thanks to their software applications, and have dedicated teams to do that."
Publica contributed actively to the project. Von Ameln took care of the literature overview, defined the criteria that a strategy would have to meet be eligible and chose the parameters such as the rebalancing frequency. He analysed the data provided by MSCI, ran a scenario analysis of different custom benchmarks and evaluated possible weighting schemes. In short, Publica took all the strategic decisions.
"We shared the results of the analysis that MSCI provided with our investment committee and had a very lively and constructive discussion", says Von Ameln. As of today, MSCI computes the custom index, takes care of the rebalancing and shares information with Publica, its asset managers, custodian and investment controller. "MSCI provides us with a ready-to-use, Publica-customised index set. Our asset manager's job is merely to replicate the index," he adds, pointing out that replicating an index can be done well or badly.
The key point is that Publica's index provider and asset managers are responsible for different tasks. This has two positive effects. First, it helps Publica reduce costs. "If you have the size of Publica you can afford to break up the value chain and pay for each individual service separately. This means you get more transparent, and therefore competitive, pricing". On the other hand, such separation makes it easier to measure performance.
Equities were the best performing among Publica's investments during 2017, contributing 5.5% The positive performance owes to an overweight position in emerging markets but also the mix of alternative indices. But, be wary of calling Publica a smart beta investor if von Ameln is listening. "There is nothing smart about beta. The way you use it matters, but beta by itself is quite dull," he says.
Indices and benchmarks: Let a million more flowers bloom
1

2

Currently reading

Case study: Publica's index wisdom

3

4