David Turner assesses why Central and Eastern European equities are catching the eye of many investors
Many investors see central and eastern Europe (CEE) as occupying the attractive middle ground between the fast-growing but volatile emerging economies and the (usually) stable but slow economies of western Europe.
When judged in these terms, the region looks particularly attractive at the moment. "The gap between emerging market economic growth and CEE growth is at its lowest in many years," says Peter Brezinschek, Vienna-based head of research at Austria's Raiffeisen Bank International.
Most economists estimate that output in the CEE, excluding Russia and Turkey, grew by about 3.3% in 2015. This is only 0.7 percentage points below the International Monetary Fund's (IMF) estimate of 4% for emerging and frontier economies as a whole.
Western European growth, for its part, compares poorly. Even after an acceleration in 2015, euro-zone growth was still only 1.5%, according to the IMF. Brezinschek estimates the euro-zone's potential output growth – the average annual rate it can achieve without generating unsustainable inflationary pressure – at only 1-1.5%, 1.5 percentage points below CEE's potential output growth of 2.5-3%. Consensus estimates put growth this year in CEE at about 3%.
Partly in response to CEE's relatively positive economic picture, Raiffeisen Research has buy recommendations for a range of CEE stock indices, including Poland's WIG 30, Romania's BET, and Hungary's BIST National 100.
But although strategists and economists have a generally positive view of the CEE economies' growth potential, they warn of political and economic risks which relate, in large part, to their relationship with the EU and its member states.
The central case for CEE's economic strength, both past and future, can be summed up in one word: convergence.
When Poland joined the EU in 2004, its GDP per head was about half of the EU average. In 2014 it reached 68%. Bulls on the Polish economy, the region's biggest, say output per head will reach the EU average in the next 30 years – and a simple extrapolation based on past figures suggests this is a reasonable claim.
This convergence is based partly on the huge structural funds which pay out hundreds of billions of euros every year to those parts of the EU whose income and output is significantly below the EU average. These are used largely to build infrastructure.
Nick Brown, fund manager in the emerging market debt absolute return team at Schroders in London, describes Poland as "the poster child for EU structural fund absorption". He explains: "Poland is the leader, out of all the countries in the region, in utilising EU structural fund flows for infrastructure projects." Brown notes that Poland even avoided recession in 2008-09, uniquely among a large European economy, because of these structural funds.
Brown says these funds have not only contributed to GDP in Poland and other CEE countries through boosting the fixed-capital formation constituent of the national accounts; they have also increased the economy's productive capacity by improving the efficiency and capacity of the roads and other infrastructure. The enhanced infrastructure has, in turn, increased foreign direct investment, since multinationals are happy to site factories in countries where the goods can be exported quickly and easily along transport networks to foreign markets.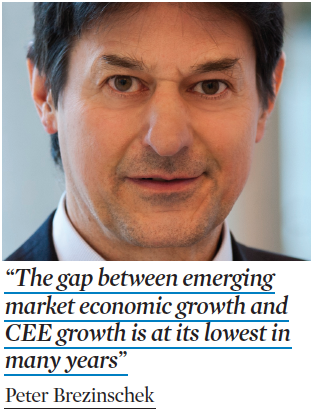 The EU is also key to the future of CEE in another way: it is the chief destination for its exports. "About 80% of Polish exports go to the EU, so it is clearly benefiting from the recovery in the EU," says Mariusz Adamiak, chief market strategist at PKO Bank Polski in Warsaw. He notes that household consumption in Poland is also strong. Unlike in more developed economies where consumers are having to pay down debts or at least limit new borrowing, Polish consumers are able to increase their debts from low levels.
But although Poland's economy is doing well, analysts warn that the outlook for equities is less sunny. "The government needs money to launch its costly budget programme, so it has imposed quite big taxes on some important sectors," says Adamiak. In particular, "the impact on banking has been painful".
Moody's Investors Service warned in January that the bank tax brought in by the new Law and Justice government, which requires the banks to pay a levy equivalent to 0.44% of the value of their assets every year, could cut their net profit by up to 64%.
Adamiak blames the sharp fall in the Polish stock market last year largely on fears about the damage to corporate earnings caused by the Law and Justice government, although he thinks that the market overreacted. "I've been in the market for 23 years, and I've learnt to treat campaign promises with a pinch of salt," he says.
But leaving aside Adamiak's understanding of the Polish market, the hard maths of CEE stock markets, of which Poland's is by far the largest, do not make them look compelling. Daniel Morris, senior investment strategist at BNP Paribas Investment Partners in London, notes that the Polish market is, at a forward price-to-earnings ratio of 12, at about its historical average.
The ratio for Hungary and the Czech Republic are also close to the average. Moreover, earnings revisions tend to be downward rather than upward at the moment, in CEE as in most of the rest of the world, because the global economic outlook has darkened. "That's not a particularly attractive combination," says Morris. The most that he can say is that these ratios look good relative to other markets – for example, the forward price-to-earnings ratio for MSCI Europe, which covers western Europe, is, at 14.3, 13% above its historical average.
Western Europe does have the advantage, at least, of being further away from Russia, whose troubled economy and aggressive regime makes some investors nervous about CEE.
However, Adamiak is relaxed about the effect of the EU's fractious relationship with Russia on Polish growth. He says that, even at its peak, Russia and Ukraine only accounted for about 10% of Polish exports. Moreover, Poland has done well at finding new markets for those goods formerly shipped to these countries before exports were hit by the combination of the dampening effect of sanctions over Russian exports, and the sharp fall in the purchasing power of the Russian and Ukrainian currencies.
Strategists worry less about problems to the east and more about the complex relationship between CEE countries and the rest of the EU.
Brown of Schroders says some other CEE countries have been less successful than Poland at taking full advantage of the EU structural funds, even though analysts agree that all CEE member states of the EU have benefited to an extent. For example, "Romania has been a big underperformer, in terms of its ability to absorb these structural funds. This has affected its ability to attract foreign direct investment, despite low labour costs, because companies are concerned about logistics."
Brown notes that Romania and Hungary have both been involved in disputes with the EU over the quality of tendering processes for structural funds, which have held up the flow of money.
The refugee crisis faced by the EU is a fresh threat to CEE, because it could start separating CEE from lucrative markets to the west. "These markets are dependent on trade with western Europe, and if there are more barriers to trade within the EU, they will be hurt," says Morris of BNP Paribas IP. "If Germany starts inspecting trucks shipping Polish goods to German factories because there may be refugees inside, that's going to start affecting trade."