Gustav Karner cleans out old medicine at the pharmacy pension fund, as attention turns to cost cutting
In the continued low-return environment the focus of institutional investors has turned to costs. In Sweden, fee awareness has led many pension funds to favour passive strategies for the bulk of their assets, while still willing to pay for alpha in more specialist mandates.
Passive index funds, including exchange-traded funds, continue to grow in popularity and now account for almost 16% of all assets, compared with 6% in 2010. Out of the SEK47.3bn (€4.5bn) invested in equity funds in 2017, 80% went into passive funds, compared with 70% in 2016, according to the Swedish Investment Fund Association.
Cost cutting has also led to larger players bringing mandates back in-house. However, smaller players simply do not have the resources to do that, particularly as regulatory pressures have increased the workload for the whole industry.
The board of Apoteket AB's Pensionsstiftelse, the pension foundation for the Swedish state-owned pharmacy retailer Apoteket, had a clear vision for the SEK12bn fund. Gustav Karner, who took charge in 2016, has wholeheartedly gone for passive investing, but is willing to pay more for specialist mandates, particularly hedge funds.
Karner has replaced the previous internally managed portfolio and some smaller Swedish boutique managers with mostly index funds managed by Capula and SEB Investment Management. The Capula investment is interesting because it has downside protection. Karner's argument is that he does not believe that a small Swedish pension investor can have the in-house capability to beat global markets. He says the shift from an internal stockpicking model to index funds is cost effective, particularly the long-only portion of the investment portfolio.
Karner implemented the changes to reduce risk and to find the most cost-effective way of managing the assets, resulting in the move towards passive and alternative mandates.
"As a pension fund we have to be able to cover liabilities, even if, in our specific case, they are not on our balance sheet, and after using an ALM [asset-liability management] modelling exercise we looked at how to best match assets and liabilities," Karner says. "The main goal in our risk management is to minimise the risk for the buffer, for example, the assets minus the liabilities," he says.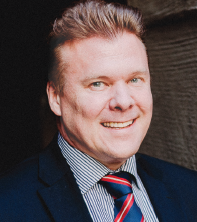 Karner's investment philosophy has not drastically changed from when he was with Länsförsäkringar and the Nobel Foundations. "It is difficult for a small Swedish investor to beat global equity markets, so I mainly want to use index managers for cost-efficiency reasons. I may sometime along the line look at more active managers in small-caps and emerging markets," he says.
He adds that these managers must have been around for several years before the crisis, have an information ratio of 0.5, have at least $500m (€434m) under management as well as a strong ESG focus.
The changes to the asset management model resulted in a new target allocation for alternative investments of 30%, at least 20% of which will be invested in hedge funds, doubling the previous allocation. Alternatives include hedge funds, private equity, convertibles, infrastructure, and insurance-linked bonds. He also uses SEB Investment Management for the private-equity allocation. The pension foundation has also diversified, allocating small amounts to insurance-linked and catastrophe bonds among other assets, managed by Aquilo Capital Partners, CATCo Investment Management and RessCapital AB.
Karner says the foundation is in a Goldilocks-spot for hedge-fund investing – not too big and not too small. He is also a firm advocate of making the assets work and therefore having a large enough position in hedge funds is vital. "There is no point in investing in hedge funds just for the sake of investing in hedge funds. They should complement and diversify your overall portfolio in an uncorrelated manner, which is why having a couple of percent in hedge funds is basically futile and often just expensive."
Best in class
For the alternatives portfolio – which underwent the most dramatic change – Karner is scouring the globe to find 'best in class' managers. "I have added three hedge funds since I joined, using contacts I built up over the years. I have been fortunate as some of them have been closed for new investors for years."
Karner also sources ideas through advisers and peers. He likes funds that are closed, which proves that they know what they are doing, and he is happy to wait and increase allocation when the opportunity arises.
The hedge funds that Karner has invested in are Viking Global Investors founded in 1999 by Andreas Halvorsen, which manages $40bn (€34.6bn); Davidson Kempner, which specialises in distressed debt and merger arbitrage; and Two Sigma, a systematic fund manager.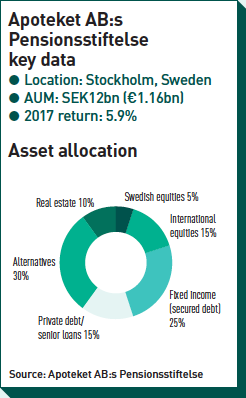 Manager selection is often said to be equal parts science and art. Karner's key criterion in manager selection is that it should have a track record going back to before the global financial crisis. He adds that managers need to be able to clearly communicate their investment philosophy and process and demonstrate that there is a clear pattern of operation. Furthermore, Karner looks at a high Sharpe ratio, low risk and low correlation to equities. In addition, he wants it to fit well within the overall portfolio. "I also want references. Independent references are key," he says. Other factors include capabilities in reporting, administration, auditors used, liquidity and governance.
Hedge funds have been heavily criticised for their fees, particularly as some have failed to perform well. Karner does not see a problem with paying for the best managers in their field and argues that for those on top of their game there is no reason to lower fees. "All I am interested in is whether they can deliver what they promise. I prefer to spend the money where I know I can get good returns after fees," he says, pointing to Renaissance's Medallion fund which has fees double the industry standard of 'two and 20'. He notes that its annualised returns have been equally eye-popping. "This is the reason I believe the majority should be invested in index funds. I think global markets are difficult to beat investing in long-only funds. Beta should be cheap," he says.
Karner plans to continue diversifying, to reduce equities and add hedge funds when the ones he likes open up for more business. He is not looking at any specific strategies but reiterates the criteria of world-class managers and a Sharpe ratio above two. "Hedge funds suit the SEK12bn sized fund. The Nobel Foundation had a 35% allocation to hedge funds, but on average Nordic investors have a much lower allocation because of bad experiences in the past. At Länsförsäkringar we only had 3%. The hedge funds outperformed but they did not really have any impact on the overall performance, which is why they are often deemed too expensive," he says.
Lower risk
The new investment policy means there are much lower expected drawdowns and less overall expected risk than before. The asset allocation has been fairly dramatically changed, with equities down to 20% from an earlier 30%; Swedish equities, in particular, were cut to 5% from 25%. He explained that the foundation has a cautious approach with over a third of the equities being protected considering the nine-year bull-run. "We reduced equities because it was the largest source of risk," Karner says.
Capula Investment Management was hired for its tail-risk capabilities where the foundation invests in a tail-risk fund with an equity overlay. The foundation has also invested in Renaissance Technologies Equity fund, which has a low-risk profile. Lannebo Fonder and HeatlthInvest were retained.
The changes resulted in equities becoming the second-lowest allocation in the pharmacy foundation's portfolio, and going against most investors in Sweden. Sweden is an equity-biased investor country, led by the AP funds, the country's buffer funds and the national defined contribution system, PPM, as well as retail investors. According to the Swedish Investment Fund Association, global equity funds accounted for 36% of assets, and Swedish equity funds 27% at end of 2017.
Karner split the fixed income portfolio between 25% in secured debt, 15% in higher-return debt, such as private debt and senior loans with less liquidity, rather than high-yield strategies, which were sold.
Exit high yield
The foundation's fixed-income assets are managed by SEB Investment Management, BlueBay Asset Management, BNP Paribas Asset Management and Öhman with investments spread across the Nordic region, Europe and the US. Karner does not like the risk-reward outlook for high-yield and recently divested the holdings.
"You do not get paid enough for the risk you take and I think that it is a bubble and I want to get out before it gets hard to get out once everyone else is trying to leave." Karner prefers direct lending to high-yield because of the risk-reward characteristics.
The real estate portfolio has stayed at 10%. On the real estate side the foundation invests via three Swedish companies and funds; VACSE, Akka Egendom and Thule Fastigheter. VACSE was created in 2009 by the pension foundations of Apoteket, Atlas Copco, Ericsson, Sandvik, Skanska, Stora Enso and Volvo. "I feel pretty happy with this allocation but I have been looking at student housing across Europe and particularly in the UK because of the large undersupply," Karner says.
Karner's changes to the asset management model has received a fair bit of attention but he says it was the final part of the puzzle with overhauling the entire administration and IT being the first steps.
The board had a clear vision for the foundation and Karner started working with the previous management on the overhaul last year. Apart from the changes on the investment side, Karner wanted to review the entire operation of the foundation. As a result, the administration and risk control of the fund were outsourced to Wassum and PRI Stiftelsetjänst. Staff was reduced from previously five to two. Karner hired Oscar Arvidsson, a quant analyst.
All of the fund's IT systems were changed to a cloud-based system. Karner says the changes have halved the costs of the organisation, from about SEK20m to under SEK10m. In addition, Karner swiftly moved to create a five-person investment committee with an advisory role, aiding him in his decision making. The committee is an addition to the existing board which has two employer and two employee representatives.
Apart from cost awareness, sustainability is another key issue in Sweden. The government has been cracking down on the asset management industry with new regulations demanding that fund providers show their sustainability credentials for all funds offered. In the same vein institutional investors increasingly demand that environmental, social and governance criteria be an integral part of the investment process rather than an add-on.
The Apoteket foundation uses the services of ISS-Ethix for ESG screening. "We do not exclude companies and prefer having a dialogue instead," Karner says.
He adds that he is continually working with the asset managers to ensure that the ESG criteria are implemented in the best way.
Nordic Region: Shifting borders
1

2

3

Currently reading

Change of focus at Apoteket fund

4