Italy's decision to join China's Belt and Road Initiative has prompted criticism from the EU and the US
Key points
Italy has joined China's Belt and Road Initiative (BRI)
It has signed an agreement to support China in exchange for investment
There are no estimates of the impact of the BRI on the European economy
Fund managers have launched strategies to take advantage of BRI-related opportunities
Italy has become the first large European Union country, and the first G7 member, to join the Belt and Road Initiative (BRI), China's ambitious project to revive the Silk Road and increase access to global markets. The Italian government signed a memorandum of understanding (MoU) during a visit by Chinese President Xi Jinping to Rome in March.
The MoU consists of 19 'institutional' and 10 'commercial agreements' worth €2.5bn, according to Reuters. China has committed to invest in Italy's infrastructure to facilitate commercial links. A focus is investment into Italian ports, particularly Trieste and Genoa.
Commentators downplayed the MoU as it is technically non-binding. However, analysis of the deal reveals a different story, says Alessia Amighini, senior associate research fellow at the Institute for International Political Studies in Milan.
"The MoU implicitly commits Italy to find common ground with China in international controversies and to resolve such controversies amicably," she says. "But Italy has to respect longstanding agreements with other countries, and if it failed to honour the promises made to China, it could face consequences."
It is unclear whether the Italian government was aware of the significance of the agreements, according to Amighini. The agreement commits the two countries to pursue unimpeded trade. "Does that mean that if Italy were to raise an issue with China about its anti-dumping behaviour, as has happened before, China would be angry? From this perspective, the MoU is potentially very insidious."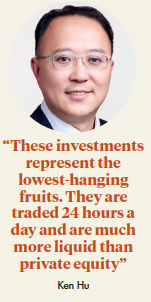 While China needs Italy to gain access to the European market, in the case of a controversy China could threaten to withdraw the investment, she says.
Italy's decision to join the BRI has drawn criticism from the US and the European Union. Critics lamented the unilateral approach and warned about the risks of Italy becoming too 'dependent' on the Asian autocracy. However, the agreement has prompted EU countries to rethink their relationship with China and to attempt devising a common approach.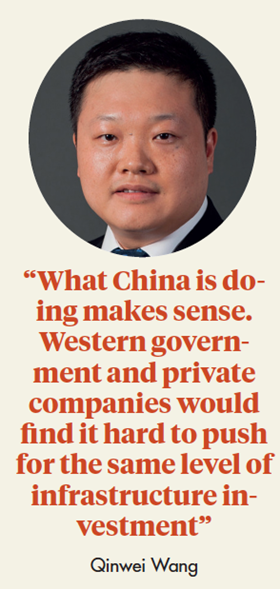 Days before Xi Jinping's trip to Italy, the European Commission released a document calling China a 'co-operation partner', a 'negotiating partner', an 'economic competitor' and a 'systemic rival' simultaneously. But the document stated that "there is a growing appreciation in Europe that the balance of challenges and opportunities presented by China has shifted."
Amighini says the prospects for further integration between Europe and China are modest. She argues: "Brussels may deny it but the Italian MoU has forced them to clarify their position. That may be why [French president Emmanuel] Macron invited [German Chancellor Angela] Merkel and [European Commission president Jean-Claude] Juncker in Paris to discuss their position towards China. However, I doubt the EU will find a common position. There is too much competition within Europe. As an example, the growth of Italy's ports could threaten German ports."
The implications of China's initiative for the European economy are unclear. Before Italy, a group of countries in central, eastern and southern Europe had joined the BRI. At a global level, there were 84 BRI countries as of last December, according to Citi. It reported that the initiative had generated more than $1trn (€900bn) of infrastructure investment globally.
Estimates of the economic impact of the BRI vary significantly. Commerzbank expects that $150bn of new construction contracts related to BRI projects will signed every year between 2019 and until 2025. That would equate another $1trn of investment. Direct Chinese investment in BRI projects will exceed $80bn by 2025, according to the bank. Morgan Stanley has estimated that total investment generated by the BRI could be between $1.2trn and $1.3trn by 2027.
However, there is no good estimate of the economic impact of the BRI so far, according to Silvia Dall'Angelo, senior economist at Hermes Investment Management. She says: "For a start, it is not a single financial plan, but rather a multitude of projects involving many countries and different agencies on the Chinese side."
"In addition, at times, it is difficult to disentangle the BRI from other strategic initiatives China is carrying out in non-BRI countries. As a consequence, there is no precise dollar amount that captures the BRI scale", she says.
"The other reason why there is no good estimate of the BRI's economic impact is that BRI projects started in 2014 and they are quite long-term, so it is early days to assess their impact. In general, the short-term boost to growth in receiving countries is seen as limited. In the longer-term, the economic benefits might be more significant, but there are challenges and concerns about the execution of the strategy."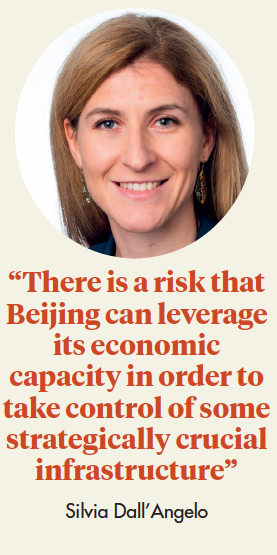 Dall'Angelo points to the criticism generated by the BRI. The initiative has been branded as 'imperialism' by critics. Generally, the deals signed with BRI countries are seen as asymmetrically benefiting China. One concern is that Chinese firms are given preferential treatment in BRI projects with no regard to transparency over tender processes. At the same time, BRI countries risk becoming victim of a 'debt trap' as loans are extended by Chinese firms to finance projects.
Dall'Angelo explains: "There is a risk that Beijing can leverage its economic capacity in order to take control of some strategically crucial infrastructure. Recipient countries are supposed to benefit, but in fact they may become heavily indebted to China. Indeed, there has been a debate in China over the risk of piling up bad debt."
China's president Xi Jinping addressed some of the criticism at the Second Belt and Road Forum for International Co-operation this April. In contrast with the first BRI forum held in 2017, there were no US representatives. The US has been among the heaviest critics of the initiative and Italy's decision to join it.
Ahead of the forum, Chinese authorities published a 'Debt Sustainability Framework' aimed at managing debt risks linked to BRI projects. Xi Jinping also made many references to the need for "open" co-operation, in a response to the criticism over the lack of transparency in BRI negotiations.
Riding the wave
It was reported that $64bn worth of agreements were signed at the forum. The figure, according to Dall'Angelo, indicates that China may reduce the pace of BRI projects. She says: "Chinese authorities seem to be minded to be more selective, to avoid bad investments and because of dollar constraints, since BRI financing is mainly dollar-denominated. Indeed, recent BRI deals have involved smaller amounts."
However, fund managers seem convinced that the BRI will be a boon and yield investment opportunities. In April, Amundi Pioneer launched Amundi Soluzioni Italia Progetto Via della Seta, a fund that aims to identify opportunities created by BRI projects.
Colm D'Rosario, senior portfolio manager for euro high yield and emerging market debt at Amundi Pioneer, says: "This is a cross-asset solution to capture the BRI theme. Our focus is to look beyond infrastructure and assess the broad impact of BRI projects. When we look at the spillover effects that come about as a result of infrastructure spending, we find a multitude of sectors can benefit."
"We have seen a significant amount of BRI-related investment from Chinese companies, including capital flowing from privately-owned companies. One example is the leisure sector, where private players in China have effectively created a new lease of life for the sector in Europe."
"There are already announced projects in Italy and eastern Europe and we see this as a trend that will continue. We want to leverage on our capability to assess the broader impact on the consumer. This theme could play out both in terms of securities related to specific projects and of the end economic effects of newly-created infrastructure", he says.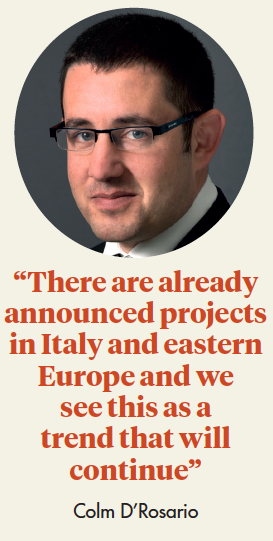 Last year, Invesco launched a Belt and Road Debt fund, claiming it was the first fixed income fund for Europeans to capture BRI investment opportunities. Ken Hu, CIO for Asia Pacific fixed income, says the rationale was that China's BRI investments are not necessarily geared towards profit maximisation, but intended to serve China's long-term national interest. This creates, argues Hu, structural inefficiencies in the dollar-denominated bond markets in BRI countries. Hu says: "These investments represent the lowest-hanging fruits. They are traded 24 hours a day and are much more liquid than private equity or even equity investments linked to BRI infrastructure projects."
Invesco's BRI debt strategy is global, but Hu says that there are opportunities among European corporates. Examples include the Italian utilities and cement sectors as well as the French food industry. The strategy has diversification requirements and an ESG focus. "It is very important for us to apply a systematic ESG filter to help us our risk. We filter out worst-in-class countries or companies to avoid issues relating to poor governance or the environment, as well as the debt trap problem", says Hu.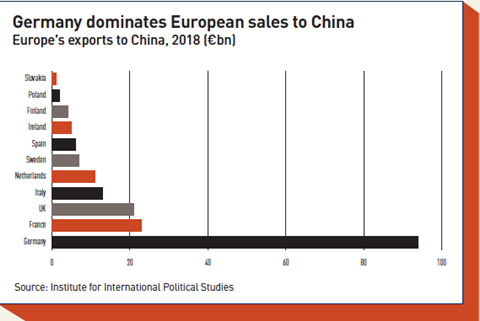 Owing to the political controversies, investors may be sceptical about its potential, let alone its capacity to generate investment opportunities. Qinwei Wang, senior economist at Amundi, however argues that investors have underestimated the extent to which the European and Asian economies, particularly China, will become more integrated.
Wang explains: "Over the past few years, we have been discussing de-globalisation with investors, who fear that the growth in global trade may have reached the end. Although we have seen the effects of the US administration America First policy, on the other side there is China, which is trying to open up its markets more significantly. One example is the automotive sector, where outside investment into China is expected to grow."
At a basic level, Chinese investment could help fill the infrastructure gap in developed and developing countries. "What China is doing makes sense. Western government and private companies would find it hard to push for the same level of infrastructure investment", says Wang. If China succeeds in bringing these investments to fruition, the European economy will feel the positive effects.
Europe Outlook: Behind the gloom
1

2

Currently reading

China: Befriending the dragon

3

4