China plans to invest more than $6trn in green power and clean tech in the next two decades
Key points:
China embraced green finance in its 2015 five-year plan
Private capital is needed to finance $6trn (€5.3trn) in clean tech requirements by 2040
2018 green bond issuance was $34bn but the use of proceeds is unclear and some is used to finance coal
Some issuers are meeting international requirements
The world's most polluted nation is making a bid to become the global leader in green finance.
China's 13th five-year plan, announced in 2015, articulated a policy defining implementation of a green financial system. The task of driving development of green finance was given to China's central bank, the People's Bank of China (PoBC), and the National Development and Reform Commission (NDRC), a government agency.
Green finance has become central to China's attempts to green its economy and to clean up its heavily-degraded environment – for both public health and economic reasons. It is also looking to green finance to build its Belt-and-Road projects.
Sean Kidney, chief executive of the Climate Bonds Initiative, an organisation promoting and "mobilising" the $100trn global bond market for climate change solutions, says China is doing things he has yet to see done in other countries.
Kidney says the PBoC has become the first central bank to accept green bonds as collateral when banks borrow from it. And to incentivise banks to use green finance, PBoC offers a discount price on its lending.
The potential market for Chinese green bonds is massive. China's green investment need for the years 2015-20 has been estimated at between CNY3trn and CNY4trn (€383-511bn) each year if the country is to meet its energy and climate goals, according to S&P Global Ratings.
The Chinese government expects 85% of this investment to come from private sources, both domestic and foreign, according to the credit rating agency.
China plans to invest more than $6trn in low-carbon power generation and other clean technologies by 2040, far exceeding what is planned by either the EU or the US, according to the International Energy Agency.
Christopher Kaminker, head of research, climate and sustainable finance at SEB, sees "profound" opportunities for foreign capital to help China transit to a green economy.
How green is green?
Total green bond issuance in China in 2018 was $34bn – two years after Beijing approved the first domestically issued green bond. It is now the world's second-largest green bond issuer after the US. The large domestic banks dominate China's green bond market. However, small and midsize commercial banks are also coming to the market – and they are doing so more frequently.
State-owned enterprises (SOEs) have become more active than privately-owned entities in printing green bonds to finance investments in renewables, green buildings and transportation. These SOEs are also issuing green bonds to finance offshore acquisitions. The state-owned power company Three Gorges issued €650m in green bonds in 2017, using the proceeds to acquire wind power projects in Portugal and Germany.
But scepticism remains in the global market. How 'green' are China's green bonds? To gain wider acceptance, Beijing is expected to harmonise its green bond regulations, both domestically and internationally.
"One of the most important developments in the green bond market is work being done by the European Investment Bank and the China Green Finance Committee to harmonise green finance language," says Kaminker. "This is an excellent point of departure for how to truly catalyse international investor demand for the Chinese green bond market."
Currently, two Chinese agencies, PBoC and NDRC, regulate the issuance of green bonds in China, but each has its own set of rules.
Kidney says three challenges facing Chinese green bonds concern global investors. These are the definition of what constitutes a 'green' project, in particular the inclusion of what is known as 'super critical' (clean) coal-fired stations; transparency; and the use of green bond proceeds as working capital.
About 10% of Chinese green bonds currently have some coal lending included. Kidney says international investors will not touch these bonds because of the coal. Kidney says: "We believe this is about to change. We have heard that, from this month [January 2019], PBoC is planning to exclude coal from its [green] guidelines."
According to Kidney, another 10% of China green bonds have not provided public information on the use of the proceeds. "Until we can confirm where the money is going, we are not willing to call them international green bonds," he says.
The third issue is that, under NDRC guidelines – which apply to state-owned enterprises – 50% of the funds raised can be used for working capital. "This is a problem for us," says Kidney. "Under international norms, you have to assign 100% of the bond to green assets or green projects."
But despite these anomalies, he says: "Chinese regulations are the toughest in the world by a mile. The regulators, particularly PBoC, require quarterly reports on the disbursement of proceeds from green bonds."
Of all the green bonds issued in China last year, only bonds worth an estimated $22bn were acceptable in the international market, says Kidney.
Chinese issuers, especially the large banks, are seeking to tap the global market with issues denominated in other currencies, such as the dollar and euro.
The banks, including the Bank of China, Industrial Commercial Bank of China and the Development Bank of China, work with international green bond specialists, like SEB, and global rating agencies on their offshore issues.
Kaminker says: "Chinese issuers have shown strong commitment by transforming internal governance systems to align with international investor requirements. Chinese issuers follow international norms when issuing foreign green bonds overseas, aligning with the GBPs and receiving external review," referring to the Green Bond Principles of the International Capital Market Association.
This allows foreign investors to be more comfortable. For example, issues from Bank of China, ICBC and China Development Bank were oversubscribed, with demand coming from European, Middle Eastern and Asian investors.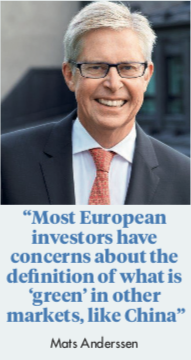 Mats Anderssen, former CEO of the Swedish pension fund, AP4, and founder of NO2CO2, a "sustainable investment" company in Stockholm, says: "For the time being, you could argue that demand is bigger than supply and, therefore, green bonds issued in China should be of big interest."
Anderssen, who was appointed in 2016 as Sweden's Royal Commissioner to map a market for green bonds, says: "The Nordics have a leading role as investors and issuers in green bonds." However, he adds: "Most European investors have concerns about the definition of what is 'green' in other markets, like China".
China has its own green bond guidelines and endorsed projects catalogue, says SEB's Kaminker.
Rating the bonds
Gloria Lu, S&P Global Ratings credit analyst, says the interest in Chinese green bonds reflects the credit-worthiness of an individual company. Investors do not look just at the green element of the bond, she says.
Chinese green bonds have tenors of up to 10 years. There is little price differential to standard Chinese corporate bonds of the same duration. International groups such as S&P, EY, and the Climate Bond Initiative all issue assessments on Chinese green bonds.
But few RMB-denominated green bonds are rated on their creditworthiness – because 80% of bond issues in China are in Chinese currency for the domestic market.
The rating agencies – S&P, Moody's and Fitch – did not have licences to offer their rating services within China before 2019, Lu notes. Also, green bonds are not rated as a asset class. If they are renewable energy green bonds, they fall under the broad energy category.
The methodology used in rating a green bond is the same as for corporate bonds, she says. It is based on many factors, not least the credit position of the issuer.
Lu says most issuers in China are the large blue-chip banks, many rated between BBB and A. Any senior bonds they issue – whether corporate or green – carry a similar rating.
"But, the number of green bonds issued by non-financial corporates has been on the rise and their credit qualities are more diverse," she says.
Peter Ling Vannerus, chief representative of SEB in Beijing, says: "Although we have seen the first defaults in the green bond market, the credit quality of the market is higher than the average credit quality of the Chinese bond market."
Given the lack of credit ratings on RMB-denominated green bonds, foreign investors tend to favour internationally launched China green bonds issued overseas. Hong Kong Bond Connect has opened up the Chinese domestic bond market to international investors.
Hong Kong is stepping up to position itself as the global hub for green bonds, and to attract Chinese issuers (see separate panel).
"Although we have seen the first defaults in the green bond market, the credit quality of the market is higher than the average credit quality of the Chinese bond market"

Peter Ling Vannerus
The growth of Chinese green bonds in 2016 and 2017 stalled last year, with domestic issuance flat, because Chinese banks are recapitalising as they deal with a rise in non-performing loans and currency volatilities.
However, Kidney has noticed a rise in the number of offshore issuances. "In the first half of 2018, around 40% of Chinese issuances took place offshore, compared to 18% in 2017," he says.
This trend is expected to continue as Chinese groups seek to tap the wider global market for green finance.
Hong Kong is moving closer to its ambition to become a global hub for green bonds
Hong Kong's Legislative Council approved a Government Green Bond Programme in November 2018, paving the way for its central bank, the Hong Kong Monetary Authority (HKMA), to issue sovereign green bonds.
Industry sources told IPE that Hong Kong's sovereign issuance will be good for the market because it will help create liquidity.
Hong Kong is Asia's fourth-largest bond issuance centre, after Japan, China and South Korea.
A spokesperson for the HKMA said that the HK$100bn (€11.1bn) Government Green Bond Programme is also aimed at raising Hong Kong's profile as an interbank market for global bonds.
As green bonds are a new instrument, HKMA has organised conferences jointly with groups such as the International Capital Market Association and the People's Bank of China (PBoC) to raise awareness.
The HKMA is also "reaching out" to potential green bond issuers in both the Chinese mainland and Hong Kong, according to a spokesperson.
"Green bonds introduce an additional environmental component, and require additional support, such as green advisory and external review services," the spokesman said.
HKMA is working to build up Hong Kong's infrastructure in this area, and green financing consulting firms and external reviewers have already set up in the Special Autonomous Region.
A year ago, the Hong Kong Quality Assurance Agency (HKQAA) launched its Green Finance Certification Scheme (GFCS), embracing widely-recognised international and Chinese standards.
The territory is also providing two subsidy schemes to encourage green bond issuance.
A pilot bond-grant scheme covers half of the costs of first-time debt issuers in Hong Kong. This is applicable to green and conventional bonds.
A green bond grant scheme has been introduced to cover the cost of obtaining certification under the HKQAA's GFCS programme.
"The government has also enhanced its Qualifying Debt Instrument scheme, which offers tax concessions for investment in bonds, including green bonds," the HKMA spokesperson said.