A UK fintech envoy talks about the potential for technology to empower investors
To the institutional investment industry in Britain and beyond, Chris Sier is known as an expert on cost transparency in asset management.
He chaired the Institutional Disclosure Working Group (IDWG), a group of asset management industry stakeholders convened by the Financial Conduct Authority (FCA), which in 2018 produced standard templates for reporting asset management fees and costs. The templates could be a starting point of a transformation that will see investors get increased transparency, and in turn savings, on the costs of asset management services.
Sier is also one of the UK's fintech envoys, appointed by the government to promote investment in the fintech sector. The UK government launched its fintech strategy in 2018 and appointed several envoys with responsibility for different areas. Sier is responsible for the 'Northern Powerhouse'. This area consists of the core cities of northern England including Leeds, Liverpool and Manchester.
Speaking to Sier, it is hard not to get excited about the power of technology. He has his sights firmly set on improving the quantity and quality of data, in order to improve the understanding of how the financial industry works. In his vision, greater information will enhance efficiency and freedom. Technology is the main way to gather information.
"Anything that allows people to access more data and helps them understand that data is going to be a good thing. Only when the data is available we can start to make smart decisions on what we do with it," says Sier.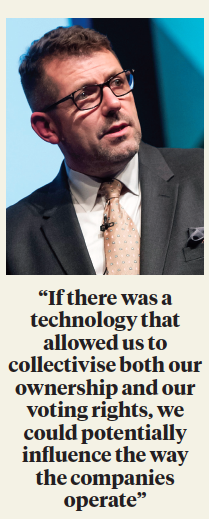 A data-led revolution could change the way investors think about corporate governance, he believes. "Collectively, institutional investors own the entirety of the listed and unlisted equity space in the world. As such, they own all the voting rights. The issue is we, as end-investors, do not know what we own. Imagine the things we could do if we did know that we owned it.
"If there was a technology that allowed us to collectivise both our ownership and our voting rights, we could potentially influence the way the companies operate in the public space.
"That is a data question, first and foremost. While pension fund portfolios are theoretically transparent, there is little to suggest that pension fund members are aware of what they own. There is also a lack of instruments to allow people to express collective preferences and instruct funds to act on those preferences.
As fintech envoy, Sier has acquired a knowledge of the sector. He can testify to UK businesses vying for commercial success by marketing innovative tech-based solutions to actual problems affecting the financial industry.
Some innovative solutions have to do with distributed ledger technology and blockchain. Sier mentions Calastone, a fund services provider that created a transaction network for order routing in 2008. The company has said that it will move the network onto a blockchain from May 2019. Sier says: "The clearing and settlement of funds is one of the infrastructure issues that asset managers face and is one of the contingent costs." Calastone claims it can cut distribution costs by €3.8bn a year for the whole fund industry.
Distributed ledger technology is also the basis for Funderbeam, an Estonian company that has created a funding and trading platform for high-growth private companies. This was possible thanks to the Estonian government's digital identity document blockchain infrastructure. Sier says: "We're not far from potentially being able to do that for every other marketplace in the UK, at least from a technical point of view. We are further from a social perspective because it requires digital identity. But it is potentially there. The savings the system would produce across the value chain are huge."
Long-term savings
Interestingly, Sier points out that among the hundreds of tech start-ups that are emerging, few are explicitly dedicated to the long-term savings space. "That is the portion of the financial services sector that has seen the least amount of innovation in terms of fintech," he says. And it is a sector where the effects of innovation would be dramatic.
"Imagine if we could shave even a few basis points from the £8trn [€9trn] of savings in the UK."
Sier has founded a social business himself, called ClearGlass, to answer that problem. The company collects and analyses data on asset management costs on behalf of pension funds, using the IDWG templates he designed.
There is significant untapped potential, however. "We are still lacking a way to give people the ability to see all their assets in one space, and to see it as part of a lifestyle and cashflow model", says Sier. There are some products to that effect, but the availability of tailored financial planning advice belongs to wealth management.
"Data analytics and smart technology like machine learning could make similar solutions available to ordinary people too. The end goal, which is some way off, is that every individual regardless of their wealth has a wealth manager, which will be an algorithm that gives them advice on how to invest or where to get an affordable loan, based on their lifestyle and cashflows."
Pension tech for dummies
1

2

3

Currently reading

Chris Sier: Data brings freedom

4

5