Only 36 entities made a submission to the select committee, and some influential UK names are absent
Key points
A parliamentary select committee is assessing feedback on the suggested introduction of CDC
A mixed bag of qualified support, with many of the largest UK players not making submissions
One Dutch proponent cites CDC as filling the gap between DB and DC, but other respondents have reservations
The UK's Work and Pensions Select Committee has received a mixed response to its request for comments on the merits of collective defined contribution (CDC) pension schemes, which are also known as defined ambition plans.
Chaired by Labour MP Frank Field, the committee launched a consultation in November 2017. CDC schemes are currently not allowed in the UK, but are common in the Netherlands and Denmark, and were introduced in Germany in January this year.
When the consultation closed for comments at the end of January 2018 – after an extension of the deadline – only 36 submissions had been published on the select committee's website.
A Department for Work and Pensions (DWP) spokesperson says: "I think we were actually quite satisfied with that response [rate], as CDC is and was so little known and understood – and a remote possibility – until it appeared on the radar with the Royal Mail [which recently agreed in principle to switch to a CDC scheme]. We will still accept submissions right up to report preparation."
The select committee has said CDCs take the central decision of pension freedoms out of retirement planning, "and also much of the risk". CDCs have also been identified as a potential source of longer-term investment in growing start-up companies.
Arguments against CDC schemes include their potential to further fragment the pension landscape, they attract little demand, or run counter to the trend toward greater individual freedom and choice in pensions.
Several big industry players, including Aon and the Association of British Insurers, as well as trade unions and professional associations, have made submissions to the government, but some of the big pension consultancies were notably absent.
Consultancy Mercer was one of the firms not to make a submission. Brian Henderson, partner and director of consulting at the firm, says: "Theoretically, it seems a good idea but practically there are challenges.
"There are mixed views about it, even within the same company, such as Mercer. The jury is still out, and I suspect the number of submissions is indicative of the level of enthusiasm."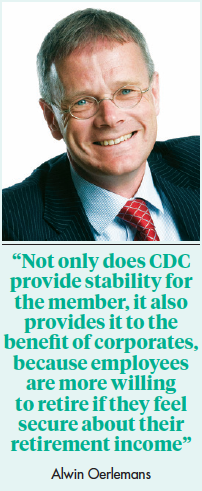 In February, the Royal Mail became the first UK company to move towards a CDC scheme after agreeing a deal with the Communication Workers Union (CWU). Royal Mail and the CWU will lobby government to make the necessary legislative and regulatory changes so the scheme can be established.
The Royal Mail says in its submission to the select committee: "We suspect that there will not be many other companies that are willing to make public submissions to this inquiry.
"They will not be able to speak publicly about their support for CDC, for fear of worrying their workforce about their future pensions, or causing industrial unrest."
As a whole, the UK respondents were broadly in favour of CDC schemes, but with reservations.
Even the three submissions from the Netherlands were divided. While APG offered evidence in support of CDC schemes, consultancy Cardano said: "We do not think that CDC would deliver tangible benefits to savers compared with effectively-managed traditional DC models."
Alwin Oerlemans, chief strategy officer at APG, who wrote the Dutch pension asset manager's submission, says: "What is relevant is that in the Netherlands, there are a lot of examples of CDC plans that work. CDCs fill the gap between defined benefit (DB), which gives an open-ended liability to the employer, and DC, which leads to pure volatility outcomes for the member."
CDC schemes came to prominence in the Netherlands when corporates became aware of the risks in their open-ended pension schemes. Oerlemans points out that one of the biggest benefits of such schemes are that they give the end-user some security and stability in terms of the outcome of the investment.
He says: "Not only does CDC provide stability for the member, it also provides it to the benefit of corporates, because employees are more willing to retire if they feel secure about their retirement income."
However, Henderson at Mercer warns that CDC schemes need sufficient scale and stability to be viable. "You then need a constant flow of new, younger, members to come in and prop up the model," he says.
"Thirdly, to avoid members losing confidence, investment returns have to be favourable – if so, you can boost retirement incomes and protect from market downturns. But if conditions deteriorate, unless members are locked in, it's like a house of cards."
He adds that alternatives to CDC already exist, including master trusts and group personal pensions, which have economies of scale and more diverse investment classes. If these also provide drawdown facilities, they would largely achieve the same as CDCs.
Longer conversation
Tim Gosling, policy lead for DC at the Pensions and Lifetime Savings Association, believes that CDC could complement both DB and DC schemes, but he feels that the select committee's consultation is the beginning of a longer conversation about the merits of CDC.
He says: "It will be important to investigate some of its potential benefits. It will also be important to establish where CDC is best deployed: does it have a role during saving and also in retirement, or is it best suited to a particular part of the system?"
One problem is that a saver's retirement payouts in a CDC plan are not guaranteed, as Henderson points out: "As long as people know it's not guaranteed, and accept the consequences, that's fine. And the whole thing needs to work on trust. If younger generations are largely going to subsidise older generations, they need to buy into the process."
According to Oerlemans, people in the Netherlands are more aware of risk such as longevity and mortality, which, he says, "allows social partners to be very explicit about the types of risk they want to share".
He says in the APG submission: "Experience in pension communication and behavioural research in the UK can be used in CDC design to make sure that plan participants and employers understand the pension deal."
And he adds: "In the development of CDC in the Netherlands, we've learned lessons from other countries, including the importance of behavioural finance and also getting the design right."
Henderson, however, is not convinced by the argument that CDC enables investment in long-term assets. He says: "I'm not sure it's the unique domain of CDC – big schemes do that anyway, especially with the pooling of investments."
Meanwhile, Prof David Blake, director of the Pensions Institute at Cass Business School, says collective individual defined contribution schemes (CIDCs) would be better suited to the immediate needs of the UK's system.
He says: "CIDC schemes maintain individual accounts; they are better able to deal with sudden cash withdrawals than CDC schemes, yet are still able to exploit economies of scale to the full which lowers costs, such as through automatic enrolment and the pooling of investment and longevity risks."
So is the government's consultation on CDC schemes in the UK just an opportunity to discuss another "nice to have" in pensions, or will it result in a serious outcome?
Making improvemments
An argument voiced by more than one respondent was that whatever the merits of CDCs, the government would be best employed in consolidating recent reforms or addressing more pressing problems.
Consultancy Redington says in its submission: "We see more benefit from spending time and effort making improvements to the current DC system, over and above creating new legislation for CDCs.
"Many of the issues that the CDC is looking to correct could be dealt with by the existing DC structure, such as improved contribution levels, clearer member communications and the development of technology, particularly in the delivery of guidance and advice, to allow members to make better and more informed decisions."
And the Association of British Insurers adds: "The fundamental strategic challenge the government and the sector needs to tackle is ensuring the amount of pension saving is adequate.
"The introduction of new type of scheme in CDC would do nothing to change this."
Oerlemans at APG remains confident about the benefits of CDC: "I'm optimistic that it's really something that is possible."
UK pensions: Looking ahead to pensions white paper
1

2

3

Currently reading

Collective DC: Lukewarm response to CDC consultation

4

5