Greece has come a long way since the turbulent summer of 2015 but it still looks vulnerable as the end of its bailout looms
Key points
• The Greek economy is finally growing again after several years of turmoil
• Yields of Greek government bonds have declined to pre-crisis levels, narrowing the gap with European peers
• Greece returned to international bond markets last year for the first time since 2014.
• This signals increased confidence in the country's prospects and improved fiscal credibility
• Greece has to prove it is on a sustainable path
What a difference could three years make? Following three years of stagnation during which Greece pulled back from the brink of exiting the euro-zone, the country is getting ready to stand on its own two feet.
When its emergency assistance programme ends in August, Greece will rely on financial markets for borrowing, instead of regular tranches of loans from its bailout creditors. Can it manage? There may be reason for optimism but no room for complacency.
The Greek economy is finally growing again after several years of turmoil marked by deep recession, three bailout deals and eight years of austerity since losing market access in 2010. Its real gross domestic product (GDP) rose by 1.4% in 2017. It is expected to grow by 1.9% in 2018 and 2.3% in 2019, according to the Spring Economic Forecast from the European Commission.
In comparison, euro-zone GDP growth is forecast to moderate slightly from 2.4% in 2017 to 2.3% this year before easing to 2% in 2019.
Fiscal adjustment efforts are bearing fruit. The Hellenic Statistical Authority data shows the Greek government's primary balance went from a large deficit in 2015 to a surplus of 3.9% of GDP in 2016 and 4% of GDP in 2017, exceeding the European Stability Mechanism (ESM) targets. The ESM oversees Greece's bailout together with the European Commission and the European Central Bank.
Based on the economic adjustment programme definition – which involves a different treatment of certain expenditure and revenue items – Greece generated a primary surplus of 4.2% of GDP last year, substantially above the target of 1.75%. These targets were agreed in 2015 as part of Greece's third bailout. A government is considered to have achieved a primary surplus when its current revenue is higher than its current spending (stripping out interest on debt).
Greece's financial sector is also showing signs of improvement: bank deposits of the non-financial private sector have increased; Greek banks' dependence on central bank financing has declined significantly, reflecting an improvement of their liquidity; and capital controls, which were imposed in 2015, have been relaxed.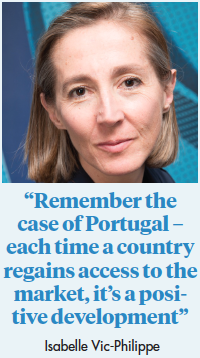 Furthermore, yields of Greek government bonds, which correspond to the cost of borrowing money, have declined to pre-crisis levels, narrowing the gap with European peers – in 2017 the yields on both long and short-dated Greek debt dropped to multi-year lows.
As pointed out in the OECD April 2018 Economic Survey of Greece, in January, the 10-year government bond yield fell below 4% (reaching a 12-year low) and the two-year yield hit a historical low of 1.3%, before rising in February amid increased volatility in international capital markets. The 10-year Greek government bond yield, hovering around 4%, is still above the yields of Ireland and Portugal, which exited their EU financial assistance programmes in 2013 and 2014, respectively.
The Greek government returned to international bond markets in July 2017 for the first time since 2014, with a new five-year issue, signalling increased confidence in the country's prospects and improved fiscal credibility. Towards the end of last year it also conducted an exchange operation of Private Sector Involvement (PSI) bonds with new ones to enhance the liquidity of the market for Greek debt. The PSI bond swap was acknowledged by credit rating agencies as a positive step towards Greece's return to international capital markets.
PSI was a debt restructuring procedure under which private investors (mainly banks) were asked to agree to write off 53.5% of the face value (principal) of their holdings of Greek government bonds. This took place in 2012 as part of the country's second financial assistance package that was agreed with the euro area members and the International Monetary Fund (IMF). It corresponded to a reduction of about €107bn in Greece's debt stock. Although the government's debt level as a share of GDP has stabilised, it is still among the highest in the world. The ratio of government debt to GDP was 178.6% at the end of 2017, down from 180.8% in 2016. This compared with 88.8% in the euro-zone as a whole in 2017 and 91.12% in 2016.
Taking another step towards achieving self-sufficiency and market-based funding, the Greek government issued a seven-year bond in February 2018. These actions helped the country smooth its debt maturity profile to mitigate rollover risk. The weighted average maturity of Greece's central government debt soared from 7.8 years in 2007 to 18.3 years in 2017 (see figure). When a country's outstanding loans are spread over a long maturity the share of debt that has to be refinanced every year is diminished, indicating a reduction of the refinancing risk.
Greece also started building a cash buffer to support investors' confidence and facilitate its market access. At the end of March, part of the loan tranche from the ESM was earmarked for this purpose. Since 2014 the Greek authorities have implemented legislation allowing general government entities to conduct repo operations with the state to cover part of its financing needs. Government officials told IPE that part of the funding from these operations has been transferred to the Bank of Greece to boost cash reserves. A cash buffer of about €20bn is expected to cover the country's financing needs to the end of 2019.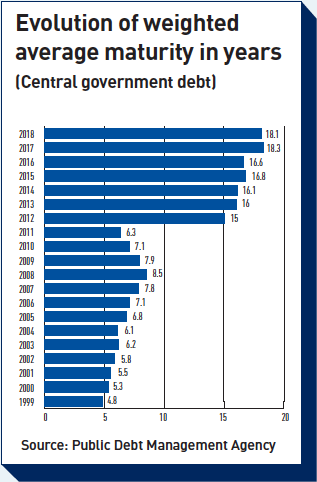 The country might tap into bond markets again with possible new issuances which may have a maturity of below or over seven years. The timing will depend on market conditions, according to a government official who says "it is crucial to continue the dialogue with investors".
Isabelle Vic-Philippe, head of euro rates and inflation at Amundi Asset Management, agrees. "It's a good idea, even if there may be no need for it. Remember the case of Portugal – each time a country regains access to the market, it's a positive development," she says, adding that such a move could also benefit Greece's sovereign bond rating.
Thanks to its improved growth and fiscal prospects and lower political risk, Greece saw sovereign rating upgrades earlier this year. It is rated B3 by Moody's and B by both S&P and Fitch. Mark Dowding, head of developed markets at BlueBay Asset Management expects further upgrades: "There will be a point where Greece will turn back to investment grade status."
Investment managers say Greece is among the most attractive periphery euro-zone sovereigns, with spreads that are significantly higher than those available in other countries such as Portugal.
In simple terms, spreads refer to sovereign bond yield differentials and are indicators of fiscal vulnerabilities and the risk of default. Variations in spreads may also reflect changes in investors' preferences and an associated repricing of risk.
Konstantinos Foteinopoulos, portfolio manager at 3K Investment Partners, an Athens-based investment group, says the Greek government bond market has the potential to offer profits depending on the successful ending of the third financial assistance programme. His views are echoed by Dowding who says "the backdrop in Greece is very constructive".
Notwithstanding the optimism of fund managers who also acknowledge the economic hardships of the past decade, the consensus is that Greece still has to prove it is on a sustainable path. "There are good signs but we need consistency," Vic-Philippe says and Dowding notes that despite its progress, the country remains vulnerable.
At the time of going to press, Greece was negotiating the terms of its bailout exit with European creditors, including the thorny issue of how its finances will be monitored as well as potential debt relief measures which were a topic of disagreement between the European institutions and the IMF. Talks were also overshadowed by the political crisis in Italy and the resulting jitters in financial markets.
Even after the Greek programme ends, there will be a degree of surveillance by the ESM and other institutions. In addition to the surveillance frameworks used for every EU member state, Greece will also be subject to normal EU post-programme monitoring, which will take place under the ESM early warning system, as pointed out in a recent speech by Klaus Regling, ESM managing director: "This assesses if a country is in a position to pay back its loans. Portugal, Spain, Ireland and Cyprus are also all subject to the early warning system, and we regularly visit these countries. If Greece requires additional debt relief measures, the post-programme surveillance may be tightened."
Giuseppe di Mino, managing director at Amber Capital, says "it's important for investors to see a surveillance mechanism and that Greece does not make the same mistakes".
Government Bonds: Attractions on both sides of the pond
1

2

Currently reading

Comeback trail

3