European pension funds have underlined their position as long-term investors as they face unprecedented market turbulence and an economic downturn.
Key points
Pension providers are emphasising the benefit of their diversified portfolios
Current market volatility has enabled small shifts in portfolios to reflect market risk and pricing
Global stock markets have plummeted, and everyday investing continues to be severely disrupted, opening a roller-coaster ride for pension funds as bond yields fluctuate and funding ratios continue to suffer.
Pension schemes, however, seem to be keeping their cool when it comes to maintaining their long-term investment positions.
Along with many others, APG, the asset manager for the Dutch pension fund for government and education employees, ABP, has sought to reassure stakeholders by emphasising its diversified investment portfolio, as well as its rebalancing policy to achieve its long-term target.
It reiterated that although the recent market unrest is having a significant impact on the economy, there is no reason yet to change its current rebalancing policy.
Kim Johansen, ATP's chief risk officer, said the breakout of COVID-19 "is very serious and affecting financial markets around the world".
He added: "Naturally we are following the situation very closely but we do not comment on our ongoing market actions. Most importantly, ATP is a long-term investor and our risk-adjusted portfolio is solid and built to manage even severe market fluctuations."
Alecta, a Swedish pensions provider, said: "As a result of last year's high return, we had a good starting point for 2020. For example, the funding level in our DB plan
was 148%. Of course, we are very much affected by this year's fall in interest rates and falling stock prices, but the good starting point means that we still have a good financial position."
The firm is hopeful that the impact for investors will be small, "but it is really too early to say.
"We are closely monitoring the development on the asset side via stress tests, etc. We are also updating our asset-liability management (ALM) where we – among other things – are testing the strength of our balance sheet. At present level of stress, we feel comfortable with our position."
The Danish Financial Supervisory Authority said: "The Danish financial sector is generally robust, and the FSA does not at present see that financial stability is affected by the situation regarding coronavirus.
The authority added it is in regular contact with financial sector organisations and has a close dialogue with the largest financial companies to ensure the financial sector is prepared.
"The Danish pension sector is being continuously monitored with standardised sensitivity analyses."
A spokesperson for the UK's largest pension fund, Universities Superannuation Scheme (USS), said: "We are a long-term investor and take a long-term approach to funding the scheme. In running an investment strategy that seeks to outperform liabilities and adds value, a level of volatility is expected."
The financial impact of COVID-19 contributed to the rise of UK DB pension scheme deficits by about £100bn (€110bn) in the last week of February, taking deficits to about £500bn, according to Hymans Robertson.
As the coronavirus continues to spread, Hymans predicts that this could cause a supply-side macroeconomic shock, which has the potential to double deficits to £900bn.
Callum Cooper, partner at Hymans, said: "If efforts to contain the virus fail, companies may struggle to meet demand, which could cause a supply shock that will be felt in the global markets."
The USS spokesperson said, however, that "in such circumstances, the challenge is to understand the longer-term implications for our funding position of temporary or permanent changes to the prospects for economic growth and returns.
"We will continue to monitor conditions through this lens, both now and under the 2020 valuation."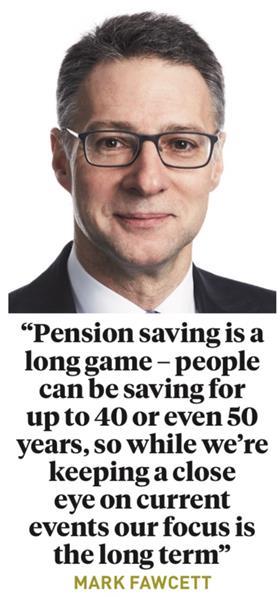 Mark Fawcett, CIO at the UK's auto-enrolment master trust, NEST in the UK, said: "Pension saving is a long game – people can be saving for up to 40 or even 50 years, so while we're keeping a close eye on current events our focus is the long term."
He told IPE that NEST is prepared for "situations like this" by diversifying its default funds so they are not overly reliant on any one asset class.
"We're in a good position to be able to increase our equity allocation while markets are down and therefore help our members benefit when markets begin recovering," he added.
Daniel Booth, CIO at Border to Coast Pensions Partnership, one of the UK's local government investment pools, also emphasised the importance of a long-term investment position.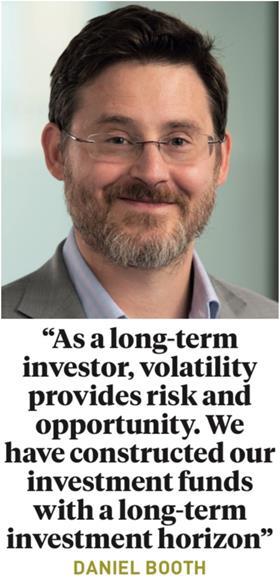 "As a long-term investor, volatility provides risk and opportunity. We have constructed our investment funds with a long-term investment horizon, designed to withstand the normal fluctuations in any economic cycle," said Booth.
As part of Border to Coast's usual investment process, the coronavirus was identified as a potential investment risk in early 2020.
The resulting market volatility has enabled minor portfolio repositioning to reflect shifting risk and market pricing – rotating exposures across names and sectors – but these are incremental changes in the context of a broader portfolio, he explained.
"We continue to monitor the situation and we maintain our approach of focusing on a multi-year horizon rather developments over the next quarter," Booth said, adding that the pool's strategic asset allocation remains the responsibility of its 12 partner funds.
"We are long-term investors focusing on delivering value to our partner funds through a broad range of cost-efficient investment solutions that deliver improved net returns in a risk controlled fashion," he said.
To read the latest IPE Digital Edition click here