Independent research providers are hoping to benefit from the new research regime
Key points
• Theoretically MiFID II should be good news for independent research providers
• Independent providers are hoping that MiFID II will cause asset managers to assess what external research they need
• There are fears that prices will decline, or stagnate, over the next two years
• It is essential that the market being created serves the end investor, not vested interests
It is clear that MiFID II will have a fundamental impact on how investment research is provided, consumed and paid for. One of the key drivers of MiFID II is to increase competition, variety and choice in investment research. To make it part of a fairer, more transparent investment industry, eliminating inducements, and giving investors enhanced value and lower costs.
Theoretically, that should be good for independent research providers (IRPs). By definition, they have no conflicts on what they write; depend only on their ideas and insights to get paid and add to market sentiment. So, is this the case?
Well, there is good news and not so good news. While each independent research firm is different – indeed that is part of their intrinsic appeal – the overall sentiment is that of optimism, tempered with concerns about short-term challenges.
The positive perspective is driven by the view that MiFID II will cause asset managers to assess more closely what external research they need, what they value and how they can access the best-in-class. While it is true that only independent research is of good quality it is also the case that all good-quality research is independent. That equation can only become more powerful as the buy-side forensically examines what it is paying for.
What is more, while few can be precise in predicting the scope and extent of change, all agree that things will be different. Ally that to the uncertainty as to what the differences will be and it is necessary to be fast-moving to respond effectively. The independent sector is nimble and able to react to the future – be it the increased demands the buy-side will place on closer consultations with their research providers; in its capacity to embrace and leverage new datasets and ways of thinking about how to construct research ideas and insights; and in having the flexibility to move into gaps that may emerge, such as in small- and mid-cap research. The chart shows that over half of IRPs expect MiFID II to have an impact on their business, be it with new clients in Europe or existing revenues.
And the 'new world' of MiFID II is, and always has been, the existing reality for independent firms. They prosper on the quality of their ideas, on their service and interaction with clients, and their ability to work with clients, tailoring services and building a partnership with them.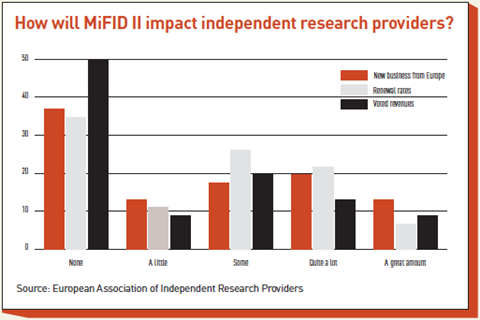 A key component has been price. Across the piece, independent research carries a price tag well below the numbers charged by traditional sell-side firms. Again, you have to be brave to predict, but most in the market (buy-side, sell-side and independents alike) would say the sums paid for research will drop in 2018 and beyond. The only question is by how much. Carrying less overhead, and not needing to serve different internal paymasters, gives IRPs a potential edge.
However, price is the great unknown. At the moment, 85% of IRPs see prices either declining or at best flat over the next two years; whereas 35% say prices will increase over the next five years. Many IRPs are seeing the sell-side undercutting aggressively on prices, and/or offering little granularity or transparency.
This is the key short-term challenge, and a challenge too for the buy-side, and for regulators. Partly with the move to paying for external research via the profit and loss account (P&L) and partly as simply good business practice, the imminent onset of MiFID II has been driving research prices down for asset managers.
But predatory pricing, continuing cross-subsidy of investment banking research and conflicts of interest could undermine MiFID II's goal. That is to ensure a fairly priced and transparent market for research to improve investment outcomes. There has been much talk about unintended consequences of MiFID II – for regulators it cannot be that the new rules reduce transparency, and do not serve the interests of ultimate investors.
For asset managers directly now, a clear trend from traditional investment banks and brokers is to offer written research at a low (sometimes super-low) price. It can then charge more for bespoke, value-added services such as analyst access. In the short term, asset managers need to ensure they are not creating potential future compliance and performance liabilities. As banks race to the bottom on the pricing of written research – using premium-priced access to analysts and cross-subsidies from other activities – objective and thoughtful written research could become scarcer. Buy-side clients will ask of bank research: who else is footing the bill? Is it an inducement? Have you resolved your many conflicts?
These challenges are not going to disappear. Investment banks have extensive research capabilities for many reasons, with much intelligence and insight in these teams. The opportunities for providers to interact with clients, in many ways aside from research, are still there of course. At present, the market, on all sides, is discovering price, and defining a cost/value analysis, which the previous opaque and bundled world made difficult. That whole process should, in time, deliver the right outcomes – and a research market where quality is king. It will take time, though.
However, despite the lack of a level playing field any time soon, and the stubborn persistence of conflicted research, independent firms, working in partnership with buy-side clients, will play a key role in providing objective insights, fresh thinking and assistance in generating ideas and ensuring transparent business models. That is fundamental in meeting the core of MiFID II – to ensure that the market being created serves the end investor and not the old vested interests.
Steve Kelly is special adviser to the European Association of Independent Research Providers (Euro IRP), which represents the interests of independent investment research firms