It is a popular notion that the trustees of defined benefit (DB) pension schemes should not limit their investment opportunities to equities and bonds. Instead, investments of varying liquidity should be considered to enhance the expected outcome by taking advantage of long-term investment horizons. However, investors tend to categorise investments into two buckets — liquid and illiquid. Such a binary distinction can mean pension schemes either make unsuitable allocations to private strategies or make none at all.
It is increasingly important to recognise the large number of opportunities in the medium-duration range (three to seven years) that fill the liquidity gap between traditional equities and bonds, hedge funds and traditional private equity.
A central consideration for setting the appropriate investment strategy is the liability profile of the pension scheme. With the full spectrum of illiquid investments to consider, a scheme can construct a private-market investment programme so that the expected cash flows meet the projected liability profile.
Liability-sensitive private market investing is increasingly important for two reasons. First, almost all UK DB pension schemes are closed to new entrants and a large proportion are closed to future accruals, which means the long-term horizon of DB schemes is set to trend downwards and the profile is set to evolve as active and deferred members are replaced with pensioners.
Second, strong performance from traditional asset classes in recent years has resulted in a significant improvement in the average UK pension scheme funding level which, in turn, has increased the value of retaining flexibility to make asset allocation changes.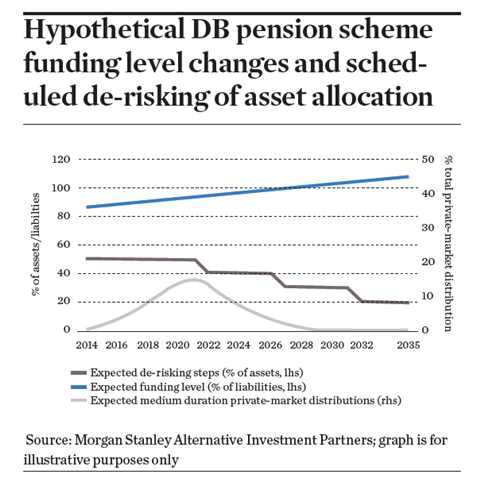 In this context, a pension scheme that attributes the majority of its liabilities to active and deferred members might consider an allocation to traditional private equity in order to target relatively high expected growth in asset values over the long term to match its longer-dated liabilities.
However, a mature pension scheme with existing emphasis on deferred members (with a high average age) and pensioners might consider medium-duration private investments to be more appropriate. Examples of medium-duration strategies that could be considered include private fixed-income opportunities (structured credit and direct lending) and royalties.
Of course, in many circumstances a combination of medium and long-duration investments is warranted to reflect a balanced attribution of liabilities to active and deferred members and pensioners.
As an example, consider a hypothetical pension scheme with a funding level of 87% (the average private-sector UK scheme position in mid-2014, according to JLT) and a governing body that has approved the transition from return-seeking assets, starting at 50% of the portfolio (the average allocation at UK schemes, according to Mercer), to liability-matching investments as the scheme reaches fully-funded status (10% of assets will be transitioned at 95%, 100% and 105% funding levels).
There are three potential advantages to this hypothetical scheme of considering medium-duration private market investments, relative to the traditional private equity approach:
• Distribution of income. The income yield can assist the scheme in accommodating the projected growth in annual cash outflows in the short and medium term and an investment programme can be constructed such that the investment income is expected to grow in line with expected increases in annual liabilities.
• Duration of distributions. The shorter duration investments can achieve liquidity ahead of the projected peak in annual liabilities, not only assisting with meeting benefit obligations but also providing liquidity ahead of scheduled asset allocation changes.
• Speed and certainty of exit. The private market portfolio can focus on opportunities with relatively predictable exit profiles, in terms of the timing and value of cash flows received upon realisation, again supporting future changes to the investment strategy.
These beneficial characteristics are highlighted in the graph above. The blue line shows the funding level of the scheme (as a percentage of the value of the liabilities) and the dark grey line shows the allocation to return-seeking assets (as a percentage of the value of the assets).
For this hypothetical pension scheme, a programme of 10-15 year private-market investments with a static target allocation to illiquid investments might be considered inappropriate as the scheme is expected to implement significant de-risking before long-dated private investments would be expected to distribute capital, potentially putting pressure on other funding sources.
However, a programme of medium-duration strategies, underpinned by a dynamic target allocation to illiquid investments, could be constructed so that the cash flows back to the portfolio (shown in the chart by the light grey line) would be expected to provide a liquidity source when the scheme expects to reallocate to less risky or liability-matching investments. The allocation to illiquid investments subsequently would decline to complement the wider asset allocation changes.
It is critical that DB pension schemes recognise the full spectrum of liquid and illiquid investment opportunities when deciding upon the appropriate investment strategy.
Institutions have the opportunity to construct and manage private market allocations that are suitable in the context of the liability profile and implemented over time in a way that minimises the trade-offs of illiquid investing. This approach has the potential to enhance the expected outcomes as pension schemes converge on their long-term objectives.
Joe McDonnell is head of Morgan Stanley's Alternative Investment Partners' Portfolio Solutions Group