Diversified growth funds have become a core investment for many UK pension funds with strong demand from countries. Will Mayne defines the concept
The simplicity of the three-letter abbreviation DGF belies the variety of diversified growth fund strategies that exist under one single banner. Indeed, the DGF market includes approaches that could be accurately labelled as anything from risk parity, to a global macro hedge fund, to an active balanced fund. Terms like 'dynamic multi-asset fund' or 'absolute return' are also prolific. Rather than defining DGFs as a specific type of fund, we instead consider it a brand; based on its success you could even call it a super brand.
At its simplest, a DGF is promising to deliver 'equity like' returns with lower volatility. This objective is the most unifying feature of this rather awkward family of funds, rather than any shared investment approach. Given the extensive variety of approaches, it is interesting to see that mandate searches are still conducted based on finding a DGF manager. When many investors are looking for a DGF it is this outcome that they focus on. They know what they expect to receive from a DGF, their purchase decision is therefore simplified: do I believe that this manager's approach will get me to the promised outcome? They will then consider this question in the light of their investment beliefs – for instance whether they believe in active management – and the advice of their consultant.
DGF managers face a conundrum: whether to jump on the bandwagon or to fight the term and attempt to carve out their own niche. In our advisory work we are asked many questions about what a DGF needs to look like as well as how managers can differentiate themselves. There is a tension between meeting the expectations of the brand and standing apart from the crowd. And there is a crowd – the success of the DGF brand has led many managers to see their multi-asset offerings in a new light and to discover that their multi-asset fund was, in fact, a DGF all along. The family is therefore getting bigger and more varied; it may soon face an identity crisis about whether it has become too disparate and whether a new branch needs to carve out its own identity.
A division has already occurred on price point. DGFs of old charged 75bps on average and gathered assets from UK DB, DC and retail investors alike. These funds still exist, but for many targeting the UK DC market the charge cap has created a 'new normal' with regard to price. DGFs targeting the DC market in the UK now need to meet different price expectations, a cluster of active managers around the 50bps mark and another more passive cluster around 30bps is now the new landscape.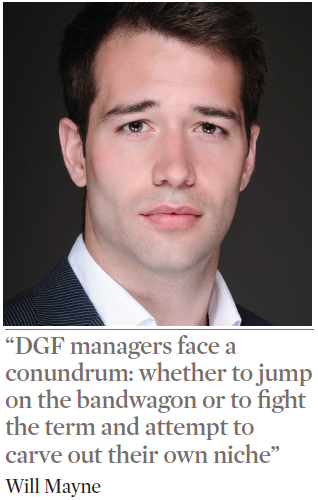 Our DGF research focuses on 47 funds that target the UK market – where this 'brand' is at its most cohesive. We avoid looking at every multi-asset fund that looks similar to a DGF as they simply aren't competing for 'DGF' mandates. Even so, about a sixth of the assets in these funds derives from investors outside of the UK. Of the £124bn (€175bn) in DGFs, we estimate that just over £9bn is from non-UK pension funds and £10bn from other non-UK institutions. These assets seem to split evenly between European, Asian and North American investors. However, language is important and not consistent. We have heard that DGF managers exporting to the US are more likely to be used within a 'liquid alternatives' mind-set; Japan and Australia have both been identified as areas of opportunity for DGF managers. Japanese investors see DGFs as a low-volatility, absolute-return investment option.
We have also seen pockets of interest in Europe, although not the same broad appeal that we have seen in the UK. Italian pension funds, for instance, invest extensively in balanced mandates with a very specific Italian flavour. New laws will allow providers to create balanced funds with more of a global focus and incorporate global equity and bond investments, which represents a potential opportunity for DGF managers. We have also heard of interest in Germany for risk-constrained multi-asset solutions where smaller investors have been attracted to products with broad exposure and downside protection.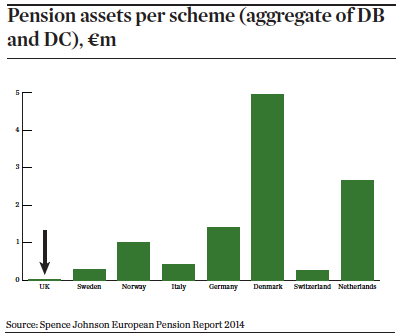 While there is clearly potential from outside the UK, the main institutional demand for multi-asset still appears to be from UK pensions. The DGF market manages £70bn in assets from this source, over half of the assets in these funds, representing about 4% of UK pension assets overall. This proportion is similar across DC and DB funds at 5% and 4% respectively. So why has this type of fund been so successful in the UK? As ever, the answer is not straightforward, but let us consider two important factors.
The first is the derisking of DB pension funds. DGFs were initially the darling of UK DB schemes, which exchanged equity mandates for multi-asset as a means of reducing funding volatility as their liabilities matured and DB 'end game' planning began in earnest.
The second is the uniquely fragmented nature of the UK market. Multi-asset funds offer an 'off-the-shelf' solution for many schemes unable to diversify effectively themselves because of scale. This scale factor influences the uptake of DGF investing in the UK versus continental Europe. Average fund assets in Denmark are 570 times larger than in the UK and average sizes in the Netherlands and Germany also dwarf UK schemes. Larger schemes on the continent can more easily adopt a 'we-can-do-it-ourselves' attitude. We can see this happening in certain cases in the UK. NEST, the master trust set up by the UK government, initially had a DGF allocation. However as it increased in size with auto-enrolment it has first decreased, then removed this allocation as it begins to adopt a risk-parity approach for the whole portfolio with specialist mandates – rather than a multi-asset component itself.
The UK, as birthplace of the DGF brand, therefore still remains by far its most important market. And it is a market that is changing as the UK pensions landscape evolves to take account of regulatory shifts like auto-enrolment and the charge cap. The future success of the DGF brand relies on its ability to adapt to these factors, however with evolution and an ever larger family of funds and techniques – how far can the DGF brand stretch?
Will Mayne is a principal at Spence Johnson
Multi-Asset Strategies: Adaptive approaches
1

2

Currently reading

Commentary: The DGF super brand

3

4

5

6

7

8

9