Rising risk of inflation and geopolitical uncertainties are enhancing the role of commodities as a portfolio-diversifying strategy
Key points
• Accessing commodities can be difficult for pension schemes
• Commodities can act as a useful risk management tool
• Investors in the asset class can benefit from both rising and falling markets
Pension schemes' limited interest in commodities is understandable. Accessing this asset class has been difficult. And many find the volatility off-putting. Attitudes are, however, changing as the emergence of several factors increased their utility to long-term investors.
Those recent trends include the increasing risk of inflation and the heightening of geopolitical risk. Materials such steel and oil can provide a useful hedge in these situations. In addition to these shorter-term benefits, there is also an investment case for a longer-term position.
Jim Smigiel, CIO of absolute return strategies at SEI, says: "Commodities add diversification to a portfolio, so pension schemes should consider a strategic allocation."
There are both short-term and long-term diversification benefits. In the current environment of rising economic growth and increasing inflation, materials such as coffee and copper should generate positive returns. Smigiel says: "This asset class should outperform both equities and fixed income."
Unlike equities and bonds, these materials have a direct link to price sensitivity. "In general, investors are under-allocated to assets which are sensitive to growth-driven inflation," says Smigiel.
Over the longer term, the low correlation between commodities and other assets should be a useful risk-management tool. Diversification within the asset class, however, was more difficult a few years ago, when there was a close relationship between the price of individual products.
Charles Cresteil, quantitative investment specialist at BNP Paribas Asset Management, says: "In recent years, however, the prices of these materials have become more influenced by fundamental factors rather than global growth." There is greater dispersion among the asset class, with individual supply-and-demand dynamics affecting the price of, for example, oil or steel.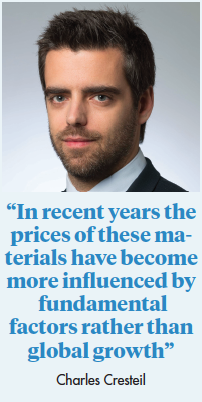 Investing in commodities can also help investors to harness longer-term trends. This asset class should benefit from the world's rising population. Colin Hamilton, senior commodities analyst at BMO Capital Markets, says: "As many natural resources are scarce, prices will rise if per capita consumption remains at current levels."
Not only does an allocation to this asset class help a pension scheme to mitigate correlation risk over the long term, it can also help a scheme to hedge geopolitical risk. Smigiel says: "For example, when Trump tweets angrily against Iran, oil prices rise while the share price of the oil producers falls."
While fixed-income allocations will also provide protection when risks rise in financial markets, commodities provide a more direct link. With political opinion turning away from globalisation and towards a more protectionist stance, this could be particularly beneficial.
Smigiel says: "We are living in an unusual political period. If tensions continue to rise and tariffs increase and supply is constrained, that will result in significant increases in material prices."
It is easier for pension schemes to invest in commodities today, with a wider range of routes available. And those possibilities have become more sophisticated.
There is an inherent complexity to investing in commodities, as it involves using derivatives such as futures. That means returns on the allocation will be affected by roll yield. As investors never take delivery of the underlying product, contracts must be rolled into new positions as they near expiration. This generates a profit or loss.
If the future price of a commodity is below the expected future spot price, the market is said to be in backwardation. In this scenario, rolling the contract generates a profit because less money is paid than expected by the spot market for the underlying asset.
If, however, the future price is above the expected future spot price, the market is in contango and rolling the contract will generate a loss rather than a profit. The ability of roll yield to enhance or detract from the returns of a commodities future fund is one of the key reasons to use an active rather than a passive approach.
Smigiel says: "Active managers can take advantage of those contracts with positive roll yield while underweighting those with negative roll yield." These opportunities exist because many of the market players are inefficient, which use futures to hedge specific risks rather than an investment opportunity.
While these more sophisticated futures strategies can help investors to avoid some of the obvious bear traps when it comes to investing in commodities, these choices are not available to all investors.
Smaller European pension schemes which need to access this asset class via a pooled or co-mingled account have more limited options. Hamilton says: "That's because these accounts usually comply with the UCITS directive, which prohibits the use of futures along with taking positions on individual materials."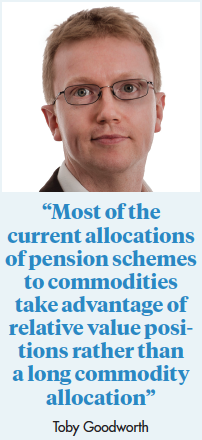 For example, BNP Paribas Asset Management's commodity and exchange-traded funds (ETFs) do not use individual futures contracts because they comply with the EU's UCITS guidelines. Cresteil says: "We are still able to actively manage our investments by using swaps on indices along with contracts for difference [CFDs]."
By using multiple swaps and CFDs, the fund is able to target different sources of performance within the commodity markets. "This helps to capture the roll yield movements in the futures market without having to use these instruments," Cresteil adds.
Despite the increased range of investment options available to pension schemes and the emergence of inflation and geopolitical risk, not all investment consultants think schemes should make a strategic allocation to this asset class.
Ben Gold, head of investment at the XPS pensions group in Leeds, UK says: "We do not think commodities are an appropriate investment for pension schemes." This asset class is not expected to make a strategic contribution to the portfolio over the long term, he adds.
"The direct link to inflation is not enough for pension schemes – they need inflation-plus returns to narrow their funding gap," says Gold. There is no structural reason why products like gold and wheat should deliver consistent returns above inflation, he adds.
"If, however, a scheme wanted to generate return from tactical manager skill, this asset class could be part of the tool kit," he says. A commodity allocation would best fit as part of a multi-asset mandate where the investment decisions are delegated to the asset manager.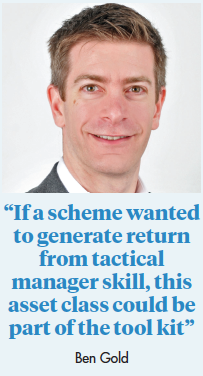 This is, in fact, exactly how many schemes are allocating to commodities. That has been driven less by the desire to allocate to this asset class and more by a need to diversify away from equity risk.
Toby Goodworth, head of risk and diversifying strategies at bfinance, says: "Schemes want another liquid strategy which has a transparent investment process." Multi-asset alternative risk premia meets this requirement for a number of trustees.
These strategies can be thought of as an evolution of 'smart beta' strategies. These funds identify a number of investment factors such as momentum, carry or value and then exploit these characteristics across different asset classes.
Goodworth says: "While each investment factor does not have a particularly high Sharpe ratio, by adding together a number of uncorrelated factors across a number asset classes, it is possible to generate a higher Sharpe ratio for the overall portfolio."
Commodities are one of the four core asset classes in these strategies because momentum, value and carry are present in these markets.
Many of these commodity risk premia are often market neutral. Investors can benefit from both rising and falling prices, which enables them to exploit the dispersion with the markets rather than taking on a position on the direction of commodity market pricing.
Goodworth says: "Most of the current allocations of pension schemes to commodities take advantage of relative value positions rather than a long commodity allocation."
Commodities: A boost for material benefits
1

Currently reading

Commodities: A boost for material benefits

2

3