---
Key points
• Rising rates have been tempting convertibles issuers to the market
• European convertibles have been attractively valued in recent months
• The tech and telecoms sectors offer opportunities in the US
Investing in convertible bonds is a long-only strategy requiring investors to monitor a raft of factors.
Investors have to consider the underlying equity valuation and volatility, interest rate levels and credit spreads. Convertible bonds represent a niche where the primary market, as well as asset class inflows and outflows, drive liquidity and valuations. Bond picking was a differentiating factor in fund performance relative to benchmarks during the bullish equity market in 2017, but as conditions change, will the drivers of convertible bond performance also shift?
After years of unnaturally calm markets, volatility is increasing, which could change the dynamics for convertible bond investors. As quantitative easing is reduced and markets normalise, further bursts of volatility are expected. Investing in convertible bonds is not only about having a view on the potential valuation of an underlying equity and the credit quality of the issuer, it is also a bet on the volatility of the underlying equity: buying a convertible bond is a long position on volatility. Indeed, when the volatility of the underlying equity increases, the probability increases that the convertible bond will eventually be in the money.
Convertible bonds currently have a volatility sensitivity between 35% and 45%, and should benefit from rising equity volatility, even if only moderately. Equity volatility has been decreasing since late 2015, reaching an unsustainable low in November 2017, with the VIX at 9.14%. The two equity market corrections in 2018 show that volatility is back and will continue, because investors will overreact when companies fall short of earnings estimates, creating volatility in particular stocks or sectors.
We expect equity markets in the developed world to continue rising in 2018, especially in Europe and, to a lesser extent, the US. The current corrections are standard in a bull market and represent an excellent entry point. At the same time, the level of conversion of convertible bonds should also be high. The average equity exposure of the convertible bonds market is close to 50%, allowing benefit from performance in the equity markets.
Long-only convertible bond fund managers not only have to capture equity performance, but also protect the portfolio against unanticipated downturns. One way to address this is to switch from high equity exposure convertible bonds, without a protective component against convertible bonds, to those with lower equity exposure but better protection.
As the main source of balanced convertible bonds, it is essential that the primary markets maintain a healthy flow of issuance, and supportive dynamics. Currently, market conditions are favourable, with rising interest rates tempting issuers to lock up refinancing rates. Buying new issues should allow investors to raise weighting to bonds with more balanced equity exposure. It is worth noting that convertible bonds have an average longevity of 2.5 years and consequently a short average effective modified duration (approximately two years), which limits the negative impact of probable rising interest rates.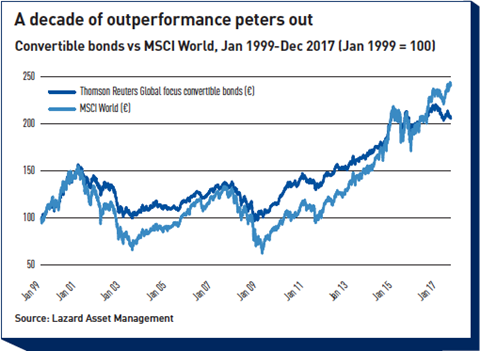 Moreover, we anticipate that the variety of new issue credit ratings will be good. Even if convertible bonds are mainly non-rated and classed high yield, they benefit from the carry of these rating categories. It is useful to include investment grade bonds in a portfolio, because they confer a strong bond floor/protective component to the convertible bond. We saw the return of investment grade issuers in 2016 and 2017, especially in the European markets. This should continue in 2018.
Convertible bonds have been historically one of the best ways to invest in highly volatile equity, as the protective component (the bond floor) guards against any downturn in stock prices.
Regional differences
Greater volatility, an equity bull market and rising interest rates provide opportunities for convertible bond investors, but investors should be aware that convertibles differ across the world.
They are cheap in Europe and fairly priced in the global market. Rising values in Europe and especially the US are expected, where sector biases can accelerate things. Ultimately, we expect market prices for bonds to rise back above historical average, but valuations will not go significantly over the averages.
The European convertible bond market has been attractively valued in recent months. On the down side, the real estate sector is highly represented in the European convertible bond universe, a sector which could be negatively affected by rising interest rates. On the bright side, convertible bond issuance from other sectors, including consumer discretionary and industrial, in the last 18 months show true asymmetry and convexity, especially among mid-cap companies.
In the US, some sub-sectors of the Nasdaq seem overvalued, but growth sectors such as technology and telecommunication still remain attractive. These companies want their stock price to rise, much like convertible bond holders, who want to convert into equity at maturity. This allows companies to pay back their convertible bonds in newly issued shares, rather than in cash.
The Japanese convertible market is small, with only about 60 issues with both equity and bond characteristics. Many global funds are therefore investing in the same bonds, making this market expensive. Japanese convertible bonds are, however, important for portfolio diversification. Given the valuations of Japanese convertible bonds, it is necessary to focus on the equity story.
In Asia, the primary market has been weak for years and the convertible bonds universe has been tightening quickly. Most Asian convertible bonds are bond-like and do not give a return that reflects the level of risk taken. Thus, it is preferable to invest in US convertible bonds with underlying Asian equity with a more balanced profile and higher liquidity.
Equity bellwether
Convertible bonds behaviour can be a bellwether for the equity markets. For example, when the primary market is inexpensive compared with the secondary market, it means that issuers are ready to issue convertible bonds in unfavourable conditions because they expect their share prices to fall or remain constant, which is an indication that all is not well in the equity markets.
Likewise, a sharp fall in the value of high delta (ie, sensitive to the movement of stock prices) convertible bonds usually indicates that market participants are repositioning towards defensive convertible bonds.
None of those indicators are present at the moment, and equity-like convertible bond valuations have responded well to recent stock markets falls.
In our view, 2018 will continue to be a year of bond picking and sector selection, and convertible bonds will remain an attractive investment.
Arnaud Brillois is portfolio manager for the long-only global convertibles strategy at Lazard Asset Management
Emerging market debt: A universe in constant flux
1

2

Currently reading

Convertible bonds: Welcome back, volatility

3