Convertibles are gradually being recognised as an asset class in their own right
KEY POINTS
Convertible bond issuance increased markedly in the first quarter of 2017 with US tech firms issuing more than they have in the previous three years.
Convertibles historically perform well when interest rates are rising, giving investors a cushion against capital losses on traditional fixed-income securities.
Rising equity markets are supportive of the value of the equity conversion option embedded in convertible debt.
Just as spring emerges from winter the convertible market is emerging from a chill that set in at the outbreak of the financial crisis.
While some managers report tepid inflows to convertible strategies, there is broad agreement that institutional investors are showing keen interest in convertible bonds. They are requesting more calls and meetings on the asset class and probing deeply into strategies presented at conferences. Issuance is up strongly, on pace to reach levels of new convertible supply not seen since 2008.
Perhaps most important, they say, convertibles are now viewed as an asset class, one that is evaluated based on fundamentals, and eligible to receive a slice of long-only institutional asset allocation where fixed-income and equity strategies meet. That is a marked change from a decade ago, when convertibles were often viewed as a trading tactic, owing to the preponderance of long-short hedge funds that were active in the sector. Back then, they were often transacting with bank proprietary trading desks that have subsequently been shut down.
"The investor base has changed dramatically," says Davide Basile, head of the global convertible bond team at RWC Partners in London. Recent new clients at RWC have included pension funds in Germany, Switzerland and Italy, some allocating to convertibles through segregated mandates. "The investors we see coming into the asset class have been fundamentally driven, and some have been under-exposed to equities," he says.
The investment case for convertible bonds rests on several pillars, primarily a floor on returns from the coupon payment, and the opportunity to participate in equity upside of the issuer if the conversion option is triggered. Currently, says Basile, convertibles are an attractive fixed-income replacement because the low level of interest rates reduces the opportunity cost of holding convertibles instead of straight corporate debt. While two years ago corporate debt paid 4-4.5% and converts paid 2-2.25%, their yields are now "comparable", Basile says. Historically, convertible investors would have accepted the lower coupon in exchange for having the option to partake in equity returns, but in the current environment that discount has largely disappeared.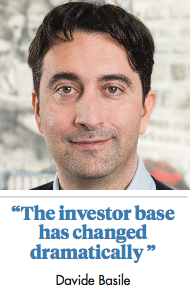 The shift to a rising-rate environment makes it an opportune time to buy convertibles. The asset class tends to perform well when rates are rising, Basile says. First, the option in the convertible provides a form of protection to investors in rising-rate environments by giving convertible owners exposure to equity gains that can offset capital losses. And those capital losses are attenuated because convertibles tend to have a shorter term than traditional corporate debt, and hence a lower duration. With income so low on corporate debt, whether investment-grade or high-yield, Basile says, traditional corporates provide little cushion against downward price pressure as interest rates rise and capital losses outpace income gains. Portfolios at RWC currently have a duration of 1.4 years, he adds.
What is more, Basile adds, convertible prices more closely track equities when volatility rises. "If you're in a slightly higher volatility regime, usually convertibles tend to participate more fully in equity market performance because the bond's optionality is rewarded."
Companies have been taking advantage of prevailing low interest rates to issue convertible debt
this year. "It's really a bottom-up earnings story," says Jean-Edouard Reymond, head of convertible bonds at UBP in Paris. In the first quarter, 76% of the names in the global convertible universe reported earnings above market expectations, he says.
Financial strength has been most evident in the technology sector, which has accounted for the bulk of new issuance in 2017, with US tech firms leading the resurgence in convertible issuance, accounting for 45% of new supply in the US market. In the first four months of the year, US tech companies issued $6.5bn (€5.9bn) of new convertible bonds, which was half the amount of total convertible issuance between 2014 and 2016. "This is quite a new trend," says Reymond. "Even though tech companies tend to be convertible issuers, this year they have been very dynamic."
Tech companies' increased issuance of convertibles reflects improving global growth, says Antony Vallee, head of global convertibles in the global multi-asset group at JPMorgan Asset Management, which manages $4.7bn in convertible bonds. Stronger growth favours convertibles, which tend to be issued by cyclical companies such as tech firms, because the option to convert debt to shares becomes more valuable as equity markets rise, enhancing the total return.
Vallee estimates that about one-third of the group's AUM is capital from pension and insurance investors utilising convertibles as a defensive equity allocation. "They are using convertibles for one very simple reason," he says. "Over the long term, they receive equity returns at half the volatility." He recently increased the equity exposure of the JPMorgan Global Convertibles Income trust by reducing holdings of older, higher-yielding bonds that were not likely to be converted to equity and adding new convertible debt from US tech companies and higher-quality companies in the EU.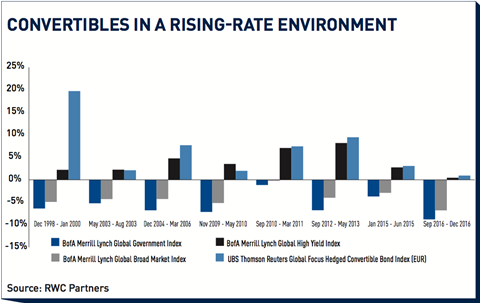 Although convertible bonds have performed in line with other risk assets over the past few years, relative value convertible strategies have been significantly under-represented in asset allocations since the financial crisis, says Akin Akinloye, head of convertible bonds at Cheyne Capital in London. "Relative value strategies in the asset class have faced headwinds as interest rates and market volatility have remained compressed," he says. "But as equity markets are at or near all-time highs, and global interest rate rises appear imminent, the long-term optionality and low duration profile of the asset class should prove valuable."
Continued new supply will be a critical ingredient. "Corporates across all sectors have been active in the primary market," says Akinloye, "capitalising on the low-interest-rate environment and rising stock levels." He expects the "healthy pace of issuance" to continue, and says the market "could also see additional boosts from rising interest rates broadly and potential regulatory tax changes in the US".
Convertible bonds issued by tech companies, in particular, stand to benefit if the Trump administration's tax reforms include provisions to encourage tech firms to repatriate cash held overseas, Vallee says. That would create the potential for companies to undertake special dividends or equity buybacks that would raise their share prices, thereby increasing the value of the options embedded in their convertible bonds.
Although the record issuance of 2007 is some way off, convertibles managers expect issuance to remain robust. "We're not going to get back to pre-crisis levels of issuance until official interest rates change," says Basile. "But the annualised run rate for 2017 is already far ahead of 2016, and the pipeline of new issues has increased during earnings season," he adds. This year's strong issuance will follow through into the second quarter, he says. "We continue to believe this strength in issuance will be a constant theme going forward, and hence will bring diversification benefits and alpha opportunities to investors for the foreseeable future as rates continue to rise higher."
While there are some potentially promising fiscal developments on the horizon, political tensions in the US and EU have prevented some institutional investors from adding equity risk directly to their portfolios, says UBP's Reymond.