David Turner looks at how the post-crisis world of bond investing is favouring the 'new' old-fashioned approach known as buy-and-maintain credit
"If an intelligent Martian came down, looked at the fixed-income market, and said, 'I want a yield spread of one percentage point above sovereigns, what's the best way of capturing that?' I'm pretty sure they'd end up doing buy-and-maintain," says Tim Gardner, global head of AXA Investment Managers' institutional client group in London.
Sure enough, AXA IM is merely one among many investment managers that has come to see the appeal of this variation on buy-and-hold, which involves the intention to hold bonds until maturity, but keeping an eye on each of the portfolio's securities with a view to selling if any shows a significant risk of default. AXA IM has invested €270bn globally in buy-and-maintain for clients – mainly life insurance companies, which like the long-term investment style. Rupert Brindley, managing director in pension solutions at JPMorgan Asset Management, says that his firm receives increasingly frequent requests for buy-and-maintain mandates.
Other bond strategies have been hit by changes in the nature of financial markets, which have flattered buy-and-maintain. One of the key ones is the fall in bond yields. This has left classic buy-and-hold strategies based on government bonds unsatisfactory for many investors, and moving up the risk curve into investment grade corporates presents problems for buy-and-hold investors.
"We see buy-and-hold as 'buy-and-forget', which is a dumb way to run money," says Gardner. "Only God knows which companies will default in 10 years' time."
Many managers and pension fund advisers are also sceptical about conventional corporate bond funds that are tied to a standard index, because of the need to follow the index slavishly regardless of conviction. Even active funds tend to be tied to these indices through their benchmarking and tracking error constraints.
Buy-and-maintain funds try to steer a middle ground between buy-and-hold and funds based on a standard index. A key part of this is their treatment of downgraded bonds.
"The most important principle is that you absolutely avoid forced selling," says Adam Mossakowski, manager of a buy-and-maintain fund at Insight Investment. "We don't have to sell the bond at the worst point in time, which is often soon after it's been downgraded."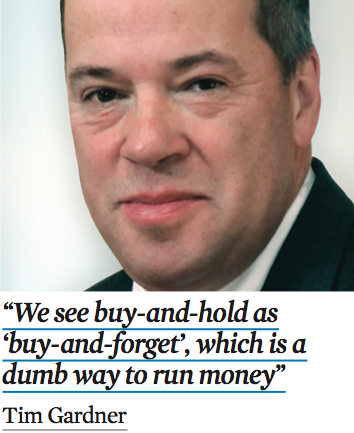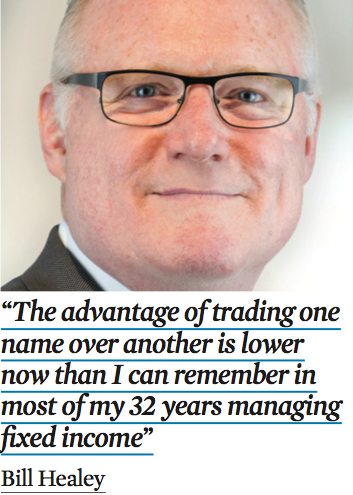 This is something that funds based on indices are often forced to do, because downgrades can push a bond out of an index. Mossakowski cites Tesco, the UK food retailer downgraded to junk status in early 2015. The company is, he believes, "well-positioned to ride out and ultimately benefit from the changes in the UK food retail landscape" – but a mandate constrained to investment-grade issuers may have been forced to sell.
Buy-and-maintain funds can also avoid the heavy exposure to a particular sector to which other funds based on indices are prone. The poster child for excessive sector concentration, according to Mossakowski, is the high issuance by financial services companies before the credit crunch, which gave the sector a close to 40% share of the sterling corporate bond market. Gardner notes that Lloyds TSB accounted for 7% of the entire UK index. The fund run by Mossakowski is typical of buy-and-maintain funds' greater diversity: it limits a particular industry's share of the fund to 25%, and the share of any particular issue to 1.5%.
A final advantage claimed by the buy-and-maintain managers is the low turnover. The Insight pooled Buy and Maintain Bond fund has had an annual turnover in the secondary market of 8% since inception. Assuming an average bid-offer spread of 1% the fund would have incurred only 8 basis points of costs trading in the secondary market – much lower than for conventional active bond funds.
A less busy bond investing style is all the more attractive because of the current uniformity of the market, says Bill Healey, UK head of buy-and-maintain at AXA IM.
"The dispersion of credits is extremely low, so the advantage of trading one name over another is lower now than I can remember in most of my 32 years managing fixed income," he says.
"The most important principle is that you absolutely avoid forced selling"

Adam Mossakowski
Alex Thompson, a principal specialising bonds at Mercer's investment consulting business, describes the lower trading costs as "one of the features of buy-and-maintain that make it attractive". This is all the more the case, he says, given that bid-offer spreads have widened since the pre-credit crunch era. However, he also sees drawbacks.
"What becomes challenging is the question of accountability when you move away from an index-based approach," he says. "Ultimately you have to look at a standard index and say, would I have been better off doing this or taking a standard approach?"
However, bond managers say that even this approach is problematic, since buy-and-maintain funds can only really be compared with index-based funds over an entire financial market cycle. This makes it too early to judge the performance of most buy-and-maintain strategies, since they are quite new, although AXA IM says that back-testing over many years shows that their performance compares well with index-based strategies.
Thompson also warns of the need to select a manager with the right skills.
"We've found a number of managers who can do conventional bond investing, but are not very good when it comes to buy-and-maintain", he says. "You need a manager who can convince you they can buy the best ideas, not one who has made their career out of buying overweight or underweight the index."
Furthermore, Brindley of JPMAM warns that timing is a crucial issue. He puts this from the point of view of insurer clients, noting that to allow for the greater risk of default of corporate bonds, the Solvency II directive requires insurers to subtract 35% of the spread against risk-free rates when calculating whether the value of their assets meets their liabilities. The spread must be sufficiently attractive to make the investment worthwhile, even after this subtraction.
He calculates that now is a good time for buy-and-maintain in dollar and sterling assets, with spreads of about 140 and 130 basis points, respectively, for a basket of investment-grade corporate bonds – but less so in euro bonds, where spreads are about 90 basis points.
"You start to lose interest in buy-and-maintain once credit spreads get to less than about 80 basis points," he concludes. "When spreads are tight our advice would be not to do it, but to wait for a better time."