Corporate pension schemes need to change the status quo in terms of governance and implementation if they are to meet their goals, writes Nigel Cresswell
The latest Willis Towers Watson pension risk and investment management study is based on a survey of German corporates, with pension plan assets totalling over €120bn. Here, we summarise the research by looking at how they are adapting to the economic environment, the challenges they face, and how solutions might look.
First and foremost, it happens there has been a shift in risk perception among German funds, with the sanguine views following a bout of quantitative easing (QE) in 2014 being superseded by renewed pessimism and uncertainty.
The European Central Bank's QE programme has influenced investors' perceptions about when a 'return to normal' will occur. Anecdotally, this is a theme which many corporate pension funds have returned to when justifying maintaining the status quo around tried and trusted asset allocations, and resulted in trying to riding out the storm. However, with the return of pessimism and uncertainty, the necessary changes to investment strategy and asset allocation are to start taking place, if they are not already underway.
Against this backdrop, almost all investors regard the low interest rate environment as the new normal and, mirroring the volatility in the markets, seem to be experiencing uncertainty. As an example, both deflation and inflation were perceived as key risks but, across participants, the view was split as to which would prevail. This points to the need for prudent risk management, building portfolios which will provide acceptable results across many potential outcomes, rather than relying on an optimisation-driven approach, focused around single-risk metrics, such as value at risk.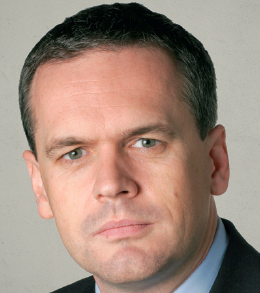 The rise in uncertainty, along with the substantial increase in balance sheet damage caused by mismatched and underfunded pension liabilities has led to pension risk management becoming an area of focus at board level. This has led to much more soul searching around the objectives and goals of pension risk management, along with assessing the best means to implement and achieve these.
As a result, governance arrangements are under review, as strong governance is recognised as a prerequisite to undertaking the portfolio changes that, in many cases, are necessary. However, although German corporates appreciate the importance of well-structured governance and its impact on their investments success, the study indicates a gap between recognition and actual implementation.
The importance of investment beliefs – of a clearly determined mission and goals – and the appropriate resources being made available were recognised as critical to success. However, when asked to what extent critical governance aspects were currently being run within their organisations, across a full range of governance criteria, no single criterion scored above 50% in terms of full implementation. While there is room for improvement here, we are seeing an increase in 'investment beliefs in action' as well as the changes this implies. Complementary to this is the question of the best means to implement strategic goals. Currently this is undertaken by treasury or specialist pension functions, fiduciary and delegated implementation solutions are increasingly being utilised, with some 26% using third parties.
As previously, our study confirms that German corporate investors' lower risk budget, relative to international peers, has resulted in a strategic asset allocation high in fixed income instruments (63%) with 29% in equities, 4% in real estate and 4% in alternatives.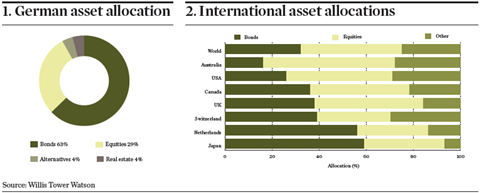 Despite this persistently high allocation to fixed income, diversity within this part of the portfolio has increased. Alongside the more liability-focused holdings of sovereign debt and euro corporates, a broader spread of higher return seeking instruments have been adopted, including high yield, loans and emerging market debt. The same cannot be said for equity portfolios which still show a bias and efficiency gains could be made in terms of portfolio construction and manager diversification.
All in all, this fixed-income-biased strategic asset allocation leads to a forward-looking return expectation for the average portfolio well below that which German corporates are actually striving for. Furthermore, while fixed-income portfolios are more diverse than in the past, the overall level of diversity within the total portfolio is still sub-optimal, meaning that unnecessary risk needs to be absorbed to achieve the desired returns.
To reach these, investors need to do two things: first, reassess their overall risk budgets to assess the extent to which they can spend more risk to achieve their return goals against the economic backdrop. Second, they need to reconsider how best to spend this budget while introducing greater diversity into their portfolios. Noting that the more diversity is increased, the greater the returns per unit of risk can be expected, and the less they need to increase absolute level of risk.
Indeed, participants clearly stated their desire to increase asset diversity, but noted the challenges to achieving this. It is clear they are reviewing their governance as an initial step towards achieving this, especially in alternatives, but implementation remains a challenge with a high proportion pointing to regulation. Some solutions to overcoming this include using out-of-country platforms; structured solutions; or sub-optimal simplified implementation routes such as fund of funds or UCITS structures. This is leading investors to consider whether to undertake projects in-house or whether outsourced structures may be more efficient.
All in all, investors are being challenged to navigate this difficult environment with 'hunkering down' no longer a viable option. This means that the status quo, not only in terms of asset allocation, but governance and implementation structures need to be challenged to complexity is mastered and turned into an advantage.
Nigel Cresswell is German head of investment at Willis Towers Watson
Pensions in Germany: The joys of negative rates
1

2

Currently reading

Corporate Pensions: A shift in risk perception

3

4

5