How have major risk-factor correlations affected euro-denominated model portfolios?
Key points
Analysis of risk-factor correlations at three dates in 2017
Daily, unweighted returns over 60 days for a euro-denominated portfolio
FX rates are a major driver for multi-asset
In 2017 we observed several changes in cross-asset class correlations, predominantly between equity and FX risk factors, but also between stock and bond returns. Following the US election, we saw a strong positive relationship among global stocks and the value of the dollar as the focus was on what would happen under the new administration.
As US stocks soared to record highs, the dollar appreciated, while Treasury yields surged. Good news for the economy meant good news for the dollar. For European investors, this resulted in a strong positive correlation between their stock holdings and dollar-denominated securities.
As the first quarter of 2017 drew to a close, concerns shifted from the US to political risk in Europe, namely the elections in the Netherlands and France. Suddenly, increased risk appetite was accompanied by a rise in the value of European currencies against the dollar.
Summer brought a reversal of the negative relationship between share and bond prices. During the Trump rally, inflation was considered an indication of economic growth. Yields increased, while equities posted records. When inflation eased in July, central bankers became more cautious and bond prices climbed again. But stocks also rose, as investors retained their optimism about the economy.
We now examine how changes in major risk-factor correlations affected a global, euro-denominated model portfolio, consisting of equities, bonds, cash and commodities. The analysis was performed on the Axioma Risk platform, using daily, unweighted returns over 60 days.
Positive correlation FX and equity
The first analysis date is 3 March 2017, when markets still focused on the US economy and fiscal policy. A rise in stock markets was accompanied by a dollar appreciation.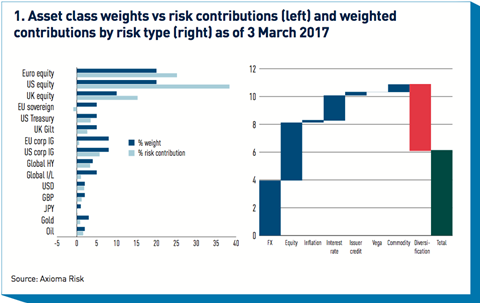 For a European investor, US stock holdings provided even larger returns. The US equity category exhibited the biggest share of 38% of total volatility, compared with a market-value weight of 20% (figure 1). The fact that exchange rates were moving the same way as stocks also meant that equity returns appeared even more correlated across regions, resulting in large risk contributions from all equity buckets and accounting for almost 80% of overall volatility.
The strong interaction between the EUR/USD exchange rate and share prices also led to a significant positive contribution from US Treasuries and corporates, as the relatively smaller bond price changes were outweighed by opposing FX rate movements. This made it appear as if US dollar fixed-income returns were positively related with global stocks, increasing their share of overall risk. The same could be observed for the dollar-denominated gold holding, where its traditionally strong correlation with other safe-haven investments was eclipsed by the appreciation of dollar.
Euro-zone sovereign bonds, on the other hand, displayed their expected risk-reducing qualities. Euro-denominated investment-grade corporate bonds showed a small positive contribution, as credit spreads had been consistently negatively correlated with interest rates, thus partly offsetting the diversifying impact of the latter. This effect was even more pronounced for high-yield issues.
The Japanese yen also showed a marginal risk-lowering effect due to its negative relationship with the dollar. The pound, on the other hand, was slightly positively correlated with the greenback, which resulted in a positive contribution not only from sterling cash, but also from the Gilt holdings.
The waterfall chart in figure 1 indicates what total portfolio risk would have been, if all risk-type returns were perfectly correlated. The 'diversification' bar is the difference between the sum of weighted volatilities and actual portfolio risk, demonstrating the impact of imperfect or negative correlations between factors. It shows that if exchange rates, share, bond and commodity prices all went the same way, total portfolio risk would have been 11%, while in reality it was only 6.2%, resulting in a diversification effect of 4.8%.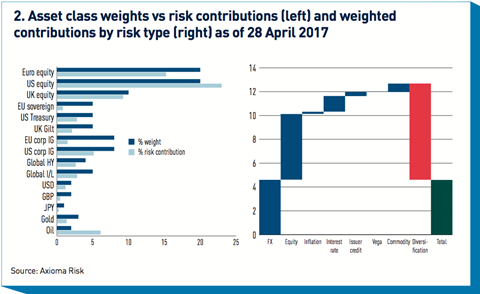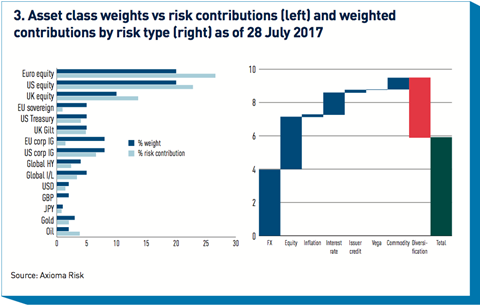 Negative correlation FX and equity
The next analysis date, 28 April 2017, includes the run-up to the French presidential election in the calibration period, when the correlation between EUR/USD and stock markets turned negative. This meant that the dollar depreciated against the euro when share prices rose and gains in non-euro assets would be offset by FX losses, so that global equities appeared to be less or even negatively correlated with the European market, resulting in more diversification and a smaller equity contribution of only half the portfolio volatility. US equities saw the biggest reduction in risk contribution from 38% to 23%.
Non-euro government bonds still contributed positively, though less than previously, while euro sovereigns now added risk. The reason for this was that after the reversal of the FX/equity interaction, bond returns were positively related to FX changes, which increased their correlations and volatility contributions. The same applied to other diversifiers like gold and the Japanese yen.
The waterfall chart in figure 2 illustrates the risk-reducing effect of the negative FX/equity correlation. Despite much higher stock market volatility, the portfolio has a significantly lower total risk of 4.6%, while the diversification effect increased to more than 8%.
Positive correlation stocks and bonds
For a brief period in July, we observed a positive relationship between stock and bond returns. The results for 28 July 2017 can be seen in figure 3. Meanwhile, the interaction between equity markets and FX rates (from a euro perspective) had also turned positive again, thus removing two important sources of portfolio diversification at the same time.
It is therefore not surprising that the waterfall chart in figure 3 features the smallest diversification benefit of all three scenarios. Despite significantly lower equity volatility compared with the other two scenarios, total risk was actually the second highest at 5.9%. With almost 27%, European equities also showed their highest contribution, as did euro-zone sovereigns. This, again, makes sense, given that both asset classes no longer move in different directions.
Conclusions
Exchange rate changes are an important driver in a global multi-asset class portfolio. They can significantly impact not only its overall volatility, but the risk decomposition across factors and asset classes, too. They also tend to affect equity and fixed income investments differently.
"Exchange rate changes are an important driver in a global multi-asset class portfolio. They can significantly impact not only its overall volatility, but the risk decomposition across factors and asset classes, too"
When the relationship with equities is positive, stock holdings across regions appear to be more closely correlated, which raises their contribution to overall risk. Fixed income assets, on the other hand, showed a more mixed picture. Euro sovereigns actively reduced risk, while the benefit of Treasuries and Gilts was outweighed by the opposing effect of FX rate changes. European investment-grade corporates also provided diversification, even though the positive relationship between spread and equity returns offset some of the favourable impact of interest rates.
FX was the biggest diversifier when its interaction with stocks turned negative and the portfolio showed the lowest overall risk, despite higher equity volatility. However, the reversal of correlations also meant that bond returns appeared more closely related across currencies, which lessened their risk-reducing capabilities.
The lowest diversification was observed during the co-movement between stocks and bonds, when euro-denominated equity and fixed income assets had their highest volatility contributions. However, euro-zone sovereigns still provided the best benefit overall, while Treasuries and Gilts were adversely affected from a risk perspective, irrespective of correlations.
Current relationships are very similar to those observed in July with limited diversification from fixed income assets versus equities. FX volatility is slightly higher than earlier in the year, but this is mostly offset by lower equity risk, so that total model portfolio risk is once again around 6%.
Christoph V Schon, CFA, CIPM, is executive director of applied research at Axioma
Risk parity: Renewed vigour
1

2

3

4

5

Currently reading

Correlations: The shifting sands of correlation

6

7

8