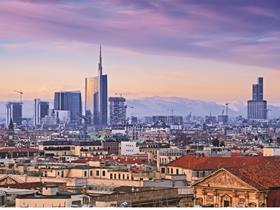 Deal includes distribution agreement with UniCredit covering three major European markets
Austria's second pillar remains stuck amid inertia, market mistrust, political half-heartedness and global uncertainty
The current reforms risk repeating some of the mistakes of the Riester plan. Devolving responsibility to social partners for creating new sector schemes risks passing the buck
Times have changed since the Society for the German Language chose Alternativlos (without alternative) as its Unwort (literally 'unword' or ugliest word) of the year for 2010
The review of the UK's asset management market by the FCA may or may not result in tighter regulation of investment advice. But the regulator would do well to continue focusing on investment consulting firms that offer fiduciary management services
This spring marks 20 years since the first issue of IPE. Our founders Piers Diacre and Fennell Betson started this publication with an assumption that funded pension systems would become more widespread in time, leading to increased diversification and a need for clear, well-researched and well-presented information.
Norway's Government Pension Fund Global (GPFG), arguably the world's most watched institutional investor, is considering adopting a risk-factor approach.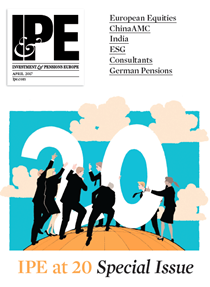 Digital Edition
Registered users are entitled to the first digital issue of IPE with the compliments of the IPE.com team.
Nothing could be clearer. For the financial sector, at least, there is nothing to fear from Brexit. All the UK has to do is to apply to the EU's rules – the crucial term 'equivalence'

The European Commission's project to set up a pension scheme for research and development professionals whose careers take them across EU borders has finally reached its first stages of operation.

The prolongation for 18 months of pension funds' exemption from posting collateral when trading over-the-counter (OTC) derivatives is leading PensionsEurope to seek clarification. 

There is increasing attention in Brussels on company reporting, taxation and offshore financial centres. The G20 and some OECD countries have demanded country-by-country reporting rules for multinational companies with a turnover over €750m

Legislation proposing pan-EU personal pension products (PEPPs) could be tabled in 2017, according to the European Commission

A former director of the European Association of Paritarian Institutions (AEIP) has proposed a new option for occupational pensions that could help the large number of workers whose careers take them across EU internal borders.

Valdis Dombrovskis has assumed responsibility as commissioner in charge of the flagship Capital Markets Union project. But he has also assumed the added complication of the withdrawal of the UK

It will not be the first time that proposed revisions to EU rules affecting finance and pensions get stuck in a logjam between interests groups

Pressure to clean up the financial sector has led to copious legislation from Brussels. 

There are plenty of indicators of rising pressure to advance ethical standards across the financial sector. One outcome takes the form of mountains of clean-up legislation, including from Brussels. 

Inadequacy of European national court systems in the financial sphere is due for overhaul. Upgrade is necessary if the EU's capital markets union programme (CMU) is going to get anywhere, according to a high-status paper

Legislative moves to support the EU's European Fund for Strategic Investments (EFSI) are being rushed through Brussels. But, so far, evidence of any torrent of fund movement by the institutional investment sector across EU frontiers has yet to emerge.

Conflict continues to simmer over the issue of passport rights for non-EU-domiciled hedge funds across the EU

It is a case of tackling one challenge after another in the Capital Markets Union (CMU). According to the European Commission, the present morass of different national insolvency rules creates a barrier to the flow of capital across the EU. 

IORP II may have cleared the European Parliament's committee stage but amendments tabled to the second directive covering occupational pensions since 2003 are so radical that it would be unwise to forecast its future.

Dismally low returns on EU pension fund investments over 15 years? The allegation comes in a study by Better Finance, the European Federation of Investors & Financial Services Users. The report, Pensions Savings: The Real Return, points to excessive fees, points to other charges, and badly framed taxation rules, as the culprits.

Brussels' financial focus is on aggressive corporate tax planning and the related question of tax havens. This concerns the hedge fund 'passport' rights to do business across the EU and compliance of the offshore jurisdictions where they are domiciled to EU norms.

The process of making pensions policy in Brussels between now and end of the year resembles two juggernauts moving towards each other

The lack of demand rather than supply for both credit and capital is a common criticism from investors of the EU's capital market union (CMU) programme

A few more European cross-border lending opportunities have started to emerge. This follows anticipation of the European Investment Plan launched by Jean-Claude Juncker