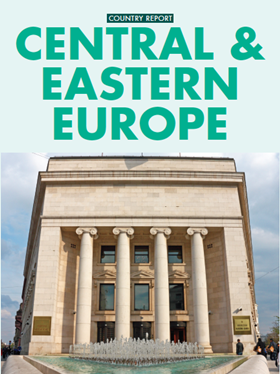 As budgetary and demographic pressures start to bite, what is the future for CEE pension systems?
A recent panel with members of PensionsEurope's CEEC Forum discussed regional pensions issues
Auto-enrolment looks to be key to Poland's pension future. Dismantling of the OFE system remains on hold
The Romanian government has decided to reduce contributions to the mandatory pensions system 

The collapse of Croatia's largest food and drink company in 2017 has barely affected pension portfolios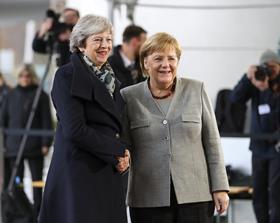 DB schemes' collective shortfall could increase dramatically if withdrawal agreement fails, and improve if it passes

Given overall pressure on funding rates and falling asset markets, 2019 looks set to be a year where good governance and adaptability to external events will be crucial

Applying economics models to understand politics is like trying to use a trowel to saw a piece of wood in half

Pension funds should always act as long-term investors whenever possible
In January, in this column, I highlighted areas to watch for 2018. In the spirit of holding myself to account, it's time to see how they panned out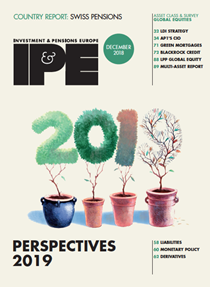 Digital Edition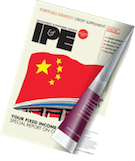 Subscribe to the digital edition of IPE magazine to view the latest issue directly in your browser.
While he derives some satisfaction from advances in green energy and the like, Sven Giegold is unhappy that most global investment can still be classed as environmentally unsustainable. 

Are non-peforming loans an investor's dream come true? Or do they represent immeasurable risks?

Tensions are rising in Brussels as the EU institutional mandate approaches its end ahead of the Parliamentary elections in May 2019, and the Commission has already ceased issuing new proposals in the absence of legislative time. 

The race is on to complete the EU's flagship Capital Markets Union project before the mandates of the Commission and Parliament elapse next year

Another step by Brussels to ease financing to business across the EU comes with measures to facilitate the cross-border distribution of investment funds

PensionsEurope is concerned about a Brexit 'no deal' and is calling for negotiators to pay heed to the €3.54trn sector's interests

Radical upgrades to the EU's corporate tax base norms have never been so close to fruition

Europe's asset management industry is lobbying against any mandatory guaranteed default option in the third-pillar PEPP proposal

As the risk of a no-deal Brexit comes into focus, attention is turning to ways to mitigate the damage across financial services, including asset management and pensions

The EU's securitisation package has finally passed through the European Parliament and Council. However, the new rules will not be applied until January 2019

The EU's controversial mandate for a radical shake up of financial supervision has received a cool reception from the pensions sector as well as smaller EU members

International investors in the EU have for decades been suffering from woeful dispute settlement proceedings when involved in cases against public authorities

Discussions over the payment of social costs for workers from central and eastern European countries posted temporarily to wealthier EU countries are playing a major role in the attempt to update existing directives

At first sight, the benefits of the European Commission's Pan European Personal Pension (PEPP) regulation proposal seem clear. But it did not take long for commentators to point out the considerable hurdles

The European Commission's "further steps to drive forward the Capital Markets Union (CMU)" outline nine new priority legislative actions to solve the EU's long-term cross-border investment challenge

Strong words on Brexit are flying in political circles. But behind the theatre, concerns about the future of London's fund management sector are emerging

In contrast to complaints that Brussels's legislation burdens the financial sector, the European Commission may be gratified by the positive response to its flagship Capital Markets Union (CMU) programme. 

Nothing could be clearer. For the financial sector, at least, there is nothing to fear from Brexit. All the UK has to do is to apply to the EU's rules – the crucial term 'equivalence'

The European Commission's project to set up a pension scheme for research and development professionals whose careers take them across EU borders has finally reached its first stages of operation.

The prolongation for 18 months of pension funds' exemption from posting collateral when trading over-the-counter (OTC) derivatives is leading PensionsEurope to seek clarification.