Rating agencies and asset managers are starting to integrate ESG in bond portfolios
Key points

Despite the rising popularity of responsible investment, companies with poor ESG records can still receive high credit ratings
The debate has intensified in recent years and credit rating agencies have responded by modifying their rating methodologies
Asset managers take different approaches, but most have fully integrated ESG and credit analysis
Can companies be creditworthy without being deemed responsible from an environmental, social and governance (ESG) point of view? The answer is yes – if we consider sectors such as oil and gas. Plenty of issuers in the sector receive high credit ratings, but are well-known ESG laggards.
The question is relevant not only because the integration of ESG criteria in credit analysis has been a matter of debate for several years. It matters also because responsible investment has historically been presented as a long-term strategy.
If credit ratings set out to reflect all factors that materially impact an issuer's creditworthiness, long-term factors relating to an issuer's ESG behaviour should be included. So far, though, integration of ESG factors in credit analysis has been relatively limited.
David Todd, head of global investment grade research at Invesco, points out: "As ESG is developing, companies offer different levels of disclosure. Credit-rating agencies (CRAs) need a certain level of disclosure and formality in terms of what they can incorporate into their ESG views, before they can actually use that to influence their rating."
He adds: "There may be companies that are progressing on their ESG journey, but they may have not got to the point where they can disclose that information to the market, in the way that CRAs can incorporate it their views. We do our best, from an investment perspective, to listen to what companies have to say."
Some authoritative voices have urged the industry to speed up ESG integration. The United Nations-backed Principles for Responsible Investment (PRI) network, for example, brought together investors and CRAs in 2016 to discuss integration of ESG in credit ratings.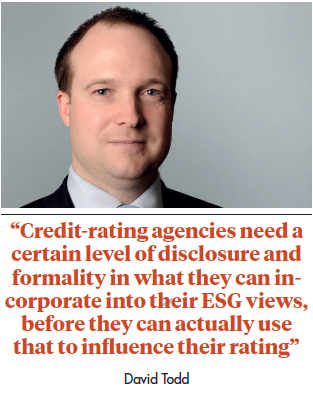 Earlier this year, the European Securities and Markets Authority (ESMA), published technical advice on how CRAs were incorporating ESG factors. The document concluded that, although CRAs were considering ESG factors, they were doing it differently depending on the asset class or sector. ESMA, therefore, ruled that credit ratings could not be relied on to provide an opinion on the sustainability characteristics of an issuer, and that they should instead focus on transparency.
In October, Knut Kjaer, the founder of Norges Bank Investment Management (NBIM), Norway's sovereign wealth fund, and APG supervisory board member, said investors should focus more on the debt markets to make an impact on carbon emissions. He pointed out that the majority of heavy carbon emitters raised debt on the bond markets, but were not listed on the equity markets.
Pressure from investors has prompted CRAs to act. As a result, they have been developing ESG data-generation capabilities. This year Moody's acquired a majority stake in Vigeo Eiris, the French ESG scoring specialist, and it also bought Forty Twenty Seven, a climate-change analysis specialist.
More importantly, CRAs have made changes to their rating methodology. In January, Moody's announced that it had published new methodology concerning ESG risks. Essentially, it broadened the scope of its ESG analysis framework, with a methodology that applies to all industry sectors.
Fitch Ratings has also introduced ESG Relevance Scores, a system describing how ESG factors affect a rating, using a scale from 1 to 5, where a 1 score means the factor is not relevant to the issuer or sector.
S&P has addressed ESG integration for some time, having published a paper outlining its approach in 2017. Recently it updated its framework and launched an ESG evaluation tool for corporates wishing to provide investors, with a more detailed assessment of their ESG profile and preparedness.
In other words, S&P and Fitch are producing separate ESG scores to complement their credit ratings, while Moody's is integrating ESG analysis within its ratings.
Unsurprisingly, all companies have signalled that their existing ratings have not changed as a result of introducing the ESG approaches. From now on, however, investors will be able to assess whether there is any correlation between ESG and credit ratings.
Even so, the G element was always part of the credit equation. Good corporate governance is a strong indicator of creditworthiness, and, as such, CRAs are well-versed at analysing governance aspects. The new element is that the E and the S factors will be taken into account.
Measurement questions
Hardeep Khangura, portfolio manager at SEI Investments, says: "The 'E' and the 'S' are less understood. There are questions over measuring as well as market impact. The evidence on whether a poorer 'E' or 'S' score is reflected in a market spread is variable. That is not to say that we should not continue to pay attention to this. Even at sovereign level, there is a definite possibility that the E and the S scores fall so low that an issuer starts to falter. Venezuela is a case in point in the emerging market space."
Furthermore, it is the combination of the three factors that will inform credit ratings, or at least have the potential to influence them.
It remains to be seen to what extent the behaviour of credits will be affected. It could be argued that a greater focus on ESG factors by CRAs could contribute to an increase in the cost of capital for ESG laggards, or at least help identify potentially dangerous situations.
So far the evidence of a correlation between ESG scores and credit ratings is limited. A study by Lombard Odier Investment Managers (LOIM) finds that applying an ESG filter mitigates risk in fixed income without reducing returns. However, the result is the same if size bias associated with high ESG scores is removed. LOIM also found that 'controversial' companies tend to have high market betas; therefore reducing the share of such companies in portfolios reduces risk. Meanwhile a 2018 study from Barclays found evidence that high-ESG issuers outperform low-ESG ones (see figure). These results are consistent with many academic studies that have found a link, albeit tenuous, between good ESG behaviour and credit performance.
However, as Stephanie Maier, director for responsible investment at HSBC Global Asset Management points out, changes in the cost of capital will depend largely on real economic policy measures. "On the one hand, there are the financial policies of enhancing disclosure around these issues. Then there are the real-economy policy measures that will result in explicit or implicit costs on carbon. As investors, we need to understand what it means to allocate capital to help address some of these large challenges."
Many asset managers, though, are no strangers to marrying ESG with credit analysis. The key to ESG is integration, which consists of a cross-asset strategy and most often leads managers to build a proprietary framework for ESG analysis. Managers may choose whether to take the S&P view and build separate ESG scores for credit, or to do it the Moody's way, by fully integrating ESG and credit analysis.
The €53bn credit specialist BlueBay Asset Management has opted for full integration. "It has taken some time to roll out," says Stephen Thariyan, co-head of developed markets at BlueBay. "But it has been rolled out, and now ESG analysis is fully integrated with investment analysis. It is now front and centre of what our portfolio managers do."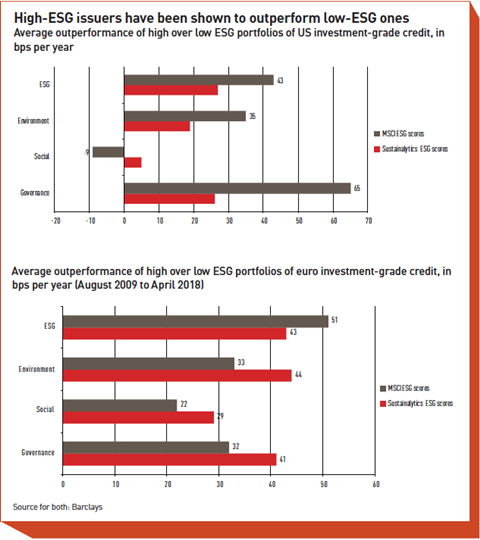 BlueBay's ESG team assigns fundamental ESG ratings to securities that complement the investment scores assigned by credit analysts. To illustrate how portfolio managers then marry the two, Tharyian points to the infamous Volkswagen emissions scandal in 2015.
Tharyian says: "With a great deal of hindsight, if the ESG rating had been a fundamentally weak one, owing to concerns about corporate governance, but the investment score had been strong, then we would have been faced with a difficult situation, having to ask ourselves whether we were getting paid to take the risk for the company to improve and whether we thought the company would improve. That kind of thinking requires integration of the investment analysis and ESG analysis processes."
He adds: "While we build portfolios based on the various parameters given to us by our clients, we are not dictated in any way by how CRAs view a security."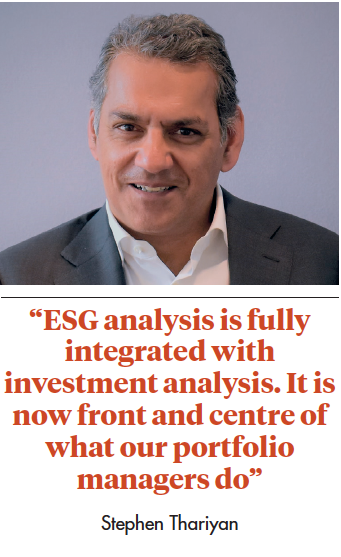 Jonathan Bailey, Neuberger Berman's head of ESG, says the €303bn firm has also consciously chosen the full-integration approach. "Our view is that a 21st-century credit-analysis process needs ESG factors to be built into the core credit assessment, rather than being a separate rating or score on the sideline," Bailey says.
He adds: "We rate thousands of credit issuers using a proprietary framework that leads to changes in the internal credit rating, including to the extent that there are some issuers that we just will not lend to, as we believe we cannot be compensated sufficiently for the ESG risk."
There remain great challenges, according to Bailey. "One is that most of the third-party ESG scores or ratings were designed for equities. That means, to take the easiest example, that governance ratings focus a lot on shareholders' rights, and therefore not necessarily on what matters to credit investors," he says.
Assessing ESG where it matters most is probably the greatest challenge, however. Bailey says: "In higher-yielding asset classes, where there is more limited disclosure of information from issuers, we have to rely more on qualitative analysis, which means we need to do more engagement with companies to find out material factors." This is particularly relevant in the current cycle, where the availability of cheap debt financing shifts the balance of power towards borrowers.
Nevertheless, the trend towards full integration of ESG and credit analysis seems to be building momentum. Investors are likely to witness ever-greater involvement of CRAs in ESG. The upcoming EU regulations affecting corporate disclosure and 'green labels' will only speed up the process. Soon, the gap with the equities may be filled.