The complex prevailing economic and political environment makes it difficult to predict how long the current credit cycle will continue
Key points
Investors are looking for signals about how much longer this credit cycle might last, and which assets might perform
Incumbent chief investment officers who lived through the 2008 crisis are more disciplined and risk-averse
Credit managers have rotated into higher-quality assets because spreads over government bonds do not cover the additional risk of holding some corporate credit assetInterest rates may stay low for longer and support credit asset performance
As summer wound down and investors began returning to their desks to focus on another round of central bank policy meetings, archeologists announced the discovery of ancient markings deep inside a cave 200 miles (322km) east of Cape Town, South Africa.
Etched by a prehistoric artist more than 73,000 years ago with a red ochre crayon on a small stone, the markings represent the earliest evidence of human drawing. The lead researcher of the mission says the marks – six parallel lines criss-crossed by three diagonals, akin to the modern-day hashtag – is definitely a symbol conveying a message.
Just what that message is remains unclear. What is clear is that credit investors and investment managers face a similar dilemma, says Randy Schwimmer, senior managing director and head of origination and capital markets at Churchill Asset Management, which concentrates on lending to private-equity-sponsored middle-market companies. Like archeologists, participants in loan and credit markets are also "experts at digging for meaning among otherwise inscrutable signs", Schwimmer says.
For today's investors, the search for meaning turns on decoding the symbols of the credit cycle – and whether that exercise can provide useful messages about when and where to invest in credit markets. "People are looking for signals, asking what do we have to go on, in order to figure out what lies ahead," says Schwimmer. The archaeologists might have the easier task. "There are a lot of cross-currents these days," he says. "Even the most sophisticated observers are having a difficult time sorting it all out."
In interviews with IPE, several leading credit investment managers discussed how they look at cycles, where we might be in this cycle, and how they are positioning credit strategies in a long-running cycle that might yet continue for some time to come.
Central banks received high marks for adapting to changing conditions in their own regions and globally. With quantitative easing (QE) ending and US growth ticking up, some contend the 3% level on the US 10-year Treasury is not the precursor to a yield range of 5% to 6%. It is rather the top end of a short cycle within an ongoing secular decline in interest rates.
The long-term fall is being driven by the demographic demands of supporting ageing populations and high debt levels in developed markets. These twin forces are expected to keep downward pressure on rates in the long term, even as economic growth quickens. If rates do not go much higher, the consensus is that the market might not experience a crisis that would test the more aggressive pricing of recent loans.
On the whole, managers view public debt markets and near-public instruments, such as collateralised debt obligations (CDOs) and collateralised loan obligations (CLOs), as a baseline for how investors view risk.
While most indicate the public markets are slightly overheated, leverage levels in most deals remain below what prevailed 10 years ago, despite transactions such as a recent KKR deal on which a significant high-yield tranche was priced at 375bps over Libor. That is down from the 400bps over that had been expected. The underlying reason for such strong investor demand even though central banks are normalising official interest rates, is that base rates are so low that institutional investors must still turn to high-yield bonds to bolster their fixed-income returns.
Risks and cycles
Another common theme that emerged is that credit cycles do not end just because they have reached a certain age. Numerous macro risks remain, and there will always be some borrowers that run into trouble. But with central banks eager to avoid becoming the cause of a new crisis, and the US economy firmly on a higher long-term growth trajectory, there's no reason this credit cycle can't continue, perhaps for some time.
The prevailing environment, then, favours investing in credit strategies that target opportunities geared to the financial and economic factors specific to each region, evaluated on a deal-by-deal basis that encompasses local market know-how, industry metrics and robust risk management.
Minneapolis-based Värde Partners, a value-oriented manager with $14bn (€12bn) in assets under management, adopts a two-part approach to thinking about the cycle when identifying credit opportunities. "The first is that different geographies are at different points in the cycle," says Giuseppe Naglieri, partner and deputy chief investment officer at Värde. "We realise it's impossible to time where we are in the cycle with any perfection. Thinking about the cycle right now, growth is above average, and we're towards the last innings of the economic expansion of this magnitude for the US, while other economies are closer to the middle innings. So, the end of the cycle can vary, depending on which economy you're looking at."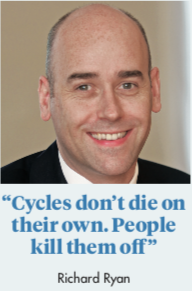 That outlook opens a world of opportunities. "The second point is that what we do can differ in different geographies," Naglieri says. "For us it's a matter of picking the right sectors, the right companies and the right situations in which we want to invest," he adds. "We're investors, and we're supposed to take risks, but we're supposed to take risks at the right points, in the right structures and the right opportunities for the rewards we're targeting."
That means putting boots on the ground. "At the moment, we're finding more distressed opportunities outside of North American than we would have expected," Naglieri continues. The reason is because of the systematic selling of nonperforming loans. Värde takes a patient approach. "We make an investment as a firm where we can foresee opportunities, so we open local offices and hire local people."
"The end of the cycle can vary depending on which economy you're looking at"

Giuseppe Naglieri
The main target markets are Southern and peripheral European markets such as Italy and Spain, where Värde has had local offices since 2004, and more recently India. In the EU, "there is a lot of motivated size for sale", Naglieri says. "You also have something that plays in your favour, which is that it's more likely than not that you're not into the last innings of the economic cycle."
Värde also unveiled plans to open an office in India later this year. "There is a big NPL [non-performing loan] problem in India, but the opportunity is not that easy to access," says Naglieri. "Anybody can buy listed loans or bonds from anywhere in the world with just a push of a button, but we're focused on underwriting specific deals and opportunities, so we are building a business with a view that we're going to have a cycle that lasts longer, with big systemic opportunities in geographies where you've got to speak the local language and understand the local customs, especially the legal framework."
Boots on the ground
Such a build-out of local resources illustrates that credit investing requires patience, a fact that is easy to overlook amid the current focus on cycle timing. "There's a certain amount of laziness in a lot of the chatter about cycles," says Richard Ryan, who manages the multi-asset credit strategy of about €10bn at M&G Investments.
Simply because this is the longest cycle on record, "it doesn't precipitate the conclusion that we must be nearing the end", Ryan says. "Cycles don't die on their own," he adds. "People kill them off." That typically occurs when central banks raise interest rates to quell the inflationary expectations and financial imbalances that can occur during periods of strong economic growth. Ryan adds: "But investment markets have their own cycles which can be fully independent of economic cycles."
The disconnect between investment and economic cycles has implications for credit investors. For example, Ryan says, European credit spreads widened by about 50bps in the course of 2018, despite little "material change" in the European economy. The widening reflects risk aversion in EU credit markets. "Credit spreads have their own cycle, which reflects risk appetite which, I think, is what's in deficit at the moment," Ryan says. Many European high-yield issuers have issued profit warnings this year, and "the market reaction is severe," Ryan notes, demonstrating that investors have little tolerance for financial shortfalls that could impair a company's ability to service debt.
"What precipitates the end of a credit cycle is when these individual events morph, not into an unwillingness to take a specific credit risk, but into an unwillingness to take credit risk, full stop," Ryan says. "Whether or not we see that from here is going to be quite interesting." A warning signal will be if investors start taking on risk to meet return targets despite low prevailing yields. That was a "defining feature of the pre-crisis environment, and if we were to see that from our client base repeatedly, we would become very concerned," Ryan says.
He says credit spreads have been too low to compensate investors for the risk they are taking, and has been positioning M&G credit portfolios accordingly over the past 12 months, "shedding risk and moving into more defensive sectors, up the quality scale and into secured credit." Attractive assets have included European leveraged loans, which "have been very disciplined in their pricing", and asset-backed, covered bonds at the top of the capital structure. "The primary goal is preservation of capital, not generating returns."
The message to clients is clear – "we know you want more out of this, but it's not available in the marketplace today", he says. The ultimate goal is "to be in a position to re-enter the marketplace at wider spreads", Ryan says, although when that might happen is an open question: "I could put together a list of 10 things that could trigger spread widening – and so can everybody else – which means it's probably going to be number 11 on that list that does it."
Risk averse
Risk aversion reflects the fact that many incumbent chief investment oficers lived through the crisis in 2008, says Jeffrey Griffiths, a principal at Campbell Lutyens, who interacts with a broad cross-section of pension funds in the course of raising capital for credit investment managers. "There's more discipline and risk aversion than in 2006 and 2007," he says. Leveraged credit to sub-investment-grade borrowers "remains attractive", and can afford long-term investors an opportunity to earn higher returns from less-liquid strategies than they can earn on liquid credit, he adds.
Ultimately, credit investing is about risk assessment, says Churchill's Schwimmer. "We try to make all-weather investments that will perform, regardless of where we are in a particular point in the cycle," he says. "We look at each investment as if a downturn is going to come over the next couple years, and evaluate how it will perform." Churchill concentrates on senior loans to middle-market companies with $10m to $50m of earnings before interest, tax, depreciation and amortisation (EBITDA) that are owned by private equity firms. The core of the strategy is robust analysis. Schwimmer says: "Investors tell us they look for the kind of cautious fundamental underwriting we do that provides them comfort in the absence of clarity regarding cycle timing."
"There's more discipline and risk aversion than in 2006 and 2007"

Jeffrey Griffiths
One yellow flag is evident: some loans to larger mid-market companies are being accompanied with 'covenant-lite' documentation. This is a feature typically reserved for the bond or broadly syndicated loan market. It essentially replaces maintenance tests for borrower leverage with incurrence tests, kicking in only if the company incurs additional debt. "That gives us pause," Schwimmer says. "We view maintenance covenants as being critical structural elements of credit documentation for the middle market."
It is possible that rising interest rates might not rise enough to end this credit cycle any time soon. Robert Tipp, chief investment strategist and head of global bonds at PGIM Fixed Income says a stealth bull market in bonds has been under way since the 2013 taper tantrum. In October, PGIM lowered its long-term central tendency on the US 10-year Treasury yield to 2.5%, down from 2.75% previously; PGIM expects the 10-year Japan Government Bond yield to remain under 50bps and the 10-year Bund yield to stay below 1% for several months, if not quarters, to come.
Such a benign interest-rate backdrop could be supportive of better-than-expected performance for non-government credit assets. "There's a tendency when spreads are tighter-than-average and the expansion has gone on for a long time to be wary of spread product," Tipp says. "To some extent, that's in order, but to the extent that this expansion continues, which is entirely possible given the degree of caution the central banks are exercising in terms of reducing accommodation, I still think there is quite a bit of opportunity out there," Tipp says. "You just have to be more selective."