Institutional investors in Germany continue to invest in funds despite the challenging conditions. In the middle of 2021, the volume of Spezialfonds – Germany's vehicle for professional investors – on the Universal-Investment platform stood at almost €474bn. This represents an increase of 36% over the past 12 months. According to most observers, it has been one of the most exceptional periods in a long time.
The sustained good mood of the stock markets over the last year has generated optimism among institutional investors in Germany
Alternative investments and real estate are also contributing to positive fund performancee
The bond markets, by contrast, offer little joy
Over the past year, equities have continued to be the focus of pension funds, pension institutions, insurance companies and corporations. During the stock market recovery that followed the COVID-19-induced crash in the spring of 2020, the German-speaking region's predominant fund service platform's equity share rose from 22.8% in June 2020 to 26.8% today. Nevertheless, there remains a large gap between current quotas and those exceeding 30% that were seen in the years 2015 to 2017. In the aftermath of the crisis, encouraged by the many government stimulus programmes and sustained loose monetary policies of central banks, fund managers remain confident.
However, recurring uncertainties – such as concerns about the coronavirus delta variant, renewed rises in infection rates and growing geopolitical risks – are causing concern. The bottom line is that international equity investments in particular are beginning to play an increasingly important role in German investors' long-term asset management strategies.
Equity investments in the economic recovery
Investing in the equity markets promises greater opportunities during economic recovery – for example, via consumer goods stocks in the leisure, clothing and automotive sectors. Since March 2020, these sectors have risen 2.5 percentage points to 12% of total equity volume. The largest block in the institutional share segment, which accounted for almost 16% as of the reporting date, has for many years comprised names from the IT sector. The rapid development of these securities is primarily driven by the US where users of online trading platforms such as Robinhood, in particular, seem to have an insatiable appetite for IT stocks. This trend is also being driven by anticipation of almost unrealistically high earnings – which have, nevertheless, been fulfilled once again in the latest quarterly figures of the tech giants Alphabet, Apple and Microsoft.
Real estate shares, on the other hand, fell by two points to 6% in the past 15 months. While this could be attributable to concerns about the prospects for office properties triggered by the rising popularity of working from home, another reason could simply be that equity investors are undertaking a sector rotation. Healthcare stocks, which account for a more than 10% share, have recently enjoyed renewed pick-up in demand.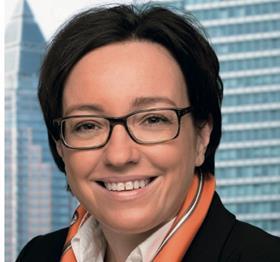 Overall, it can be assumed that, following the recent announcements from the European Central Bank (ECB) pointing to a continued period of low interest rates, growth stocks in particular look set to remain in favour.
Little joy for bonds
A glance at the role of fixed-income investments in institutional portfolios paints an unambiguous picture; the proportion of bonds continues to fall. The 40.6% registered at the end of the first half of 2021 marks a new low since analyses began in late 2011. As a hike in key euro-zone interest rates currently remains inconceivable, interest-bearing securities presently hold little appeal for investors needing to generate adequate returns for regular distributions over the long term.
Overall, corporate and government bonds each accounted for about 28% of the €192bn invested in bonds. To compensate for the poor yields generated by sovereign paper, professionals have recently been resorting to euro-denominated corporate bonds. These have a comparative advantage in that they will benefit from continued economic growth, thereby making up for the unattractive underlying interest rates.
Taking a closer look at the fixed-income segment in the first half of 2021, the percentage of emerging market bonds in the euro and dollar increased, while the volume of emerging market securities in local currency remained unchanged. High-yield investments also remained at the same levels following a drop at the start of the year.
Bonds backed by real estate or government loans – covered bonds or Pfandbriefe – also exhibited little change and continued to account for about 10% of portfolios. This asset class, similar to government and corporate bonds, also forms part of the ECB's quantitative easing programme. It therefore remains attractive for investors, given the central bank's apparent reluctance to change its policy in the foreseeable future.
In contrast, the volume of promissory note loans has declined for several years. As the volume of internationally structured portfolios continues to rise, this purely German form of investment, which was primarily used for accounting reasons, appears to make ever less sense.
Methodology
The full analysis encompasses investments in Spezialfonds at Universal-Investment over the period January 2012 to 30 June 2021 and is updated monthly. The total volume of analysed assets under management was about €474bn or 22.7% of the total Spezialfonds assets (€2,084bn) covered by the German Association for Investment Fund Management Companies and Investment Funds (BVI) at the end of June 2021.
High demand for alternative investments
Since the global financial crisis of 2008-09, increasing numbers of institutional investors have been taking an interest in so-called alternative investments. Private equity, private debt and real estate are not only appealing, owing to the lack of opportunities on the bond market, they also score well with long-term cash flows and a partly low correlation with bonds and shares.
During the COVID-19 crisis, the interest of Germany's investors in projects of this highly diverse asset class has increased even further. At the end of March 2021, the Universal-Investment platform registered over €62bn of invested capital in alternative investments. This means that alternatives accounted for about 14% of institutional portfolios. The sharp upward trend is not, however, fully reflected in the retrospective analysis. Since Spezialfonds volume has risen rapidly in recent years and has also grown owing to various pure bond and equity portfolios, the percentage share of alternatives in relation to total assets has declined.
Looking solely at this asset class, equity structures dominate with a 61% share – 12 percentage points more than in 2020. This category includes private equity (52%), infrastructure investments (20%) and investments in private equity real estate (14%).
Demand for debt capital structures has also risen sharply, with this group now accounting for 20% of alternatives – an increase of three percentage points compared with 2020. The focus is particularly on investments in private debt, of which almost 70% is attributable to corporate financing. This reflects a long-term trend that has seen institutional investors steadily eroding bank financing of corporate acquisitions in recent years.
According to S&P Global Market Intelligence, banks still had a 34% share of the market in 2010 but, by 2019, institutional investors had made significant inroads into this area, financing 80% of all European M&A transactions. The main reason for this trend is the stricter regulatory framework for banks since the financial crisis. The Basel III Accord, which takes full effect in January 2022, is likely to further restrict the lending capacity of banks.
International real estate mix
Prices in the real estate market are rising steadily, fuelled by low interest rates for loans and recent rises in inflation (and fears of future rises). Institutional investors in Germany already have high real estate allocations. In the Spezialfonds on the Universal-Investment platform, pension funds occupy the pole position with a share of up to 25%. Overall, 5% of the investment volume is in real estate.
The real estate portfolios have an international mix. Although there is prevailing high demand for good-quality properties in attractive locations around the world, Germany still accounts for the largest share with 38% – a rise of one percentage point compared with 2020. Construction projects in the US increased by more than four points to 25.6% over the same period, while the European share, excluding Germany, fell five percentage points to just 24%. Projects in Asia and Australia remained stable, accounting for 12% in total.
As regards usage types, the field is split relatively evenly between retail properties (33.7%), offices (32.4%) and residential properties (26.2%). Projects in industry, such as logistics, or hotels play only a small part, with 2% and 3% respectively.
Sufficient performance despite challenging environment
The good mood on the stock markets combined with prudent portfolio management delivered both good short and long-term performance, with the portfolios achieving an average 13% year-on-year increase across all investor segments – not factoring in last spring and summer's temporary COVID-19 reversal on a pro rata basis. From a 10-year perspective and against the backdrop of stubbornly low interest rates, an average of 4.77% a year is a satisfactory result.
Katja Müller is the chief customer officer at Universal-Investment