Lack of transparency is said to cost beneficiaries in terms of lower returns
Some industry representatives defend existing practices while others see the need for greater effort
A recent paper published by US-based academic Ashby Monk and others arguably says it all in its title – *An Economic Case for Transparency in Private Equity*.
Monk, and his co-authors Sheridan Porter and Rajiv Sharma find a lack of transparency in an industry built on trust. Despite this, the industry is increasingly noted for its misconduct, misrepresentation, and outsized economic rents – perpetrated by "rapacious" managers upon their "trusted relationships".
Ashby Monk is executive director at the Stanford Research Initiative on Long-term Investing at the Center for Sustainable Development and Global Competitiveness.
Monk tells IPE: "The ambition is to help the private equity industry mature and open up, rather than close it off. We have an assumption that markets function more efficiently when there is transparency and understanding. In short, the more information you have, the smarter your decisions will be.
"Over the past 10 years, private equity has remained less mature in terms of reporting than we would expect, given the amount of capital invested in it. Continuing growth, particularly in pension fund portfolios, will require greater disclosure on fees and assets."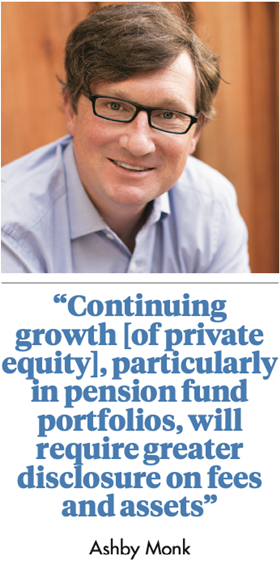 Report co-author Porter is co-founder of Seattle-based FEV Analytics, an alternatives data provider. She says: "Private equity is already facing challenges to its performance claims and its ability to align with societal needs. It is unlikely that the industry can continue scaling up without addressing these concerns.
"Rather than bear unknown distortions from an imposed regulatory constraint, transparency from scientific measurement puts into play new opportunities for industry expansion, financial innovation, operational efficiency, and efficient allocation of capital."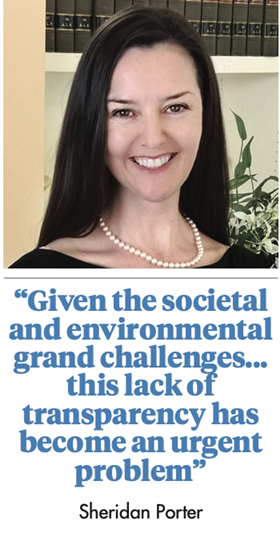 Porter cites research published in 2020, by the University of Oxford Saïd Business School's private equity expert, Ludovic Phalippou, which describes at least 10 years in which the industry has taken most excess return, leaving limited partners (LPs) with a net-of-fees return equal to public markets.
"During the same period, the size and scope of the private capital markets grew every year precisely because of a convincing economic case," she adds.
"The simultaneous existence of these two opposing viewpoints, both informed by accepted quantitative analysis, exemplifies the pressing need for performance clarity. Given the societal and environmental grand challenges we need the capitalist system to now help solve, this lack of transparency has become an urgent problem."
Phalippou says portions of his paper have already been used to start an industry conversation in the US about propagating industry-specific data protocols (or XBRL) rather than reporting templates to optimise data flow and on what data should be collected to effect a "virtuous data cycle" (see figure).
The third report co-author, Sharma, is research director at Stanford University's Global Projects Center and a product manager at Addepar, a US wealth management platform. He says the paper he co-authored is trying to bring to light some of the shortcomings of the investment management process in private equity "where asset managers have a significant informational advantage and for too long have been able to hide behind some structural issues in PE that influence performance measurement, fee disclosure and risk management".
He contends that a lack of transparency in private equity has "cost beneficiaries and taxpayers hundreds of billions of dollars annually in the form of excessive fees, unwanted and avoidable investments risks, and underperformance".
Industry pushes back
Garry Wilson, founder and managing partner of London-based turnaround specialist Endless, says while the paper is useful in putting forward points to improve debate on transparency, it shows a lack of understanding of the subject matter. He also finds some of the language inflammatory.
"In particular, there is an inherent assumption that LPs do not know what they are doing," he says. "LPs are not poor, foolish widows and orphans, but very highly experienced investors. They are extremely astute people who will assess hundreds of private equity proposals in a year.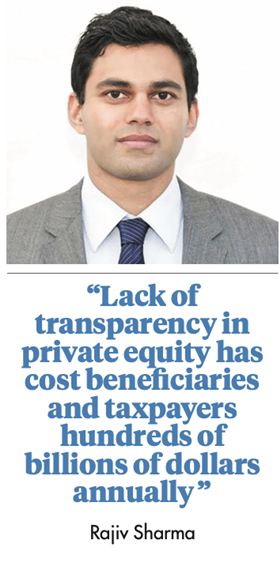 "No one is forcing them to invest in a 2-and-20 business model; they are prepared to pay a fee for a good return. I'm afraid the reference in the conclusion to rapacious managers represents an attack on an industry that is, in fact, open to more transparency."
George Ralph, managing director of RFA, an IT, financial cloud and cyber-security provider to the financial services and alternative investment sectors, strikes a different tone: "We have been aware in the technology sector for some time that the private equity sector was suffering a lag in its adoption of advanced data strategies and the science behind that," he begins.
"The paper reflects this and offers an interesting viewpoint on how to alleviate this issue and advance reporting industry wide."
Ralph says transparency now has "a place in every sector" thanks to technology, so private equity should be no different. He also believes transparency is a "malleable" concept, so each firm must find its own way.
He advocates sector-wide adoption of technologies to support transparency and in order for private equity to remain relevant: "The current model, or outgoing model of how data is collected, collated and presented is ambiguous, clunky, expensive and in need of reform."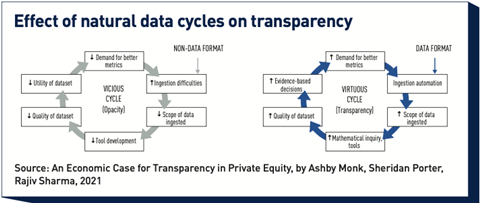 But is transparency a fixed concept? Ralph concludes: "We are in a position at the moment where there are no fixed guidelines, regulations or market standards around data. Where it should come from, how it should be stored, sorted, collated and shared are all questions the wider market needs to try and tackle as a whole. In the meantime, transparency as a concept must be malleable as each firm finds its way under lack of any structured guidance."

Wilson at Endless also takes some issues with some of the observations and the vocabulary. "There is already clear transparency between GPs and LPs in private equity," he states. "We report four times a year in detail on every company, host annual meetings, advisory boards are held twice a year, and these are supplemented by face to face or video call catch-ups.
"There's not much our investors don't know about us and our companies. Add to that detailed due diligence every time we raise another fund and every leaf has been turned by our investors. The question then is transparency in a wider sense – to the outside world, to those who are not direct investors in private equity."
How can the sector improve? Wilson concludes: "Value creation needs to be explained, and what is being done with new profits arising from value creation. We need to tell our story not just in terms of returns, but how companies are improving as corporate citizens."
* Available at https://ssrn.com/abstract=3931906