Institutional investor interest is mostly focusing on tokenised assets
Custodians are critical to the development and maturity of digitals assets
The right tech and talent will be crucial to develop a service for these assets
Digital assets may seem to be the latest investment trend, but institutions are taking their time in embracing them. Moving interest to the next level will require not only greater regulation but also a solid network of custodians to provide the required security and protection.
Catering to this group of securities is not that easy as there is no universally accepted definition of what constitutes a digital asset. At the high level, they are digital records of value or contractual rights that can be stored, tracked and transferred using distributed ledger technology (DLT) or blockchain technology. Drilling down, they encompass a wide range of opportunities although for now institutions are focusing on the less-risky end of the spectrum.
This means tokenised assets which are an 'on-chain' – blockchain – representation of assets that already exist such as equities, fixed income or real estate. They differ from protocol-native assets like Bitcoin since the asset exists in both physical and digital form.
By contrast, many institutions remain wary of crypto currencies because of their speculative nature. They have grabbed most of the headlines and this year it has been for the wrong reasons. To date, Bitcoin had lost more than 50% of its value this year, while Ethereum shed nearly 70%. In addition, there has been a great deal of negative publicity generated by the recent quarterly filing of Coinbase, one of the well-established digital asset exchanges and custody providers. It warned investors that their assets did not have protection from liability in the case of bankruptcy, potentially putting nearly $256bn (€246bn) in investor assets at risk.
By contrast, in the US, securities held for customers by a registered brokerage are legally segregated from the assets of the brokerage, which means they cannot be touched in bankruptcy proceedings.
Against this backdrop, a few institutional investors have shown more interest in stablecoins, which are tied to a reserve asset like the US dollar or gold and are designed to reduce volatility relative to their unpegged cryptocurrency counterparts. However, the recent collapse of TerraUSD sent shockwaves across the markets when it failed to keep its dollar connection. One of the issues is that this was a so-called "algorithmic" stablecoin that attempted to maintain a value of $1 using code rather than cash.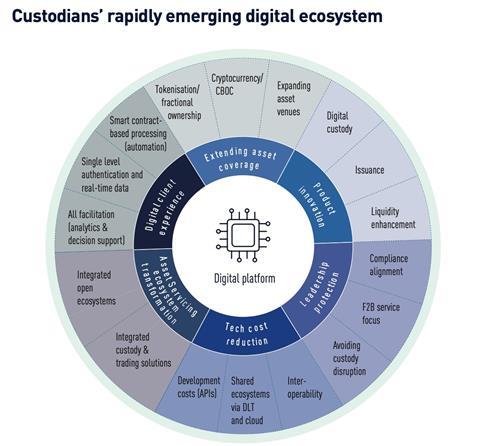 Industry experts believe that in the future central bank digital currencies might hold some appeal, but they are currently a work in progress. In general, they use an electronic record or digital token to represent the virtual form of a currency issued and regulated by the monetary authority of a particular country or group of countries.
"Investors will need to manage an extended transition period where traditional and digital assets will co-exist and therefore look for providers who can offering a seamless, consolidated service across asset classes"

Wayne Hughes
In the meantime, several custodians are laying the groundwork and several studies – the most recent ones from Deloitte and the Alternative Investment Management Association – emphasise they have an important role in the development and maturity of the industry Jason Nabi, chief revenue officer of Bosonic, a decentralised financial market infrastructure business, believes "having regulated or qualified custodians technically enabled to provide safe custody of digital assets is essential to wider institutional adoption of crypto and the further development of digital assets".
Education and reassurance
For their part, custodians have seized on the chance to educate and reassure investors in a market where regulation is just evolving. "We have tried our best to build more controls and safeguards into the ecosystem," says Caroline Butler, global head of custody at BNY Mellon. "We have the opportunity to provide guidance and help the industry mature and create an environment where assets are as safe as possible."
It is no wonder then, that many asset managers are sticking with the incumbent players. Charlie Berman, CEO of Agora Digital Capital Markets, a fixed-income start-up, notes: "Fundamentally, we see many of the buyside continue to work and interact with the same custodians and central security depositary firms that they do today as they digitalise and move towards DLT for their internal processes. The services that they offer such as know-your-customer, anti-money laundering and fund administration are not going away and are seen as critical. They will be needed alongside the services for digital assets."
David Feltes, head of financial market infrastructure, digital assets and operational resilience at Capco, also notes that many custodians are best placed to provide the security and operational resilience that institutions require. "At the moment, asset managers are dipping their toe into the space but, overall, the most important thing that institutional investors are looking for is surety or certainty that their assets will be safe," he says.
Wayne Hughes, head of digital assets at BNP Paribas Securities Services, also believes the involvement of custodians will be critical if digital assets are to gather momentum for institutional activity. "Investors will want their providers to be well regulated and well capitalised to ensure the safety of their assets," he adds. "They will also need to manage an extended transition period where traditional and digital assets will co-exist and therefore look for providers who can minimise the impacts by offering a seamless, consolidated service across asset classes."
The other reason institutions stick with their existing custodians is that there is no catalyst for them to change firms. Justin Chapman, global head of market advocacy and innovation research at Northern Trust, says: "If clients have 98% of their assets with us, they will not want to switch to another provider for just 2% of their assets. They want a trusted entity to provide the same high level of security, whether it be for traditional or digital assets. The difference between servicing digital and traditional is the architecture they operate on. For example, in the token space, there can be key management, different interface requirements and an ecosystem that is mutualised."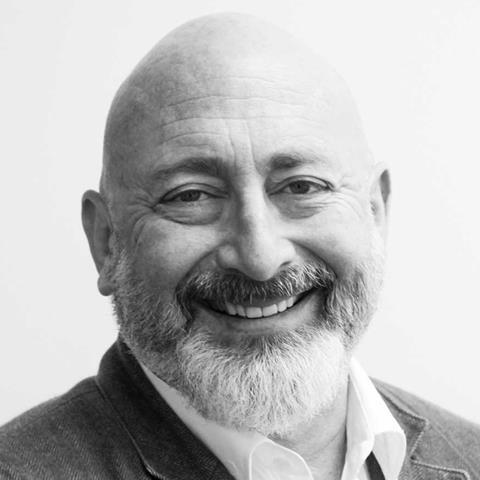 Unlike equities and bonds, custodians do not store the assets but, instead, the cryptographic keys which verify proof of ownership on the blockchain. It is extremely difficult to recover a private key if it is lost or stolen, due to the decentralised nature of the entire crypto ecosystem.
At present there are three main storage mechanisms. The first, is hot storage which requires internet connectivity. Although this allows ease of access to move digital assets quickly, it can also cause significant security vulnerabilities.
Cold storage is seen as the safest option because it uses offline digital vaults, where private keys and seed phrases to re-generate keys are physically stored in designated locations. It also incorporates security measures such as two-factor authentication, whitelisting of wallet addresses, multi-signature wallets, geographical distribution, time locks and multi-party computation.
Warm storage combines hot and cold – internet connectivity is required but most of the keys are kept in cold storage.
Capacity investment
Not surprisingly, building this capacity is expensive. It is well documented that banks are encumbered by legacy systems which can hinder the efficiency and speed that blockchain promises. "A significant investment is needed to get to the point where you can deal with digital assets," says Javier Hernani, head of securities services at SIX, which launched SIX Digital Exchange last year. "It is complex and requires a migration from legacy to digitalisation because the old systems cannot cope."
Although it is challenging, Butler says that, in time, digital assets could provide the opportunity for securities services firms to modernise their technology across the board. "There is a lot of legacy infrastructure, and it cannot all operate 24/7," she says. "However, this is the model digital assets need to operate on and the changes could catapult the industry to provide more efficient front-to-back service for both traditional and digital assets."
The other hurdle, according to Yvan Mirochnikoff, head of digital solutions SGSS – Societe Generale Securities Services is to get the best talent on board. "The right way to manage digital assets is to find the right people who understand both technological and financial matters and who, for instance, want to move from niche companies to larger organisations."