While the speed and breadth of the spread of infection was unknown, it was apparent that the outbreak of the new coronavirus, named COVID-19 by the World Health Organization (WHO), would cause considerable disruption to economic activity in China.
Coronavirus contagion in China has hit the economy and effects are being felt globally
Monetary stimulus by Chinese and Asian central banks has bolstered economic growth
Politics in the US and Europe are generating plenty of risks to economic activity
The ripples from China's economy travel far, and although its Asian neighbours will probably be the most affected, a large, sudden drop in Chinese activity also affects the rest of world, from commodity suppliers in emerging markets to all economies linked through the world's integrated supply chains.
In assessing the market's steady response – complacent or resilient – the global economy was showing clear signs of rebound and strength, with February's Global Purchasing Managers' Index (PMI) figures, and importantly the new-orders component, picking up at last.
Also, it is apparent that Chinese policymakers are willing and able to step in and provide support. And some central banks in Asia have already eased in response to the impact, with others quick to put out statements saying they are watching and ready. So it seems that a v-shaped economic recovery from the downward lurch is the consensus view, and that growth lost should be clawed back in the coming quarters.
As ever, there are plenty of head and tailwinds buffeting economic activity. And plenty of risks, mostly difficult to measure – such as the outcome of the US election. It seems most investors are pricing in the re-election of Donald Trump, although everyone will be watching the polls and gauging the risks of different, perhaps more progressive, outcomes.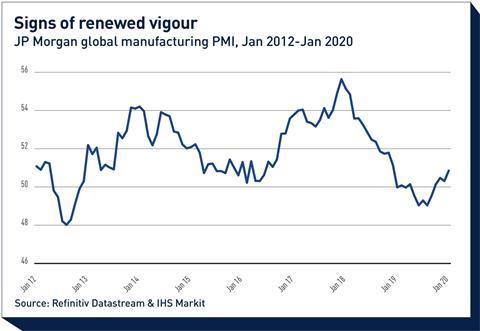 Europe could still surprise on the downside, with some particularly weak economic data from Germany and Italy. Politics in both countries are complicated, with the surprise resignation of Christian Democrat party leader Annegret Kramp-Karrenbauer, not long ago considered a worthy heir to Angela Merkel.
Fitch has put Italy on negative outlook, pointing to the coalition's "political divisions and differing policy views" as directly contributing to political uncertainty.
The ECB reviews its monetary policy strategy
In January, European Central Bank (ECB) President Christine Lagarde announced the launch of a comprehensive review of the bank's monetary policy strategy, which would engage with all stakeholders and "be guided by two principles: thorough analysis and open minds". The review is expected to be concluded by the end of this year.
The last review was in 2003; the latest has been widely welcomed. Relations within the governing council (GC) had become more fractious and divided as Mario Draghi's term as president drew to its end. Lagarde will surely be hoping that the collaborative process will draw her colleagues closer together again.
Although the scope of the review is as yet unknown, elements likely to be involved include the formulation of inflation targeting, reviewing current 'unconventional' tools and their potential side-effects such as the negative interest rate policy, and quantitative easing (QE), as well as looking to new areas such as a central bank digital currency or helicopter money, or moving towards modern monetary theory, for example. And Lagarde has already made clear her view that climate change should become an important feature for monetary policy.
One question that may arise is whether the EU will include housing costs in the harmonised index of consumer prices (HICP) measure of inflation, and implications for inflation readouts. Owner-occupied housing (OOH) costs are usually a significant expenditure for consumers and the US, UK and Japan all include those costs in their inflation indices.
Initial studies, using historical data, seem to be pointing to a muted effect on headline HICP of 20-30bps. As a pro-cyclical element of inflation, though, it is possible that it could generate higher peaks and deeper troughs in inflation reads.
The ECB in 2018 rejected an index which included OOH, not least because it was deemed too hard to gather reliable data quickly enough. Given that members of the GC have been recently voicing their desire to see it included, it is likely this year's review will look at ways of building an appropriate system that generates data that is both robust and timely.
Bonds
The US Treasury's quarterly refunding statement revealed details of its proposed new 20-year issuance due to start in May, and for which it anticipates "strong demand". With a trillion-dollar deficit to fund, and low prevailing interest rates, there is little surprise at the Treasury's plans to tap 'new' points along the curve.
While relieved that the Treasury 'listened' to market opinion and did not opt for issuing ultra-long debt, some participants are, however, wary. The Treasury's decision to swap some T-bill issuance to make room for the 20-year could, some believe, add to liquidity concerns in the nervy funding markets by highlighting the ongoing decline in the free float of T-bills.
Federal Reserve vice-chair Randal Quarles recently addressed concerns about the US central bank's balance sheet policies generally. As well as debating the appropriate level for reserves, given the recent market dislocations, he sought to assure that the Fed was serious in its aim tackling those funding market worries.
In the longer term, the Fed would like to scale down its balance sheet, remaining consistent with the "ample reserve requirement" at all times, so that it could expand it once more in a future downturn. Quarles suggested that, despite the stigma associated with its use, it is healthy banks which should be using the discount window.
China's presence in the main global bond indices continues to grow, with the JPM GBI-EM Global Diversified index including the bonds from 28 February 2020. Given the size of China's bond market, this is a huge, strategic change in allocations for both emerging markets and developed markets.
Currencies
The uncertainties stirred up by the spread of Covid-19 has seen the dollar broadly strengthen, with weakening in Asia currencies and the commodity currencies both in emerging and developed markets, and the Canadian and Australian dollars falling. Although the Reserve Bank of Australia has recently come out more hawkishly than expected, the downward pressures on the Australian dollar, from the impact and uncertainties of China's virus epidemic as well as the devastating bushfires, may keep the currency on the weaker side.
Although Chinese policy efforts seem to have had reasonable success in keeping the dollar-renminbi rate relatively stable, further significant economic damage from Covid-19, could generate more downward pressure on the Chinese currency .
As the dollar strengthens, might there come a point when the Trump administration, in this election year, turns its attention on pushing it lower? The new currency rule unveiled by the US Department of Commerce in February appears to have switched responsibility for foreign exchange policy from the Treasury to Commerce.
Under the new rule, policy-driven currency devaluation is to be re-categorised by the US within 'illegal subsidies', a status that could then trigger the implementation of World Trade Organization-sanctioned remedies such as tariffs.