Another new year and we are still in a COVID pandemic, as we were a year ago, although this time with economic grow-th looking pretty robust across the world. But, despite the best efforts of healthcare workers, scientists and politicians, the virus continues to exert an unnervingly strong influence on all our lives.
Inflation is proving less transitory than was predicted
Markets are pricing in two US rates hikes for this year
The dollar may have further to climb against the euro
In addition to grappling with rapidly changing post-lockdown dynamics, forecasts of economic activity come with caveats on new COVID variants and their potential to disrupt and cause more damage to already impaired global supply chains.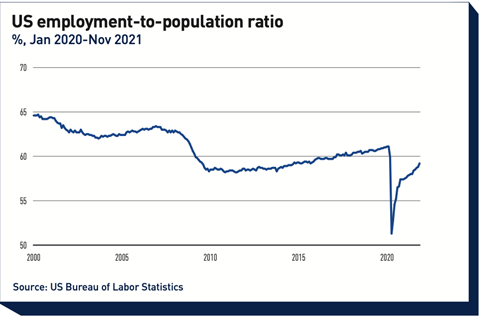 Inflation forecasts have been updated as we enter 2022, with perhaps the majority of investors now agreeing that current inflation is proving rather more sticky and is surely not as transitory as it was initially described.
Predictions for when the Federal Reserve will make its first rate hike have edged closer with many believing this could happen by mid-year 2022, maybe including another two increases before the end of the year.
More hawkish observers point to the speed of the recovery in US labour markets. The employment-to-population ratio for example has, since November 2020, been on a steep recovery trajectory and looks set to reach its pre-pandemic level in the next couple of months, nearing what the Fed considers "maximum employment" (see figure).
Politics will again be very influential for markets in 2022. Polls suggest Republicans could retake control of the US Senate in the mid-term elections, making life even trickier for President Biden. There are also important elections across Europe and in emerging markets
In Italy, many are hoping that the presidential election will pick someone other than Mario Draghi to allow him to remain as prime minister. Draghi is something of a talisman for Italian politics, bringing real hopes of reforms and sensible decision-making, and his departure could raise risks of some more volatile times there.
Argentina and reliance on the IMF
Recent mid-term elections have weakened the government of Argentina, at a time when the economy is as fragile as it has been in decades. This year's fiscal deficit, though not too bad-looking on the surface, has been temporarily aided by strong economic growth as commodity prices soared, and several one-off or exceptional revenues that are not due to be repeated.
And for Argentina, funding any fiscal deficit is difficult and often achieved essentially by printing money, in the form of transfers from the central bank, the BCRA, to the treasury.
Twenty years ago, in order to prevent a run on the bank, the BCRA announced a freeze on bank deposits, popularly called the 'corralito' (playpen). Recently, rumours were circulating that the BCRA's reserves were getting dangerously low, prompting fears that the bank could introduce another corralito.
These rumours were strongly denied by the authorities, but with inflation taking off once again, Argentina's situation remains somewhat precarious.
The IMF is itself under some scrutiny amid accusations that many requirements attached to its loans have been counterproductive and may have directly caused excessive harm to local populations. Certainly Argentina, a rather difficult 'client' for the IMF, might not be described as a happy IMF customer
Argentina is due to repay $45bn to the IMF by 2024, and did make a $1.8bn payment to the fund in September 2021, which postponed the debt rescheduling talks. However, the repayment schedule is gruelling, and it is highly unlikely that Argentina will be able to make the larger payments due in March 2022.
Argentina has long resorted to exchange controls to fight capital flows, price controls to moderate its long-standing failure to fight inflation, and raising public spending to avert political crises.
Investors are used to volatility from their Argentine assets, and 2022 is certainly looking to be pretty stormy.
Bonds
The US yield curve flattened throughout much of 2021, and even inverted at the very long end towards the end of the year. Curve flattening has consistently tended to precede times of Fed tightening, but the inversion of the 20 and 30-year yields is more likely driven by technicals and not a precursor to the whole curve inverting, or hinting at recession just yet.
By the end of the year, the US rates market had priced in two hikes from the Fed over the whole of 2022. But forecasts, although perhaps less upbeat than previous expansions, still suggest a growth rate higher than the trend rate, and the labour market is clearly tightening. Intermediate rates have been particularly sensitive to this metric, and with the employment rate set to decline further, there could be upward pressure on interest rates.
Although the market is already priced for two hikes, the subsequent path for predicted hikes is quite gentle and gradual, perhaps implying a growth trajectory as observed following the late 2000s financial crisis, with its stop-start pattern and somewhat lacklustre economic recoveries.
Rates should, arguably, edge higher faster given the still robust growth outlook, but expectations seem to be dampened by concerns that the Fed might cut off the expansion prematurely, as happened repeatedly after the global financial crisis.
For European rates, the ECB policy outlook is rather less well defined, with the bank still referring to the transitory nature of inflation, despite levels nearing 5% – a threshold which seemed to trigger a change in communication to a more hawkish tone from both the Fed and the Bank of England.
As inflation risks remain high, it will surely be harder for the ECB to continue using the word 'transitory'. Heading into the new year, with more uncertainties around central bank policy than in 2021, it is possible that risk premia in European rates may have to rise, not just along the curve, but also in sovereign spreads.
Currencies
Last year turned out to be a rather better one for the dollar than many predicted at the start, with the dollar index, DXY, up over 4% and the dollar up against most of the world's major currencies.
With Fed Chair Jerome Powell sounding distinctly more hawkish, and apparently not concerned about the potentially disinflationary influence from the emergence of the Omicron variant, it seems the Fed is ready to get the tapering started, with rate hikes by the end of Q2.
On the other hand, fading growth momentum in Europe, coupled with a severe fourth COVID wave, probably leaves the ECB patiently on the sidelines for now, despite those rising inflation figures. Wage growth is not keeping up with inflation and so real, inflation-adjusted wages are falling quite rapidly. This may put a significant squeeze on private consumption, which could then push future inflation lower.
This policy divergence, with interest rate differentials becoming more supportive for the dollar as we start 2022, implies that the dollar may have a bit further to go versus the euro, at least in the short term. The reappointment of Powell as Fed chair has also removed a potential (short-term) headwind for the dollar.
Although the Fed chair may have the luxury of looking through both higher inflation and the threat of a dangerous new variant, for emerging market central bankers that is not so straightforward.
With significantly lower vaccination rates, renewed COVID fears, either from another infection wave or the emergence of other vaccine-immune variants, will be negative for nearly all emerging markets, excluding the likes of Israel and Chile where vaccination rates are very high.