One investment analyst sums up Impax Asset Management as a "pure sustainability play". And certainly, according to founder and CEO Ian Simm, the core thesis of Impax is to "make the most of the investment opportunities offered by the transition to a more sustainable economy". These are "on the scale of the Industrial Revolution", Simm believes.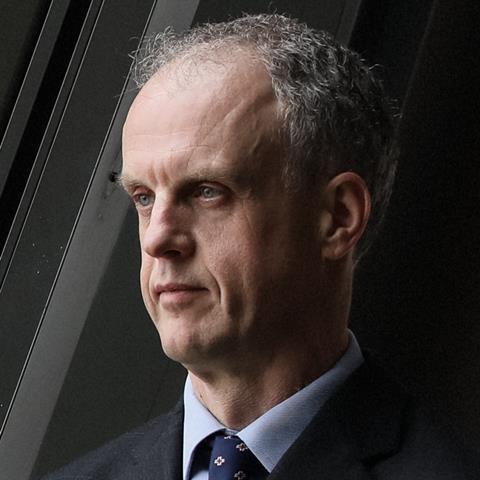 Ian Simm
1996- : Founder and CEO of Impax Investing
1993-95: Engagement manager, McKinsey
1991-93: Masters (public administration), Harvard University
1985-98: Masters (physics), Cambridge University
Impax
AUM: £35.7bn (€40.6bn); end-September 2022
280 staff
79% of business non-UK
Acquired Pax World Management in 2018
The CEO says Impax is hunting down sector-specific opportunities in energy and infrastructure, and some new areas such as food waste. "In these areas we expect to see fabulous rates of growth for investors and a variety of different exciting opportunities driven by enabling technology."
But the recent climate has been tough. Simm admits there has been a de-rating of managers as part of the major "risk-off shift" in response to rising interest rates.
He adds: "For managers focused on sustainable investing, there is some headwind from the return to favour of fossil fuels."
Impax's bonus pool is capped at 45% of operating profit, but in the last year it paid out only 40%, "reflecting current challenging market conditions". With the help of PwC, the firm recently undertook a review of its remuneration framework, seeking to put in place a more structured process. "The Impax board was keen to ensure that our practices are aligned with industry best practice," Simm says.
Despite the re-rating of many quoted investment managers, he points out: "We are at the top of our investment manager peer group in terms of multiple, and we have still managed to see positive fund flows."
He is also keen to note that the firm's global equity product was "ahead of the index year on year", at the time of writing.
Tailwinds kicking in
In the latest financial year to end-September, Impax reported net inflows of £2.9bn (€3.3bn), and Simm says there are a "series of positive factors" which are now beginning to bite.
"The current energy crisis in Europe has put significant emphasis on the importance of renewables, whilst the high energy prices offer gains for all of those involved in the supplying of energy, or in companies which are seeking to achieve energy efficiency. Very much our kind of investments."
In the US, the passing of the Inflation Reduction Act has also been hugely significant, aiming to reduce carbon emissions by roughly 40% by 2030. Simm argues it is the most important single piece of climate-related legislation ever.
The other major positive factor for sustainable investors has been the growing body of evidence of physical climate change. "Whether it is the devastating floods in Pakistan or the remarkable heat waves in Europe, for me the evidence is clear that severe climate change is not something of the future, it is happening now," says Simm.
"Whether it is the devastating floods in Pakistan or the remarkable heat waves in Europe, for me the evidence is clear that severe climate change is not something of the future, it is happening now"
This means governments around the world are taking the subject more seriously and increasing regulation, Simm believes. "In Europe the roll-out of the SFDR [Sustainable Finance Disclosures Regulation] regime while not entirely settled… has significant political momentum. It will create a new environment that will stick and weed out greenwashing."
Impax believes this will raise barriers to new entrants to the market. Most of its strategies are classified as Article 9, meaning they have a sustainable investment objective. This is perhaps not surprising, as Simm says that much of the EU green taxonomy can be traced back to the "environmental classification" system that Impax developed in the late 1990s.
Built for growth
Simm says he is now concentrating on growing the business in North America and in Europe and Asia where the firm made two major appointments in the last year.
Ed Farrington was appointed head of North America distribution in October, and Paul Voute was headhunted from Hermes last May to lead distribution in Europe and Asia-Pacific.
Overall, Impax's headcount has risen significantly, mainly driven by expansion of the distribution team. Simm says: "We expect our growth to be driven by overseas business as we have relatively few credible competitors in the United States or in Asia. Our intention is to build our business in major financial markets around the world."
Part of this strategy was the acquisition of New Hampshire-based Pax World Management in 2018. The integration of Pax is now fully complete and the Pax range of funds has been rebranded to Impax. Simm says: "When we acquired the business we had eight staff in the United States and Pax had 50. We have now nearly doubled that to over 100 staff and fully integrated the two with no job losses."
There have been significant changes in Impax's c-suite in recent times as well. Simm says: "It has been my desire to reshape my executive committee to take into account the greater importance of the United States to the business. I believe it is very important to adapt as the business grows and to shape your management architecture accordingly."
Long-time chairman Keith Falconer left the business in 2020 and CFO Charlie Ridge recently retired to be replaced by Karen Cockburn. "A new finance director will bring important areas of experience to us. She has worked in a more complex environment in larger companies with complex financial controls and on the extension of large-scale IT systems. She will bring important expertise in these areas."