COVID-19 vaccination figures are rapidly increasing in Europe despite supply problems. Vaccinations are still restricted to vulnerable groups in many countries although the UK is a notable exception. Some countries have imposed new lockdown measures.
This month's expectations figures generally show more of a consensus among analysts. The few contrary movements observed are hard to explain in relation to changes in political risk.
Asset allocation
In general, net equity sentiment rose again to record levels. The UK figures are in line with other areas for the first time since last July. Continuing tension with the EU, now over vaccine distribu- tion, could change the situation. In the US, equity uncertainty is on the rise but elsewhere and for bonds uncertainty remains low and stable.
Net bond sentiment is plumbing ever-lower levels. Even in Japan, analysts are showing a loss of faith in fixed income. Except in the euro-zone, the neutral vote for bonds is lower than that for equities, which is unusual.
Country allocation
US net equity sentiment saw its first decline since last July. An insignificant correction? Fear of the necessary measures to start paying for the pandemic? Fear of a wave of bankrupt- cies as support measures are terminated? The big IT companies under siege? It is too early to tell. Even given the slight fall in equity sentiment the gap with bond sentiment remains high.
The gap between euro-zone and UK equity and bonds reached a new record level, but bonds found a floor, at least temporarily, in the euro-zone, while still sinking in the UK. Improved sentiment for UK equity may be the result of high vaccination numbers, opening the possibility of an early relaxation of lockdown restrictions.
Figures for Japan show a continued increase for equities and decrease for bonds. The gap between the two is by far the largest in the past 12 months.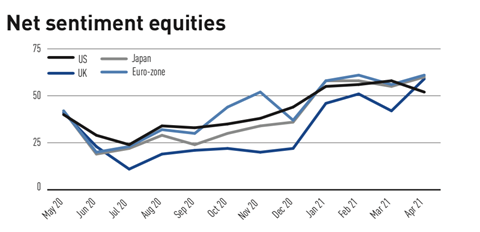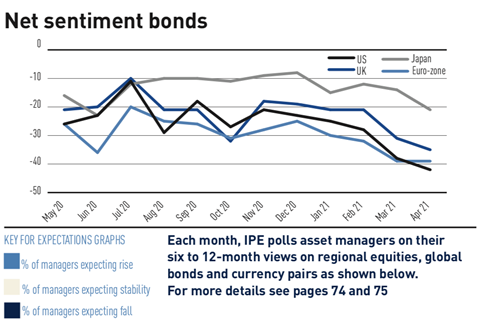 PETER KRANEVELD, INTERNATIONAL PENSIONS ADVISER,PRIME BV
Supporting documents
Click link to download and view these files