IPE's sentiment statistics for 2021 are highly unusual. First, they were moving closely together, with one exception only – confidence in Japanese bonds remained an outlier throughout the year, with the gap with other areas increasing steadily.
Second, all statistics moved in the same direction – sideways for equity, relentlessly downwards for bonds, reaching record levels of negative expectations at the end of the year. Third, the neutral vote in all areas went sideways or slightly up for all areas, while going down for bonds, so that during 2021 uncertainty on equity surpassed that on bonds, ending the year upside-down.
Nothing could change these trends, not a different US presidency, a threat of a new civil war in Ireland, COVID-19, injection campaigns, not even COP26. Political risk was excluded in a year when climate change started to loom large in the financial sector, entailing enormous amounts of political risk. Do investors believe themselves safe behind their green portfolios? Who will the green companies sell to if climate change disrupts the global economy?
Asset allocation
Net equity sentiment is slightly lower but remains close together in the EU and Japan. It fell more steeply for the US. The UK score is a bit of an outlier. The neutral vote went down in all areas except the US. It is still relatively high in the UK.
Net bond sentiment has set new record lows except in the EU, with Japan following the general trend at a much higher level. Uncertainty is up some- what, except in the UK.
Country allocation
In all areas, confidence in equity is high and stable with moderate to low uncertainty. In month-to-month terms, this pattern is the most pronounced in the EU and Japan, while that of the UK is conforming the least. One factor may be the EU-UK Trade and Cooperation Agreement, which comes into effect on 1 January 2022, with accompanying fears of rising tension in Northern Ireland.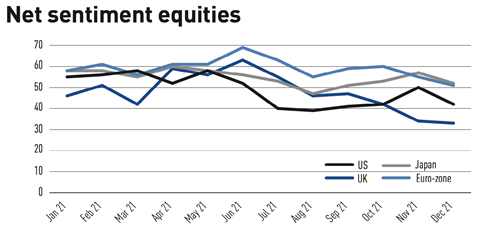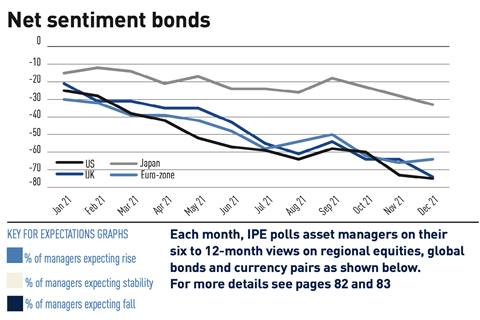 PETER KRANEVELD, INTERNATIONAL PENSIONS ADVISER,PRIME BV
Supporting documents
Click link to download and view these files