The two overriding concerns for global markets are the resurgence of COVID-19 cases in many parts of the world and the US elections. In relation to the pandemic it is impossible to know exactly when it will be brought under control. In the US there is a real chance that Joe Biden will win the presidency and the Democrats gain a majority in the senate.
Asset allocation
Economic and political negatives are greater than the positives. However, financial markets seem to have pinned their hopes on the continuation of massive economic support from the authorities. Worries about the falling efficacy of extraordinary monetary policy and yawning fiscal deficits have been put aside. Rising government debt is no longer considered a problem in the short or medium term. The financial sector being already awash in cash is regarded as unimportant. The gap between the near consensus of the analysts and financial reality is stark.
Timing remains essential as well as impossible to get right. However, a recognition of reality would hit bonds, particularly Japanese bonds, least. Expectations for fixed income have been stable and depressed during the pandemic.
Country allocation
The difference between net equity and bond sentiment is highest for the EU (80 points) and large for the US (59 points). Net equity sentiment for Japan is high and rising. The figures for the EU are at a one-year high. Only the UK figures are subdued, probably due to Brexit.
Expectations for equities are highest in the EU and the US. This is a good sign for those who assume there will be no turnaround in market thinking within their investment horizon but a bad sign otherwise. UK figures look more realistic but with a potential risk on equities as political uncertainty looms.
Japan's expectations are only slightly higher but subject to less political risk. That is even taking into account the toll a second Trump presidency would probably have through trade restrictions and the spread of COVID-19.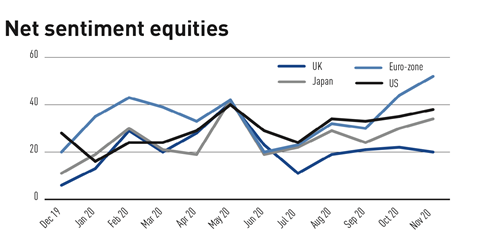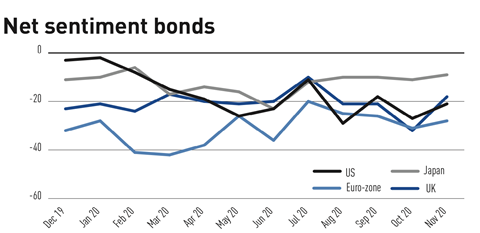 Peter Kraneveld, international pensions adviser, PRIME bv
Supporting documents
Click link to download and view these files