Pascal Blanqué and Amin Rajan argue that a toxic confluence of demographics, regulation and interest rates are undermining the finances of pension schemes
Key points
The pandemic has played havoc with pension finances
Inflation is set to roar back as central banks lose credibility
Schemes can't afford to take risk to reduce deficits
An inopportune toxic confluence of three unrelated forces has severely undermined the finances of employer-sponsored defined benefit (DB) pension plans, for which employers bear most of the risks associated with providing their employees with decent retirement pensions, according to the 2021 Amundi/CREATE survey, DB plans in their End Game in the post pandemic era. It has involved 152 plans in 17 jurisdictions with total AUM of €2.1trn.
The first force is ageing demographics; ever-larger cohorts of post-war baby boomers have been entering their golden years since the start of the past decade.
The second is regulation. Across all the key pension markets, pension plans have been enjoined to plan for their end game, showing how they intend to discharge their rapidly maturing pension obligations as they advance in their drawdown phase.
The third force is interest rates. These have been falling under the central bank quantitative easing (QE) programmes that came in the wake of the global financial crisis of 2008. They have since reduced funding ratios by inflating the present value of plan liabilities and also hit the interest income used to fund regular pension payouts.
The latest round of zero-bound rates – accompanying an unprecedented fiscal stimulus worth 25% of global GDP to fight the Covid-19 crisis in 2020 – has made a bad situation worse for most DB plans worldwide.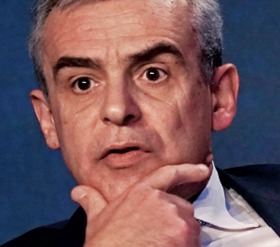 They went into the pandemic crisis with their finances in far worse shape than they were in the 2008 sub-prime crisis.
Now they are caught in a Catch 22. They can't afford to take risks with persistent deficits in a maturing plan, nor can they cut deficits without it. This at a time when the macro-economic prospects portend a low-return environment.
Inflation rearing its ugly head
Covid-19 has binned Thatcher–Reagan free-market philosophy and necessitated a step increase in the role of governments in the post-pandemic recovery. A new social contract, one in which the public and private sectors cooperate to create value for shareholders and society, is in the making. It will target market failures, notably in the areas of economic inequalities and climate change.
As governmental agenda takes priority, central banks' independence in rate setting and inflation targeting will no longer be sacrosanct.
A clash between massive policy stimulus and unquantifiable damage to the productive base of the global economy during worldwide lockdowns has already sparked an inflationary spiral that will be more than a temporary blip. Nobody knows the true scale of the damage to the productive base of the global economy. It's hard to believe that it will simply snap back.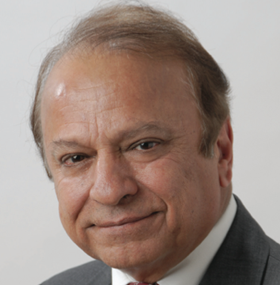 Inflation expectations may well become unanchored under the more permissive inflation target of the US Federal Reserve. The scope for policy mis-steps is huge. As a result, 50% of survey respondents expect inflation to return on a scale that will influence asset allocation (figure 1).
Many among today's generation of central bankers have not had to deal with an inflation problem during their professional careers.
Indeed, 56% of our respondents expect rates to rise over the next three years, either due to market forces or overt central bank action (figure 1). Either way, they will affect investment returns, since rates are embedded in and contribute to every asset class's expected returns, owing to their influence on economic growth and inflation expectations.
In this scenario, 71% expect investment returns to be a lot lower, as the past decade's artificially inflated asset price boom finally unwinds. Many among them also believe that today's asset prices are far removed from reality. They will likely reconnect with their fundamentals, as central banks' influence on asset prices begins to wane. Hence, 35% expect mean reversion in asset valuations to become the norm.
The curse of negative convexity
Like a python crushing its prey, low rates have long been constricting defined benefit pension plans worldwide via so-called negative convexity.
Under it, the more rates fall, the faster liabilities tend to increase, the bigger the contributions their sponsors are forced to make, and the more risk averse they become.
Just as damaging, falling rates also mean lower cash flows, as plans typically rely on bonds to fund regular payouts to their retirees. To cover the resulting shortfall, plans have to invest even more or hold fire sales of their current assets.
To make matters worse, the lockdowns have forced many plan sponsors to defer their deficit repair contributions and request 'pension holidays', while posting profit warnings during the lockdowns.
Case study: 'Self-sufficiency is our only choice'
"Our end game is self-sufficiency: run our plan to the end of its life. Before the pandemic, we had considered the buy-in option for a portion of our liabilities, as a prelude to a full buyout over time. But it proved expensive, as our funding level then was 94%.
"Now it has dropped to 91%, after the market turmoil and rate cuts in 2020. Our liabilities are up 9% and our assets 3%. So any insurance option would require a further cash injection from our plan sponsor to help us immunise our portfolio with Gilts in order to receive a competitive rate from insurers.
"This is hardly likely. Our sponsor was obliged to issue two profit warnings last year and has now applied for contribution 'holidays' and the postponement of employer deficit-recovery contributions until its own finances improve.
"Our best hope is a revival in the business fortunes of our sponsor.
"Our core problem is that the more rates fall, the faster liabilities tend to rise. To counter that, rising rates will not be enough. We need much higher returns on
our assets. That's a tall order at a time when all asset prices are so artificially inflated and we are bracing for a low-return environment.
"So self-sufficiency is not our first choice, it's our only choice. Low rates are good for economic revival but they have made pensions unaffordable. There are no upsides for plan sponsors."
A UK pension plan
Unsurprisingly, therefore, 48% of our survey respondents report that the impact of the pandemic on the financial viability of their plan has been 'negative', while only 6% think it has been 'positive' (figure 2).
Similarly, 39% report a 'negative' impact on the overall funding ratio, while 0% report it as 'positive'; and 46% report a 'negative' impact on cash flow for paying regular pensions, while 9% report a 'positive' impact. Indeed, nearly half of our respondents are already in negative cash flow status due to ageing demographics.
About the only area where a net positive impact is evident is in the portfolio of risky assets. As the post-pandemic market bounce turned into the mother of all rallies in 2020, 38% reported a 'positive' impact and only 3% reported a 'negative' impact.
Notably, the bounce was not felt more widely, since ageing demographics have been pushing many plans into de-risking mode via bond investing during the past two decades, in line with the regulatory requirement in all pension markets.
These plans have, thus, experienced a triple whammy on account of being overweight in bonds: first, ballooning liabilities, as central banks pushed rates zero-bound at the start of Covid-19; second, falling incomes, as rates plumbed fresh depths; and third, limited upside, when the market for risky assets roared back to life after their fastest meltdown in March 2020.
Now, the fear is that another toxic mix of rising rates and rising inflation will badly hit fixed-income assets – about 60% of the portfolio on average – and force them to bear more risk at a time when asset prices bear no relation to reality.
Buyouts remain a dream
Due to ageing demographics, private sector DB pension plans have been in a state of continuous decline over the past two decades – in terms of the number of schemes and their membership – in all the key pension markets globally. The majority of such plans are either closed to new members or to new accrual.
As a result, prevailing regulation has required pension plans to implement various options as part of their end game – namely, discharging their pension obligations as ever-larger cohorts of post-war baby boomers enter their golden years.
Thus, pension plans are obliged to set out their long-term funding objective to achieve their end game ambition for their members. Crucially, mature plans are expected to have a low level of dependency on their sponsors and be invested with high resilience to risk. The options now being adopted are presented in figure 3.
The most favoured option of our survey respondents is 'run-off'(cited by 41%). It means having very secure finances that can pay pensions until the final member leaves.
The second favourite option is 'self-sufficiency' (30%) – a funding position where the plan is unlikely to call on the sponsor for further support in terms of additional contributions, while producing the required cash flows to pay beneficiaries. Thus, the first two options rely on a plan's own balance sheet to meet its liabilities.
In contrast, two off-balance-sheet insurance-based options are much less favoured currently. These are buyout (15%) and buy-in (10%). Via bulk annuity purchase, the first of these involves passing on all pension obligations to an insurer by settling all liabilities, duly discounted at a risk-free rate. The second involves securing a cash-flow stream only for a portion of plan members from an insurer.
Finally, interest in the use of alternative consolidation mechanisms – via either merging schemes or transferring liabilities to a third party – is very limited at present (4%).
Many plan sponsors have long aimed to carry out a full insurance buyout as the gold standard of their end game, but for three formidable hurdles.
To start with, the majority are nursing funding deficits, with funding ratios less than 100%. Sponsors have been legally obliged to make so-called deficit-recovery contributions over the past two decades, as interest rates tumbled from 5% in 2007 to near zero within two years, thus skyrocketing the discounted value of pension liabilities.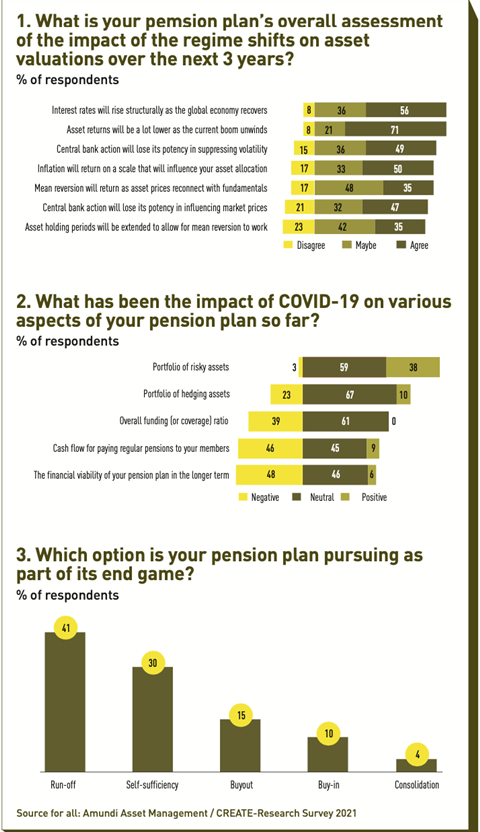 Furthermore, as a precondition, the buyout option also requires plan sponsors to dig deep into their pockets and contribute enough to make the plan 100% funded, plus pony up a margin – the fee to the insurer on top of the assets it is transferring. This could be as high as 5% of the assets involved.
Finally, the buyout option involves 'investing like an insurer', by buying assets – often mostly long-dated corporate bonds – in order to cash-flow match their liabilities.
On the flip side, however, corporate bonds cannot deliver high-enough returns to repair deficits. Indeed, many plan sponsors have had to delay deficit repair payments after declaring profit warnings due to the abrupt lockdowns in 2020–21. Currently, only 38% of plans in the survey are fully funded. At the other end, 30% have funding levels below 90%.
That necessarily leaves sponsors with an end game dominated by either the run-off or self-sufficiency option (see case study). Against ageing demographics, it typically involves matching asset inflows with expected outflows, while fully hedging other valuation risks, such as interest rates and inflation.
The advantage of this approach relative to a buyout is that de-risking can be achieved at a potentially much lower expected funding cost – but with the need to manage residual risk – than an insurance option. The disadvantage is that sponsors must bear all the risks in the end game and continue to provide all the necessary backstops while funding deficits persist.
Covenant risk at all-time high
This is not how the end game was meant to be – funding deficits, negative cash flow and rising inflation. Covenant risk – the ability of the plan sponsor to underwrite the obligations of a pension scheme over its lifetime – is at its all-time high in most DB markets.
Pension plans are forced to perform a high-wire act in their asset allocation, balancing caution with opportunism, as we shall see in the next article in this series
Pascal Blanqué is Group CIO of Amundi Asset Management and Amin Rajan is CEO of CREATE-Research. Both are members of The 300 Club