A new study on operational and informational efficiency highlights the challenges for smaller funds
Key points
Scale is crucial, with a significant number of schemes looking at consolidation
Specialist technology services are seen as the greatest contributors to an increase in operational efficiency
Many funds use outdated methods for data and analysis, and others rely heavily on their custodians
Sustainability is a major driver of change for global investors – often at the expense of operational efficiency
In September and October 2021, ValueExchange launched a benchmarking campaign to highlight the path for change among global asset owners. The survey results are based on the insights of over 130 asset owners and their service providers around the world.
Regionally, what comes across strongly is the different drivers of transformation among pension funds. In this first phase of the Value-Exchange research, there are also clear distinctions between small and large institutions, notably in their flexibility to strategise and invest in transforming their operations.
"Our survey began by analysing what is driving the transformation agenda, the pressures on pension fund operating models and what funds are doing in response to this," says ValueExchange chief executive Barnaby Nelson.
"Scale is one of the most crucial factors, we found, but it is not as simple as greater scale equates to greater efficiency. The sweet spot actually occurs around the $10bn AUM mark." Above that, he says the economies of scale diminish because of greater risk and governance overheads (figure 1).
Although we can expect to see some continued consolidation among funds, especially among the Australian superannuation funds, the mega-fund model is not necessarily what everyone should aspire to.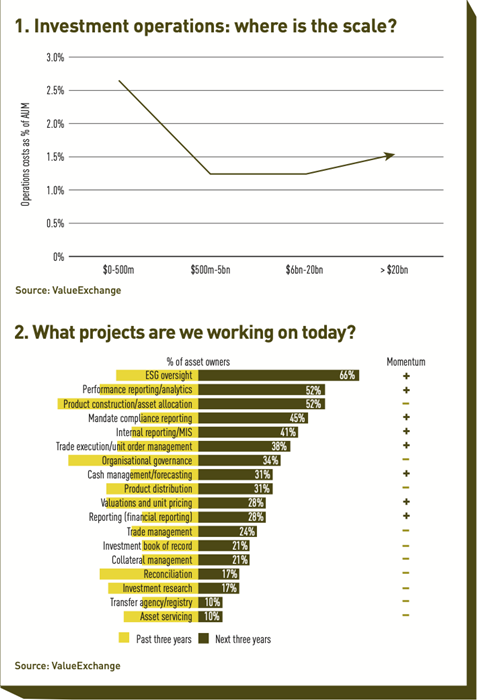 "The survey data shows that 20% of pension funds are looking at consolidation, which is quite striking. You hear it anecdotally in Australia, in Canada and the UK but it's a bigger number than we expected."
Systems usage is key
Specialist technology services are seen as the greatest contributors to an increase in operational efficiency. While this is one of the major growth areas in terms of transformational investment, there is still much to do for many institutions.
Most asset owners are still using long-standing methods of tracking asset allocation, performance and risk management. As such, it is likely they are not optimising these operations.
"From the survey, it is clear that half the market is still using MS Excel, while most of the other half are almost totally reliant on the analysis provided by their custodian bank," says Nelson.
"It is really only at the top level of institution, north of $20bn AUM, that we see this tracking and analysis performed optimally, with external software providers and systems being used to get a more robust view."
Some of the most efficient investors are still using Excel, but within the custodian sphere that falls away among the bigger institutions. The more advanced funds understand that optimal efficiency is possible by using specialist system providers. Crucially, they are also able to mobilise capital and resources.
"That still leaves a large tranche of investors who are entirely beholden to their custodians. That theme comes through repeatedly in the survey – this two-sided relationship with the custodian as prison guard but also as the future enabler."
The conclusion was that smaller funds are more focused on the market and on investment returns over the shorter term. Generally, they do not have the luxury to commit resources to long-term transformational projects, for a variety of reasons.
On the flipside, the bigger the fund, ultimately the more preoccupied it is by managing risk, governance and increasingly, sustainability. This can be a drag on performance. "Investment teams and trustee boards tread a fine line between their short and longer-term objectives," Nelson says.
Another key consideration is how much value for money passes to pension scheme members. This varies massively across the globe, according to ValueExchange. Africa is an expensive and inefficient place, but that is to be expected in a global comparison. North America and Europe are competitive. What's interesting is how Australia is so far off the pace, especially given how much regulation surrounds the superannuation industry and how much criticism the domestic fund industry has faced in recent years.
Change takes time and short-term pressures, of regulation or staff limitations, often prevent asset owners from making the big picture decisions.
Contrast on ESG
Sustainability is now a major driver of change for global investors, but the dynamics are markedly different in each geographic region. It's not all about disclosure and carbon neutrality. In Australia, for example, it's very much about how the heavy regulatory regime impacts decision-making.
"Europe has been at the heart of the ESG and sustainability revolution in investment and the largest pension funds in the region have become quite used to investment governance as a strong driver of change," says Nelson. "What's also interesting is that it's the opposite in North America. In the US, pension funds face few external pressures. No one's squeezing them and most self-regulate."
The other big trend identified is outsourcing among the big players. "Everyone talks about the fact that they're outsourcing back office, execution and fund management, but the fact is there are as many bringing these functions in-house as there are outsourcing."
ESG and data now dominate the project agenda, at the expense of operational efficiency. The Value-Exchange survey shows that all the things that were priorities in the past three years – such as asset servicing, reconciliations and transfer agency – have lost momentum (figure 2). The things that are now topping the list are all related to data and sustainability, and how that translates into performance attribution and reporting, as well as portfolio construction and mandate compliance
There's good and bad in that, says Nelson. "Asset owners are all having to learn new tricks and impose new ways of managing a portfolio on themselves. It's interesting that it's coming at the expense of operational efficiency projects. Is that a good thing, or is it dangerous for asset owners to take their eyes off operational efficiency?"
Rise of the enterprise perspective
The drive for operational agility is all encompassing. One of the key trends identified in the survey is the gathering of momentum around an enterprise view. There's a mindset shift going on here, says Nelson.
Asset owners are still tinkering around the edges in the front and middle office, but now there's a keen focus on the enterprise and the system architecture of the organisation. The data indicate that 38% of asset owners were running projects enterprise-wide in the past three years, compared to 62% that expect to be doing so over the next three years.
The key areas of development enterprise-wide will be sourcing new data, data centralisation and new analytics. In the front office, the focus moving forward is on greater automation and cloud deployment.
Middle office transformation will be another crucial area, with a focus on external connectivity and outsourcing business processing. Connectivity is a strong theme and the fact that people are part of the answer is another surprise result.
To some, operational agility means outsourcing to a master custodian to be more agile. Others are insourcing for the same reason.
"For asset owners looking to expand their investment universe into private markets and new asset classes, it's about getting the organisational structure right. It's not all about high tech and big data, it's as much about personnel as it is about process."
Asset owners are also taking different views on how to develop their teams as the range of investable assets expands. Departmentalising by asset class, for example, is partly a reflection that portfolios are now a lot more complicated.
"As a private equity investor looking to buy part of a Chinese fintech, how you value and manage the risk on that is totally different from a traditional equity or bond investment."
Software providers are an important part of the transformation process for the bigger pension funds, while the master custodian's role is much smaller. The asset owners are looking for new ideas and it is the software consultants and fintechs that are the big parties round the table.
Obstacles to change
Given the long-term return on investment of key transformation projects, it is understandable that some asset owners go for the quick fix rather than the longer-term solution. Quick wins can be had by outsourcing to a master custodian, buying in data and consolidating providers. The quickest win of all is departmental restructuring. Meanwhile, more fundamental change like system automation, connectivity, data centralisation, typically three-year projects, often fall into the 'too-hard' basket (figure 3).
The regulatory time frame in Australia, for example, works against meaningful long-term change because compliance needs are driving quick fixes. In Europe the biggest blockage is budget prioritisation. With so many other considerations in terms of governance and sustainability, an investment committee is unlikely to approve a big-budget, five-year project to centralise data.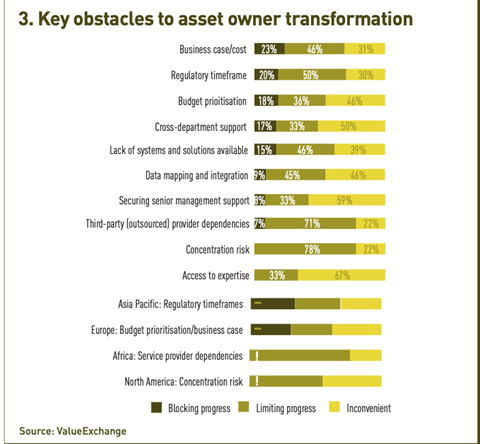 Ultimately there's a risk in concentrating on departmental restructuring, says Nelson. "It's good in terms of a quick result, but it has a weak impact on the P&L. Consolidation of providers, system automation and data cleaning – the four and five-year commitments – are the ones that will move the needle."
Longer-term projects, such as cloud deployment, outsourcing business processing, data validation, deployment of artificial intelligence and machine learning, have an ROI time horizon of between 3.5 and seven years, putting them out of the range of many smaller pension funds. Indeed, the statistics show that the average project duration for smaller funds is one year, while for large funds, those over $6bn AUM, the average is four years.
The full reporting process on the ValueExchange Asset Owner Transformation survey, to be concluded at the end of March 2022, includes outreach to the global pension community on the key statistical findings. The insights gained should provide some clear signposts for institutions looking to transition and help them write the case for change.