Brexit "got done", to paraphrase the British prime minister. Britain left the EU at the end of January. More than three years of tortuous uncertainty about the country's future relationship with the world's largest trading bloc were brought to a hard stop. Which is, in itself, a net positive, because "policy uncertainty might account for almost half of the slowdown of world trade growth in 2019", according to the World Bank.
The exact form Brexit will take is still to be determined
Equites could benefit from an increase in market certainty
There is still a risk of WTO-style deals with the EU and wider
However, the impression that the uncertainty is over might be premature. The basis of the UK's trade relationship with the EU – and indeed the rest of the world – is still to be determined.
Nevertheless, investors now have a better understanding of what the future will be like and markets rallied accordingly, following the decisive majority that December's general election delivered to Boris Johnson's centre-right Conservative Party.
"There's still a question mark over trade relationships," says Jamie Stuttard, head of global macro fixed income at Robeco. "This lingering uncertainty means there's no full return to clarity just yet…. To paraphrase [the former UK prime minister Winston] Churchill, January is just the end of the beginning."
On the positive side, he says, "the far-left risk has gone", in the form of a potential Labour government led by Jeremy Corbyn. "That would have been terrible for private expenditure, IPOs [initial public offerings] and markets in general," he says. Instead, "Britain now has a pro-business government with a clear majority and policies. This will be positive for long-term foreign direct investment, and we're already seeing some major deals being done."
Maarten Geerdink, head of European equities at NN Investment Partners, also notes "the threat being lifted from sectors exposed to shareholder-unfriendly Corbynite measures", and sees the result as being "positive for risk assets". Although he notes that "we don't know the details of the withdrawal bill" which might preface "another cliff-hanger at the end of the year", he thinks it more likely that any deal will be broken up "into smaller steps, to get as much as possible done by year end".
Uncertainty has made companies wary of capital expenditure (capex), says Geerdink, and they have instead hired labour: "That has been good for consumer demand, but bad for productivity. If companies want to commit to capex, we need clarity to the details of Brexit; if the UK falls back on WTO standards, this will lead to big trade barriers where it will be hard to monetise capex spending."
So while the miasma of uncertainty has thinned, it has not lifted completely. And although there is an increased likelihood of a WTO-style deal if the main trade issues cannot be resolved this year, consensus is that this risk has been reduced and a softer Brexit is in the offing.
However, says Guillermo Felices, head of research and strategy at BNPP AM's multi-asset, quantitative and solutions group, "the market underappreciates the difficulty of getting a trade deal done any time soon, and we're most likely looking at a deal closer to WTO rules or Canada-plus". He warns of ignoring the risks that remain with Brexit.
The University of Chicago's IGM expert panel of economists agrees with this cautious view, with almost 80% saying a "considerable risk" remains of a hard Brexit (see figure).
This overconfidence about the positives, says Felices, opens up possibilities for currency plays: "We think that the market has got too excited about the reduction in the threat of a hard Brexit, which saw cable [GBP/USD] go to the upper end of its $1.31/$1.35 range. As a result, there is an opportunity to short sterling."
Stuttard sees the opportunities in currency markets differently: "Given how much sterling had fallen over the past few years, there was a lot of money long sterling," he says. "Following the election you saw the currency pop, after which profit was taken, and the currency dropped below 1.30 [to the dollar] again." However, he thinks the opportunity to play sterling is more than a short-term trading blip, and that "with the far-left threat gone, sterling is now a multi-year trade", and "although a rally back to 1.70 is unlikely because of the UK's twin deficits, it could well go halfway. We expect sterling to recover, especially relative to the euro."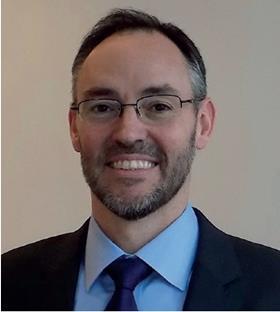 Geerdink takes a more even-handed stance. He sees "two opposing forces" working on sterling – "the currency's undervaluation in historic terms on the one hand; and, on the other, the fact that the government is unlikely to raise taxes to pay for its higher infrastructure spending commitments, so instead will increase its budget deficit".
With regard to Brexit's effects on UK fixed-income markets, Felices says: "Gilts are stuck between an economic slowdown and the potential for rate cuts, which is good, and increased fiscal spending, which will put pressure on the long end of the curve."
Stuttard is more positive about the prospects for longer-dated Gilts, expecting trend growth to perk up in 2020, with an improved economic outlook, leading to a higher Gilt yield further out. He adds that he had previously been long the two-year part of the Gilt curve, and underweight the 10-year section, although in the wake of the election, "we've seen a steepening of the curve, with 10-year Gilts rising relative to two-year".
The prior economic uncertainty had contributed to UK equity underperformance, but there was an improvement of sentiment at the year's end.
This sustained underperformance means valuations are now attractive, "although the likely catalyst for UK risk assets to outperform is an improvement in the global economic environment", says Hal Reynolds, CIO at Los Angeles Capital, adding that "UK stocks offer attractive long-term discount rates and while sentiment remains negative, it has been improving on recent events".
The US-based quant manager has been underweight the UK for the past 2.5 years, tilting that allocation to higher-quality mid-cap value stocks with lower levels of financial risk, in contrast to its global portfolios, which have a high-quality growth bias. "It's been a profitable play," he says, adding: "Now that we've seen a clarification over Brexit we're seeing a narrowing in that [growth/value] differential, although it's still present."
"There are reasons to get excited about the FTSE – particularly the 100, which is very much geared to the global economy," says BNPP AM's Felices. This meshes with his thesis on sterling: "So if sterling weakens, that's good for the FTSE 100." He further notes that the index offers a dividend of 4-5%: "better than many global indices, so it's good value". On top of this, if global growth stabilises, he sees it as positive for the index's miners and global banks.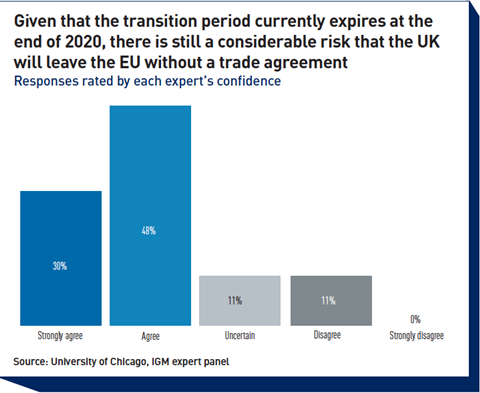 NN Investment Partners' Geerdink also notes that the FTSE 250 had seen a strong rebound relative to the FTSE 100. However, he says: "That trade has been played out, so investors will now have to be more stock-specific," adding: "We are in general keeping away from low-quality domestically focused stocks, for example, retail. Online is experiencing as many problems as offline, having to cope with a huge number of returns, particularly at this time of year." Like Reynolds at Los Angeles Capital, he favours quality names although, in contrast to Felices, with domestic exposure.
Over the coming months, the outcome of diverse investment themes hinges on the answer to the question: how do you like your Brexit – hard or soft?