Six of Denmark's largest pension funds have invested in a new DKK5bn (€671m) investment fund set up by the Danish government as part of the country's contribution to the UN's Sustainable Development Goals (SDGs).
ATP, PKA, PensionDanmark, PFA, JØP/DIP and PenSam have agreed to invest DKK400m each in the Danish SDG Investment Fund. It will be managed by IFU, Denmark's state investment programme for developing markets.
Torben Möger Pedersen, chief executive of PensionDanmark, said: "The SDG fund is the third so-called blended finance fund PensionDanmark has been involved in starting up with the IFU.
"We expect a good return and are proud that through it, we can both make our contribution to solving some of the big challenges the world is facing, and help Danish companies get out into new markets."
The fund has capital commitments of DKK4.1bn including the contributions from the six funds, DKK1.65bn from the IFU, and DKK80m from private investor Navest.
The fund is aiming for a total of DKK5bn in capital, with the rest of the capital commitments expected to be made in a second closing in the second half of 2018, IFU said.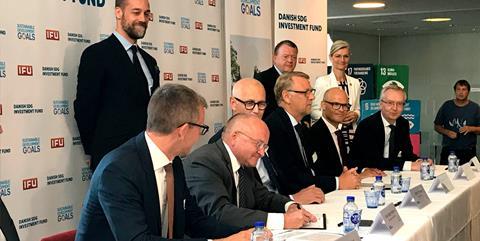 PFA's group finance director Anders Damgaard said there were strong growth prospects and a great need for investment in a range of developing countries.
"By going into the global goals fund, we can make investments that would otherwise be hard to access, and have good returns potential," he said.
The partnership with the Danish government, IFU and pensions investors ensured that there were strong skills and organisation behind the investments, Damgaard added.
Apart from contributing to the SDGs, the fund – which is based on a public-private partnership with a 60/40 allocation between private investors and the IFU – is also aimed at promoting the sale of Danish know-how and technology.
The IFU said the fund was expected to contribute to investments worth some DKK30bn overall in developing countries, investing in companies in Africa, Asia, Latin America and parts of Europe.
It will operate on commercial terms and ensure a competitive return to its investors, the IFU said. The expected net yield to investors was between 10% and 12%.