Three years after its introduction, the liberation of pensions savings has been marred by accounts of poor advice and scams
Key points
Many DB members have transferred out of their scheme to take advantage of freedom and choice regulation
Regulators are accused of failing to protect members advised to switch out of their scheme when their employers faced insolvency
Fears many thousands more people will make ill-advised transfers
What initially appeared to be the emancipation of pension savings from outdated and inflexible rules is now threatening to mire the industry in controversy, with the head of the work and pensions parliamentary select committee warning of the potential for "another huge mis-selling scandal"
Freedom and choice legislation came into force in 2015 and, subject to tax stipulations, allows defined contribution (DC) savers limitless access to their pension pots from age 55. This new-found freedom does not extend to defined benefit (DB) members who must transfer out of their scheme into a DC alternative. And this is where the trouble begins.
The Financial Conduct Authority (FCA) is deeply uncomfortable with DB to DC transfers and in most cases believes these to be contrary to members' interest. Chris Woolard, executive director of strategy and competition at the FCA, said in June last year: "DB pensions, and other safeguarded benefits such as guarantees, are valuable so most consumers will be best advised to keep them."
In light of freedom and choice rules, this position is being reviewed, however the prevailing feeling is savers are better off in a DB scheme since the investment risk stays with the employer and benefits will be paid in full for life provided the sponsoring company stays solvent.
The FCA is so sure that DB to DC transfers are high risk that it insists members seek independent financial advice where the total pot is worth more than £30,000 (€33,900). It also requires trustees to blow the whistle on any case it deems suspicious.
However such protectionist measures did not stop an estimated 80,000 DB members from handing their funds to a new provider in the year to the end of March 2017.
There are instances where transferring is in the member's best interests. For example, if the DB member has a short life expectancy, or they happen to be an investment specialist who believes they can get superior returns investing it themselves.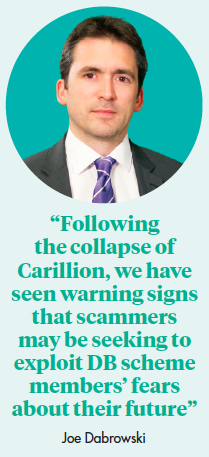 Another justification might be where the sponsoring employer is in difficulty and at risk of insolvency. If the company were to go bust and fall into the Pension Protection Fund (PPF) – which takes on UK DB schemes in cases of insolvency – only pensioners receive their full benefits. Other members would receive just 90% and their payments are subject to caps.
Even with these caveats, the PPF is still probably the best bet even where an employer goes bust since it the lifeboat offers guaranteed benefits, something a DC alternative or self-invested option can never do.
The problem for regulators is both the frequency with which companies are going insolvent leaving a large pension deficit, and the ensuing confusion and mistrust for scheme members.
Carillion is the latest corporate disaster folding as it did this year with a £2.6bn pension deficit. This followed the British Steel takeover by Tata, which left members choosing between a less generous workplace scheme, joining the PPF or transferring out.
Members are given a cash equivalent transfer value for their total DB pot which looks very generous at present because schemes are discounting liabilities using a risk-free best estimate.
This makes taking the cash option look attractive, particularly when members are desperate to retrieve their funds from a defunct employer, but they do not fancy reduced benefits from the PPF.
Unscrupulous advisers
Henry Tapper, director at consultancy First Actuarial, says this makes people vulnerable to poor advice from unscrupulous companies who seek to profit from the fees available when helping with a transfer.
"Members are frightened and under the encouragement of those who are not working in their best interests. It is not a surprise some of them make decisions to transfer based on irrational prejudice," Tapper says.
According to the Pensions and Lifetime Savings Association (PLSA) as many as one in six DB savers have been approached to discuss moving their funds.
Joe Dabrowski, head of governance and investment at the PLSA, says: "Following the collapse of Carillion, we have already seen warning signs that scammers may be seeking to exploit DB scheme members' fears about their future."
In the Carillion and British Steel Pensions Scheme (BSPS) cases, observers describe advisers "descending in hoards" to encourage members to make transfers.
Christian Roche is managing director at Portfolio, an independent financial advisory firm trying to help members' who have been poorly advised. He says disreputable advisers were rife at British Steel's Swansea plant.
"We would turn clients away and say that a transfer was not [suitable] for them, only for them to be taken in by another company that would do the transfer," he says.
Attempting to get money back once it is out of the scheme is difficult and time consuming. Complainants need to prove they did not have the full details, particularly regarding fees and charges.
Given the misery and illegality surrounding transfers, the Work and Pensions Select Committee is investigating freedom and choice and, most recently, has joined forces with the Business, Energy and Industrial Strategy Committee to investigate Carillion's collapse.
Frank Field, MP and chairman of the select committee, has been scathing of the FCA and the Pensions Regulator (TPR) accusing them of "sleepwalking into another huge mis-selling scandal".
The FCA has been robust in its response, rejecting the committee's findings and arguing that it works alongside other regulators to better protect scheme members. The regulator has been in touch with advisers warning them of the dangers of transfers. It has also visited Swansea and Doncaster – two key sites where foul play has been detected among British Steel Pension Scheme transfers – and named disreputable advisers on its site.
However some commentators believe that the very framework on which the pension system is based means that DB members will remain vulnerable should another sponsor collapse.
In evidence to the select committee in January, chairman of the Carillion DB trustee company Robin Ellison, said TPR was challenged in trying to comply with its statutory objectives, since some of them seem to compete.
TPR's statutory objectives include protecting members' benefits, reducing the risk of calls on the PPF and minimising any "adverse impact on the sustainable growth of an employer".
"The FCA and the Pensions Regulator are sleepwalking into another huge mis-selling scandal"

Frank Field MP
Ellison says: "Getting that right is a challenge". He adds that TPR could have forced Carillion to pay more pensions contributions, especially after paying £524m in dividends compared with £280m to the scheme in the past seven years, but the regulator chose not to. "It would have been nice if [TPR] had compelled Carillion to pay £10-15m a year."
Fellow Carillion trustee Chris Martin, director of Independent Trustee Services, went on to tell the committee that for TPR to be more effective, its three conflicting objectives should be simplified to one overriding goal of "delivering better outcomes for members".
Regulatory teeth
Others believe TPR needs more teeth if it is to prevent a repeat of British Steel and Carillion.
Kate Smith, head of pensions at, Aegon says: "The latest DB shocks, including the Carillion insolvency with its grossly underfunded scheme, demonstrates that TPR needs more powers to better protect members' pensions."
But Adrian Duncan, partner at Savants Covenant Advisory, says the powers already exist under the Pensions Act 2004, TPR just needs to use them.
He suggests the regulator reviews the UK's 200 largest schemes, which hold the lion's share of pension debt, and compare deficit recovery contributions relative to dividends. TPR then follows a standard procedure:
Open an investigation.
If the employer/trustees do not agree to fair treatment a third party is appointed to prepare a report under the section 71 of the Pensions Act 2004.
TPR refers it to the determinations panel for the contributions to be set under section 231 of the 2004 Act.
TPR pursues through the courts where required.
Publish a report detailing the entire process as per section 89 of the 2004 Act.
Select the next 200 largest schemes and repeat.
Tapper at First Actuarial recommends trustees incorporate members' appetites for transferring out into integrated risk management (IRM), which is required under TPR guidance. This would better equip trustees in managing members' requests and ensuring the suitability for both individual and scheme.
He says: "Member choice should be part of IRM. Trustees need to ask difficult questions about what members want and whether having the pot or the pension is in their best interests."
The UK's DB schemes were in deficit to the tune of £124bn at the end of January 2018, of which the FTSE 100 accounted for £35bn. If a company with the size and influence of Carillion can be brought down, then it is fair to say no other company can be considered secure. Policymakers, regulators, sponsors and trustees must do more, it seems, to ensure members are protected.
TPR did not respond to questions at time of going to press.
Freedom and choice: the rues
In April 2015, pension freedom and choice come in force under the Taxation of Pensions Act 2014 and allows members of defined contribution schemes to:
Leave their pension pot untouched which removes the requirement to purchase an annuity;
Purchase an annuity as before;
Take an adjustable income or flexi-access drawdown;
Take their whole pension pot as a lump sum or series of lump sums;
Take a combination of the above.
This stripped away previous rules which required the purchase of an annuity for most individuals and the restrictions on how income drawdown operated.
An unintended consequence of freedom and choice was a surge in scams and fraud, where members are encouraged to take their DC pot and reinvest it in high charging alternatives, or leave their defined benefit plans to take advantage of the rules and again falling into a disreputable plan. In response the government reviewed freedom and choice regulation and proposes:
A ban on cold calling, emails and texts
Active enforcement of this ban
Limits on the rights of members to transfer their benefits
Making it harder to open new pension schemes
The Financial Conduct Authority is also reviewing its position on IFAs advising DB to DC transfers
UK pensions: Looking ahead to pensions white paper
1

2

3

4

Currently reading

DB transfers: Freedom under fire

5